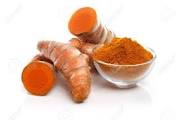 Tumeric is an amazing spice that has so many beneficial qualities. You need to incorporate this spice into your daily diet. You can either cook with it or take it in capsule form. This herb if you aren't familiar with it is known for it's anti-inflammatory qualities. Curcumin which is from the Tumeric root is what does the work to reduce inflammation. Chronic Inflammation is the root cause for most diseases. This spice can be a natural tool to help you address inflammation.
For an easy way to use tumeric everyday keep some in a shaker in your kitchen and add it to your steamed vegetables, rice or whatever protein you are preparing.
Remember the next time you have joint pain instead of taking Tylenol, aspirin or ibuprofen try 2 or 3 capsules of turmeric to reduce your pain and enjoy the many other health effects of this spice.
This article is a great resource for more in depth information; http://gallbladderattack.com/blog/