After the Woodstock Fruit Festival - Handstands at Bumpity
Woodstock Fruit Festival and After - Handstands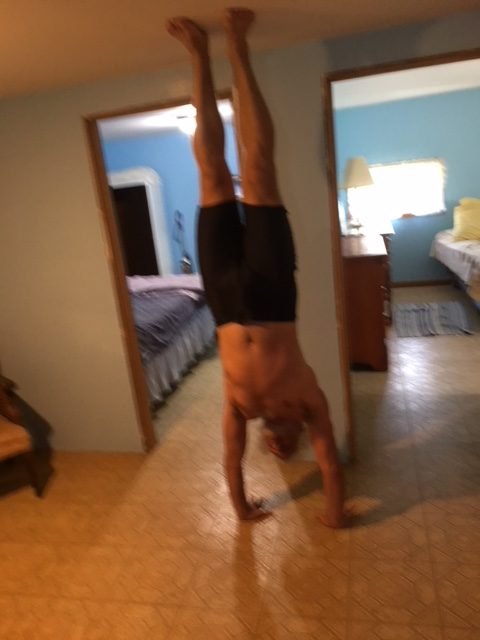 After the Woodstock Fruit Festival - Handstands at Bumpity
3
One of the great classes that I attended at the Woodstock Fruit Festival was about handstands and inversions taught by Dr. Robert Lockhart. He is over 70 years old, and it seems to me that he is stronger and more flexible than me! Years ago, I could almost do handstands. I just needed to learn some tips and tricks and to gain some confidence which would come from expert instruction. That's exactly what Robert gave me. I also want to give a shout out to Will and Jeremy, who helped me tremendously with critical tips. Every day during the week, I made great improvements. I'm still improving now, and I've learned what I need to know to be able to practice. I expect that I will soon be able to do handstand without any assistance. Robert also taught me the importance of inversion, extension and brachiation for overall health and longevity. I've now modified my proprietary yoga therapy system to include more of these.
After leaving the Woodstock Fruit Festival, I came to WI, where I'm now visiting Bumpity. Bumpity is an amazing place, and I'm now enjoying a bounty of watermelons, the best watermelons I've encountered anywhere on the planet. One fun thing that I discovered is a room at Bumpity with a low ceiling. When I do a handstand in that room with my hands flat on the floor, my feet are flat on the ceiling. It's great practice for me. Without rigging up any support, without using a wall, without a person to spot me, I can hang out in a handstand for as long as I want without any fear of falling. It gives me a chance to relax and focus on many details of how various muscles in different parts of my body can contribute to lengthening my body upwards. The photo above shows me relaxing into a handstand with my feet on the ceiling. Or is the photo upsidedown with me standing on my feet with my hands on the ceiling? Please comment below with your thoughts.
Thanks For Reading!
If you have any topics that you would like me to cover, feel free to comment them below and I'll add them all to my list!
Woodstock Fruit Festival and After - Handstands
We are the Love of God, no matter what.