Coconut oil is a white good smelling oil that is solid at room temperature and liquid from 23°C. It has a lot of amazing properties for beauty and health and I want to show you a few recipes and treatments I tested.
#1 detox and tooth withening:
in the morning before breakfast take a small spoon of coldpressed oil into your mouth until melted and pull it through your teeth for 3-5 minutes, then spit it. At the first time it is a strange feeling because the oil becomes more and more solid and the colour can change, but you'll recognize that it will be easier the second time. That is because the virgin oil binds toxic substances and contaminations from your mouth and also has antmicrobial activity. If you don't like the taste try another virgin oil.
#2 make up removing:
I use coconut oil for removing make up ever since I tried it because it works better then anything I used to use and it's also a skin care. Just rub it over your mascara, skin and whipe over it with a cosmetic cloth. The next morning you'll have pure and soft skin.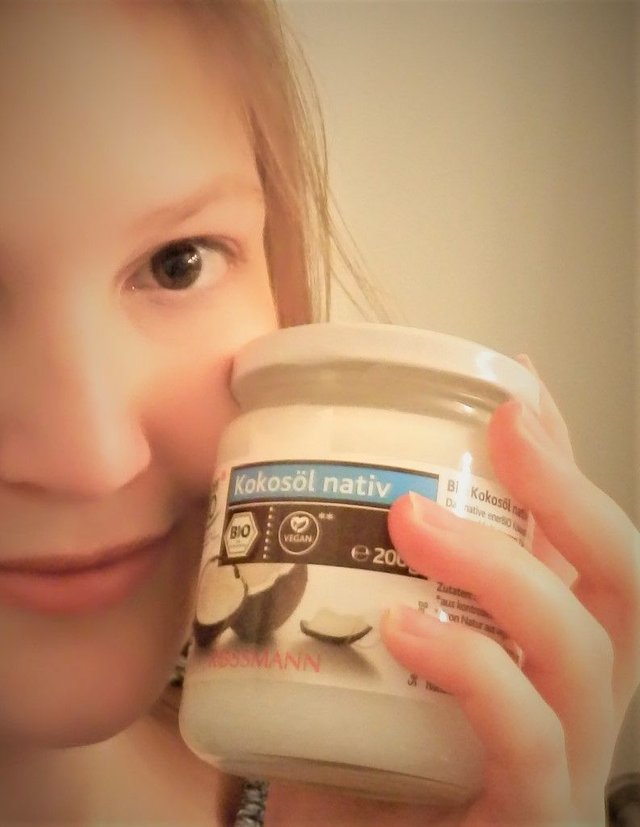 #3 anti acne treatment:
the antimicrobial activity of coconut oil can cure from acne as a everyday skincare or weekly face mask. It is even less agressively then other anti acne treatments and doesn't harm pores and cells.
#4 hair treatment:
The oil strangenths and repairs hair and can be used as a hair mask. Wash your hair with silicone free shampoo, dry it and rub the oil into your hair. Let it bring to bear for 20-40min with a towel on your hair.
These are just 4 treatments I tested and I use the last 3 regularly, it's a cheap and fragrant care, but I don't like the taste very much. I hope you'll also try it, let me know if it works.