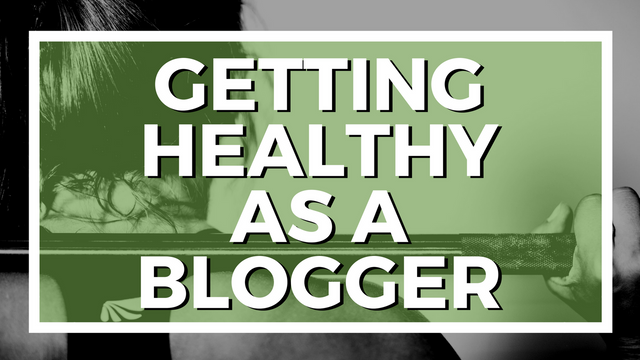 As writers and bloggers, we spend most of our day in front of a computer or sitting down at our notebook. We wake up and head the work where we spend eight hours on a computer to pay the bills. Then we come home and turn on our laptop or desktop to write up our next blog post, continue our story, or write some poetry.
All this time adds up, and we find ourselves over-weight or out of shape. This inactivity and lack of education about food are what got the best of me over the years. I never got too large, but I was over-weight and kept putting on the pounds. I am about 5' 9" (175.26 cm) and weighed in at 192 lbs (87 kg) the day I realized how big I looked after seeing a photo of my wife and me on vacation.
By no means did I hold the weight well and looking at that photo, comparing it to how I looked in high school, was eye-opening. I tried a few diets and only once did I lose any weight but when I stopped all weight came back plus a few extra pounds.
Talk about frustrating.
Disclaimer
I'm not a doctor, and all the information that follows is my experience in losing weight. Do your research to learn what will work best for you and your condition. Don't listen to some random nerd on the internet.
/Disclaimer
The Journey
April 2015
Here was when I did the slow carb diet. I lost ten pounds (4.5 kg) in about a month. The problem was that I hated it, a lot. Once I stopped the diet, I gained all the weight back plus a few extra pounds in the next month. Not sustainable but this might have been due to my lack of understanding.
July 2015
Here I learned about intermittent fasting and many of the health benefits it can have on the body. I remembered that when I was in high school, I never ate breakfast and was intermittent fasting without even knowing. There was no weight gain back then either, and I would eat whatever junk sounded tasty.
After getting into the grove of intermittent fasting, I lost about two pounds or nine-tenths of a kilogram over the course of a month. Nothing impressive but I was still eating whatever tickled my fancy and not counting calories or macros. The fasting also improved my mental clarity in the morning while I was not eating.
The style I was using at the time is known as the 'Lean Gains' method. This protocol is where you stop eating after dinner, no snacks or caloric drinks, and then not eat again for sixteen hours. Luckily eight of those hours you can be asleep and the first few hours are after dinner.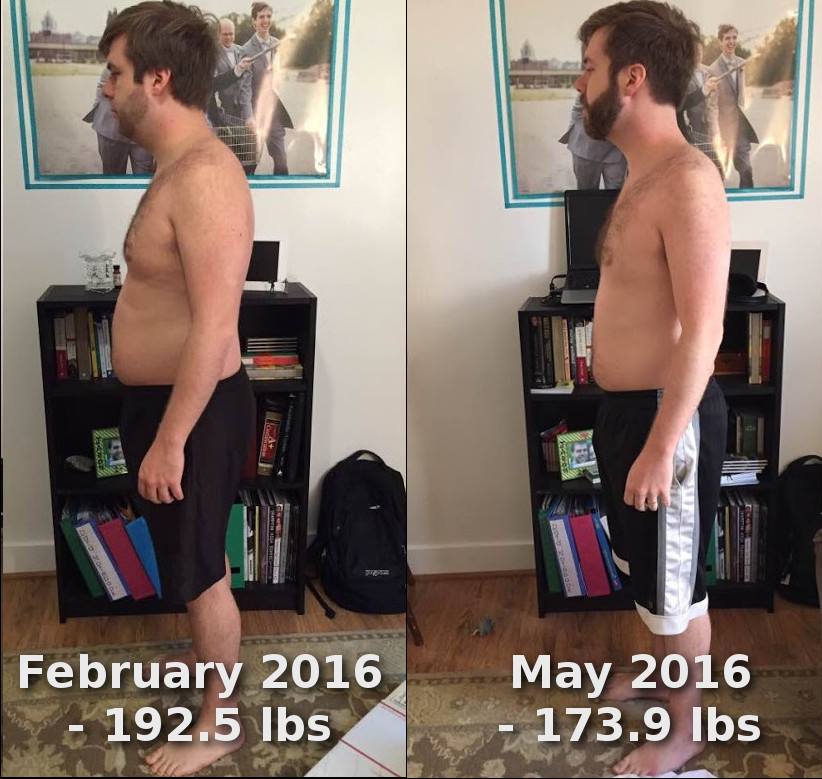 February 2016
This month is where I ended after a hard push for fat loss. I counted calories and ate at a caloric deficit. Thanks to intermittent fasting it was much easier since I could eat two big meals instead of three or more small meals. The love of eating is strong with me, and when I eat, I want to eat big.
After about a two-and-a-half months, my weight dropped down twenty pounds or nine kilograms. At that point, my body stopped losing more weight, and I stayed between 170-172 lbs until recently. From my experiences, the only reason I could keep the weight from coming back was intermittent fasting.
December 2017
I was still at 170 pounds, eating whatever I wanted and shifted to a six-hour eating window instead of eight. This change in fasting time was to help keep me from eating snacks around two o'clock in the afternoon. Another thing I started to dabble in was ketosis. Eating a high-fat diet was interesting and seems to keep me full longer. Eating in this way even comes without the midday crash that normally happens on a standard diet.
April 2018
As of today I am 156 pounds (about 70.7kg), have more muscle mass, and eat a customized keto diet 90% of the time. Using a ketogenic diet has helped me out a ton. I limit carbs too much less than I ate on the "Standard American Diet" (SAD) and learned what works for me. Since I still fast for 17 to 18 hours each day, I have plenty of time to deplete any stored up carbohydrates in my body from the previous day.
Intermittent fasting allows my body to use its fat storage as energy during the fasting period. Fasting does work on SAD as you read early but the difference between a Ketogenic diet is how fast we use up the extra carbs in our body after our last meal. There is a lot of science out there that I want everyone to learn about and see if this approach is for them. Even without fasting a Ketogenic style diet shows vast improvements over our current standard of eating.
I will say, it is cool to be almost 40 pounds (18kg) lighter than I was at my heaviest. It's incredible what the body can do when given the correct foods that are full of nutrients. Another excellent bonus is that I now notice the muscle I built over the past eight months or so. I love to flex for my wife and watch her eyes roll (rofl).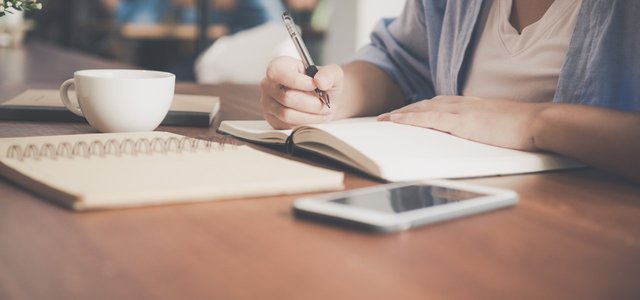 Be A Healthy Writer
I share all of this to show you that getting healthy is a process and we need to respect the journey. Loosing too much weight too fast will only have us rebound and gain more after the fact. Never expect an easy way out and put in the effort today to make one change to your lifestyle.
I did not start out where I am today by piling all of it on at once. I made small changes over time as I learned new science and listened to other people sharing what they learned about health and nutrition. If today you cut out soda for the rest of your life then that's a point for your health. Keep looking for ways to be as healthy as you can, and when you look back in two years, you will be quite surprised.
Don't let an unhealthy body keep you from your writing or anything you love. Use it to your advantage and as a learning experience. The more informed we are, the better we will be down this road of life. Please feel free to ask me any questions about my diet or apps I use because the more people who take back their health, the better.
Thanks For Reading!
If you have any topics that you would like me to cover please feel free to comment them below and I'll add them all to my list!
All images came from royalty and attribution free sources unless specified.
---
Looking to take your Steem based creations to the next level?
Join us over at the Creators' Guild Discord group! We are here to encourage, support and increase the creation of quality content.
---
If you have any questions about the future of Steem
or my witness please feel free to message jrswab#3134 on Discord.

Click here to vote with SteemConnect!
Or go to https://steemit.com/~witnesses
You can see all active witnesses on @drakos' steemian.info
---
Looking to support my content creation efforts outside of the Steem Blockchain?
Check out jrswab.com/support