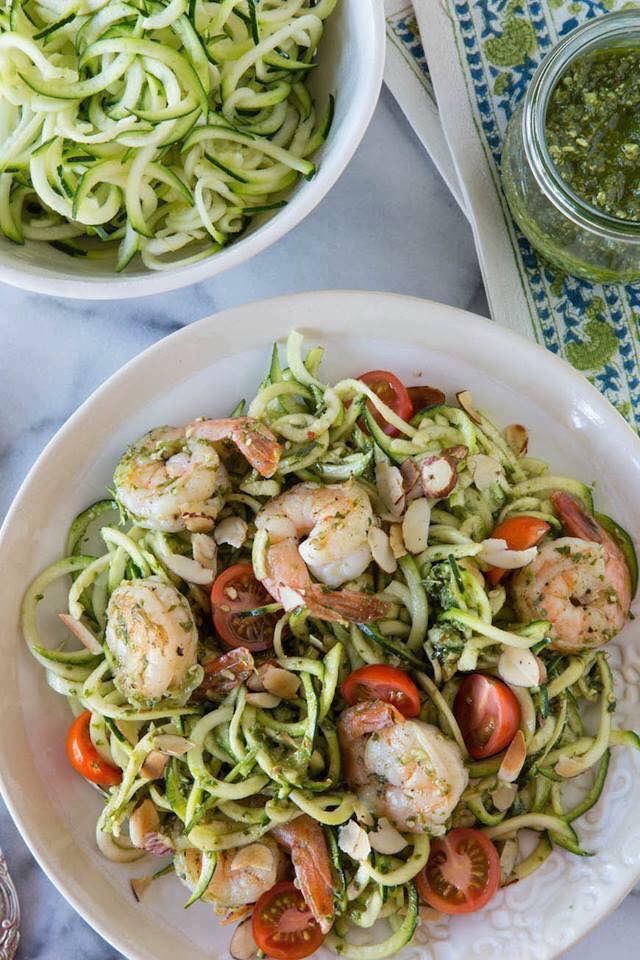 I love zucchini noodles. They've become my pasta substitute. They are a great base for pasta favorites. With warmer weather, I enjoy a light, tasty and healthy noodle dish like this one. Since purchasing my spiralizer on amazon, I make noodles in advance, place them in a plastic storage bowl and they last in my refrigerator for up to a week. One tip: layer the bottom of the bowl with paper towel and the top as well to absorb some of the water in the noodles. If you're looking to purchase a spiralizer, here's the link to the one I have been using for several years. It still works great: https://smile.amazon.com/GEFU-13460-Spirelli-Spiral-Slicer/dp/B0026RMEK4/ref=sr_1_2?ie=UTF8&qid=1519573708&sr=8-2&keywords=spiral+slicer+vegetable+spiralizer&refinements=p_89%3AGEFU
ZUCCHINI NOODLES AND GRILLED SHRIMP WITH LEMON BASIL DRESSING
Lemon Basil Dressing:
1 cup basil
16 almonds
1 garlic clove
1 shallot
1/4 teaspoon red pepper flakes
2 teaspoons olive oil
1 tablespoon red wine vinegar
1 tablespoon lemon zest
Zucchini Noodles and Grilled Shrimp:
1 pound shrimp
2 ½ cups zucchini
1/8 teaspoon Kosher salt and 1/4 teaspoon freshly cracked black pepper
1/2 cup halved cherry tomatoes or grape tomatoes (grape tomatoes are like candy to me!)
INSTRUCTIONS:
Using a mandolin or vegetable spiralizer, twist zucchini into spaghetti shaped noodles.
In a blender or food processor, combine basil, 1/4 cup sliced almonds, garlic, shallot, red pepper flakes, 1/2 cup olive oil, red wine vinegar and lemon zest. Pulse on medium until evenly combined and smooth. Season with salt and pepper as needed and set aside.
Place the remaining almonds in a small skillet over medium high heat to toast. Shake pan every few seconds, until the almonds turn just golden brown. Remove almonds from heat and set aside.
Heat one tablespoon of olive oil over medium high heat. Add shrimp and season with salt and pepper. Cook shrimp for 6 to 8 minutes until fully cooked and pink, and add two heaping spoonfuls of the lemon basil dressing into shrimp and toss to combine. Transfer seasoned shrimp to a clean bowl and set aside.
Add zucchini noodles to the same pan used for the shrimp and sauté for 1 – 2 minutes over medium heat until just tender. Season the zucchini noodles with salt and pepper and then toss with an additional two heaping spoonfuls of the lemon basil dressing. Turn heat off.
Toss seasoned shrimp with the zucchini noodles and cherry or grape tomatoes. Top with the toasted sliced almonds, more red pepper flakes, garlic powder and grated parmesan cheese to taste.
Buen Provecho! Buon Appetito! Enjoy!