Since my experience with the Reflexology Miracle, I have decided to share an exercise with you so that I will also do it myself.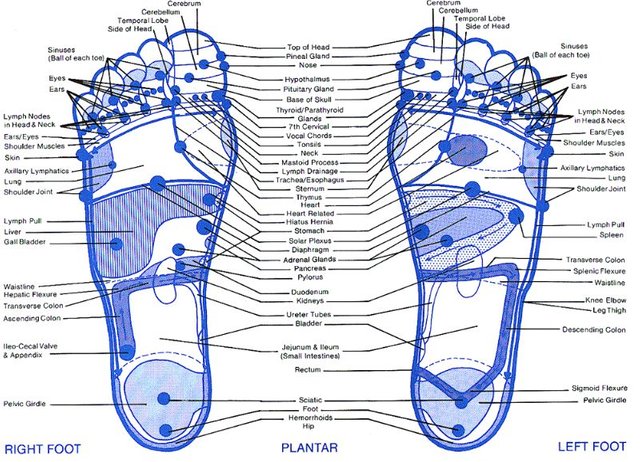 Feet are an amazing microcosm of the body. They reveal where energy is blocked in your body before any physical symptoms appear. There's a Chinese saying:
The superior doctor prevents sickness.
The mediocre doctor attends to impending sickness.
The inferior doctor treats actual sickness.
Be sure you're sitting comfortably so that you can reach your feet.
Locate the following reflexology points on the diagram:
Temporal Area (on big toe)
Eye (2nd and 3rd toes)
Lung (ball of foot)
Stomach (inside edge, under ball of foot)
Kidney (middle under ball of foot)
Spleen (right of Kidney on left sole only)

Also, let me add that there are a gazillion foot charts and many are totally different. I would look at a few different ones. The one I have here, I like because it is more thorough than most. I don't know which are correct, and I am sure the controlled opposition have put forth some totally fraudulents. You might have to experiment.
These reflexology points are some of the most common points where people experience energy blocks.
Now, do your best to locate these points on your feet. While it is a little tricky figuring out which point is which, don't be discouraged, the location of your reflexology points may be slightly different.
Starting with the temporal area point on your left foot, press your thumb firmly on the point for one second or less. Because you're pressing to test the sensitivity of the point, it is not necessary to press longer than a second.
Continue moving across and down your feet, pressing the eye, lung, stomach, kidney, and spleen points.
Repeat for your other sole. As there isn't a spleen point on the right foot, you can skip this point for this foot.
What to look for:
As you press your foot, you'll want to look for areas that are sensitive to your touch.
Rate the intensity of feeling from 1 to 10, where 1 is hardly noticeable and 10 is like passing kidney stones or childbirth.
Also, take note of any areas that feel like a "callous." It's not a skin callous, but instead it feels like it's BELOW the skin. With light touch, it will feel numb, almost less sensitive. Paradoxically, if you press hard, it will be more sensitive. Or that feels crunchy under the skin.
Now go back and press those points that were sensitive and/or crunchy. You can press for 60 seconds or you can rub in circles. You do not have press hard to get results, especially because you don't want to hurt your fingers and thumb insodoing. Just press enough to feel it.
You can also find many different techniques on youtube!
Previous Posts