I did mention with my previous posts that free radicals are not always harmful, so today i felt inclined to find out their advantages. As a cardiac nurse, their effects to the heart fascinate me more than anything.
Free radicals and the heart's contractility
In one study where some scientists from Swedish medical university Karolinska Institutet show that stimulation of the beta-adrenergic receptors also leads to increased production of free radicals in the mitochondria of the cells, hence contributing to stronger contractions of the cells.
How can this be? Let me try to dissect it.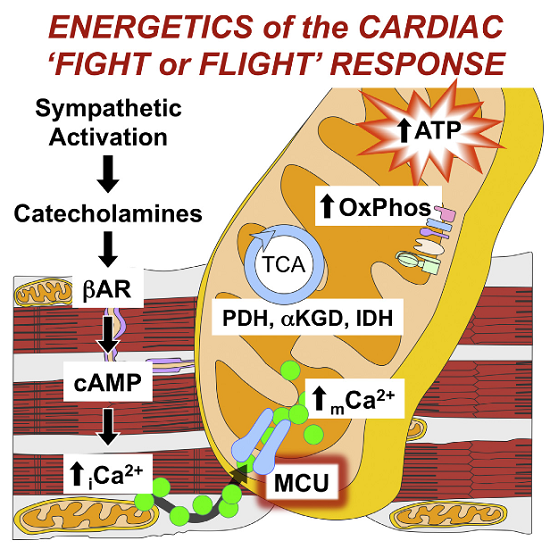 Disclaimer: image from health-innovations.org
The heart's contractility
The heart contracts because of the electrical conductivity that is occurring before the heart beats. It's force on another hand is brought on by a lot of factors, one in particular is the intrinsic chemicals that get produced for example when people get stressed. 
The Fight or Flight response produces a cascade of intrinsic responses when our sympathetic nervous system gets stimulated; producing catecholamines, equipping the body to respond.
Norepinephrine
Is a catecholamine that functions as a neurotransmitter and a hormone in the body. As the main neurotransmitter of the sympathetic nervous system, it is very useful in the body's fight or flight response. Through its' many functions, it is also released in many parts of the body and targets a lot of organs in its' functionality.
The general function of norepinephrine is to mobilize the brain and body for action. Norepinephrine release is lowest during sleep, rises during wakefulness, and reaches much higher levels during situations of stress or danger.
To the heart, it's effect is to pump more blood through increasing the contractility force and the heart rate induced by it's interaction with the beta1-adrenergic receptors. These receptors are located in the heart's pacemaker, hence increasing the heart rate. Some are located in the  heart's top layer called myocardium, thus enhancing the heart's contractility.
Don't forget the role of CALCIUM ions intracellularly and extracellularly. 
Physiologic adaptation to free radicals
As free radicals are mostly the end-product of metabolism and its' numbers growing everyday, perhaps it is an inherent adaptation of our bodies to accommodate them, making use of what is there internally in a positive way. Keeping in mind though that this is only great in a short-term, not long-term.
The heart, being stressed chronically can cause further problems in the long run.
https://steemit.com/health/@immarojas/free-radicals-and-antioxidants-part-1
https://steemit.com/health/@immarojas/what-is-the-danger-of-having-gazillions-of-free-radicals-part-2
References:
https://www.sciencedaily.com/releases/2011/02/110228090404.htm
https://en.wikipedia.org/wiki/Norepinephrine
http://www.physiologymodels.info/ans/adrenergic.htm
Footers from @bearone and @thekittygirl, gif from @ninjace and @deveerei