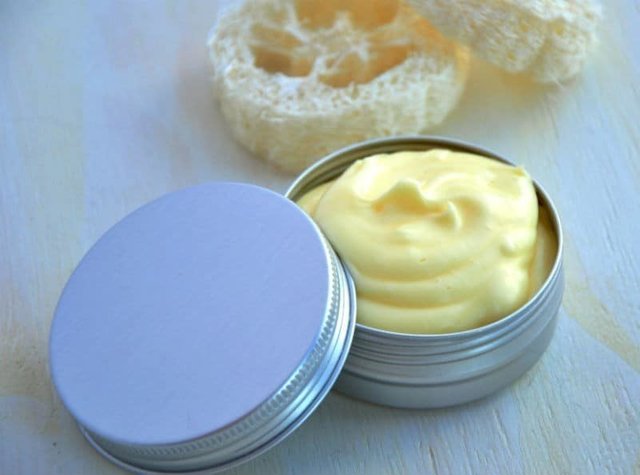 Shea Butter has deep moisturizing and medicinal capabilities known to restore to health and rejuvenate the skin. It is full of vitamin A and fatty acids are known to treat stretch marks and numerous skin conditions such as blemishes, wrinkles, dermatitis, and the like.
Shea butter is known to mend damaged skin and augment the collagen production. It naturally contains vitamin A and E and is a miracle worker for your skin. It has been revealed by studies to have inflammatories properties and helps to alleviate skin irritation such as sunburn or rash.
It is no wonder why Shea butter is the main component of most body butter, lotion and healing salves known to cure and prevent stretch marks.
Shea Butter is thick and solid like your average butter (the raw and unrefined one is known to give the most benefit to your skin).
I use organic refined shea butter grade A as this is a personal preference.
I find the unrefined or raw shea butter has a strong smell but if you don't mind it, it is definitely better quality and contains more vitamins and minerals since it has not been refined or processed. Raw is the way to go!
I use safflower oil in my shea butter lotion recipe because:
Safflower oil has a soft texture and barely any scents at all.
It compliments shea butter nicely and allows to make a lotion which is soft and with a thinner texture.
Safflower oil contains about 78% of linoleic acid and has the uppermost level of linoleic fatty acid.
STEP BY STEP HOW TO MAKE SHEA BUTTER LOTION AT HOME
Step 1: Mingle shea butter and safflower oil in a glass bowl
Step 2: Begin to mix the shea butter and safflower with a hand mixer to make a shea butter lotion
Step 3: Continue mixing until smooth, should take no more than 2 minutes to turn onto a lotion
Step 4: Pour into a pretty cream or lotion container and use the cream on your body.