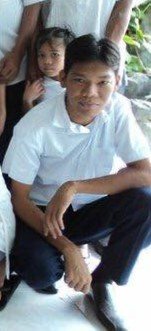 I Missed This Fellow (Taken Oct. 2010)
My last dialysis was not completed last Friday because my BP went crashing like the current Crypto bleeding we are experiencing today. I really do not know what to do with my blood pressure issue because I have tried almost everything that I can even drinking energy drink doesn't seem to work.
Maybe this time I would try eating near the end of my session because eating as I see it raises the blood pressure up. But some say that it lowers the blood pressure as the blood goes to the intestines. But I don't know really for sure. If I don't eat I would get a low blood sugar because dialysis also takes away blood sugar, protein compounds, and vitamins that are needed by the body.
But anyway I am not feeling much breathless today and it is still about two days until my next session so it is good. I am trying not to take fluids too much because the last session didn't take away my extra fluids completely. I do not want to take extra dialysis this week because it is an expensive out of pocket procedure and I will just wait for my regular schedule and follow my strict diet which by the way is also hard to do.
The last session seemingly took away near my dry weight because I felt it with my voice getting hoarse and the collapsing ear drum and maybe I was getting fat but I cannot feel it though with my still stick-like arms. I just hope that I could last until my next session because my body is still weak no matter how I carefully manage it.