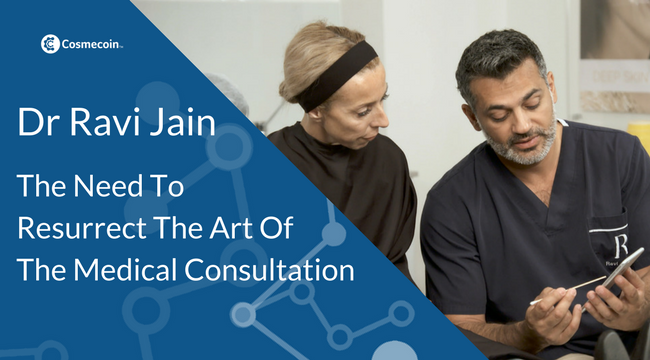 During my student days, the importance of the medical consultation could not have been emphasised enough. When the professor would ask me to assess a patient's cardiovascular system, they would hope that I would avoid reaching for my stethoscope (FAIL) and instead take a step back to observe the patient from the end of the bed first (PASS)!
Before we were allowed anywhere near patients we had to understand not only the theory but also how to take a full history and perform a medical examination. Only then were we able to request any relevant investigations and decide upon a treatment plan. Even then, we were not necessarily skilled enough to perform these treatment plans and they were passed onto a more experienced colleague.
OK, let's look at how those basic medical principles have been applied in aesthetic medicine.
Typically, for a new medic to decide to take on basic medical aesthetics using botulinum toxin and dermal fillers, their teaching may look something like this:
Aesthetic industry background
Product knowledge — scientific
Facial features
Injection technique
Complications
Can you spot whats missing? Communication! Out of all the courses I have been on and been asked to contribute to, the organisers all failed to recognise the importance of the consultation!
Consultation skills can be taught — indeed they form the central pillar of general practice training. Why? Because GP's consult so much, they need to be able to maximise the small amount of time they have with each patient. There are no referral letters given to GP's when a patient walks in the door — unlike secondary care, who at least have an idea why their patient is sitting in front of them, thanks to the letter from the GP. In aesthetics, there are no referral letters either and so it's very similar to General Practice. Patients book their own appointments and only reveal why they are there when they are sitting in front of their clinician.
There are many medical disciplines entering the aesthetic market, including GP's, plastic surgeons, dermatologists, dentists, nurses, beauty therapists, pharmacists and osteopaths. I am pretty confident that out of all of these roles, it is only the GP's that have extensive consultation skills training and examinations.
About 7 years ago, I was involved in setting up a consultation toolkit for Galderma (a pharmaceutical company specialising in dermatology and now owned by Nestlé) — it was known as "The Harmony Approach", and later "Harmony". This programme came about as Galderma recognised that many patients were unhappy with the service they received at clinics. They realised that the trust earned during a consultation had a direct impact on a patients' loyalty to the clinic, and also their likelihood of investing in combination treatments. Combination treatments often deliver the best results, but they do cost more. When clinicians fail to earn the patients trust during a consultation, patients sometimes feel that they are being sold to and so do not proceed with combination treatments. As a result, they are less satisfied with their outcomes and are likely to change practice. It is the practices who optimise their consultation skills, to earn patient trust quickly, who deliver a higher proportion of combination treatments and therefore develop happier patients, higher loyalty and word-of-mouth recommendations.
The Harmony Approach has worked to help clinics who have invested in the training of their clinicians, to improve their consultation skills and consequently gain higher patient satisfaction and loyalty. This returns better business for both the clinic and the supplier. However, there are some significant limitations to the Harmony Approach, largely due to the restrictive framework that pharmaceutical companies have to work within.
This is where iConsult v3.0 comes in! The iConsult platform provides a fundamental CRM system, which promotes best practice during the consultation process and digitally records medical documents and consent forms. The software protects this data using secure blockchain technology, whilst maintaining transparency of information between clinic and patient. These components will aid in the success and growth of the clinic and highlight why iConsult v3.0 is destined to be a leader in its field.
Another great aspect of the upcoming iConsult v3.0 software is the integration of a loyalty programme. This will reward great clinicians and engaged patients with the 'Cosmecoin' token, similar to a Nectar point, which can be redeemed for products and services. A first in the Medical Aesthetics industry, this system will ensure that best practice is adhered to and will drive up the standards in the sector.
I don't want to give away too much about what we have planned but suffice to say that in an unregulated industry such as aesthetics, it's about time that we lead the field and raise standards to benefit the ever-increasing consumer base.
Dr Ravi Jain
Medical Director of Riverbanks Clinic & Medical Advisor to iConsult
LinkedIn: https://www.linkedin.com/in/drravijain/
Twitter: https://twitter.com/DrRaviJain
DISCLAIMER:
Neither this document nor anything contained herein shall form the basis of, or be relied upon in connection with, any offer or commitment whatsoever in any jurisdiction. Any offer to acquire tokens will be made, and any investor should make its investment decision solely on the basis of the information that is contained in the information memorandum to be published by iConsult Software Ltd in due course in connection. Copies of the information memorandum will, following publication, be available at www.cosmecoin.io.
These materials are not an offer of securities for sale in the United States. The securities to which these materials relate have not been registered under the US Securities Act of 1933, as amended (the "Securities Act") or the securities laws of any state or jurisdiction of the United States. Accordingly, these securities may not be, sold, pledged, assigned, delivered or otherwise transferred, exercised or redeemed, at any time, within the United States or to, or for the account or benefit of, U.S. Persons. There will be no public offering of the securities in the United States.