PAIN
I glanced at my wall and I realised that I included "a physiologist" as one of my titles.. I haven't been living up to that standard according to my posts. So today I'll be writing about something physiological. Lol. I hope you learn from it.
PAIN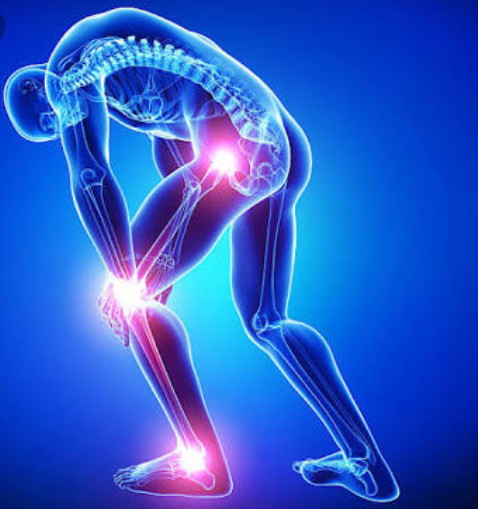 Image source
Pain is my topic of discussion for today.
We all feel pain at one point or the other. I don't think anyone likes the feeling, but funny enough, pain is mainly a protective mechanism for the body. It is a response to tissue injury that is created within the nervous system.
Physiologically, pain is classified into Fast and Slow pain. Fast pain is felt within about 0.1 second after stimulus is felt, whereas slow pain begins 1 second or more following painful stimulus. Usually, slow pain is associated with tissue damage and is synonymous with burning, aching or chronic pain. Pain receptors are found in large numbers in the skin, arterial walls, joint surfaces, periosteum.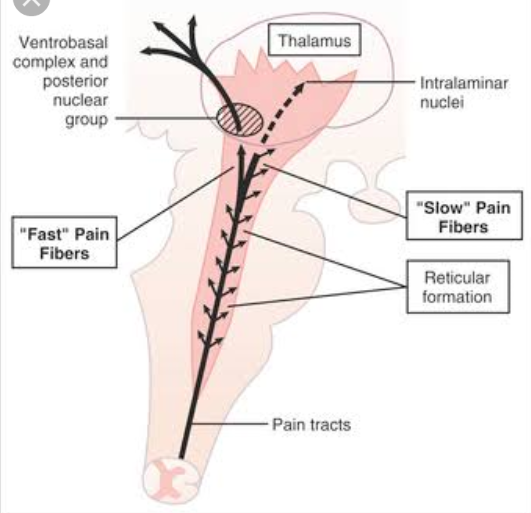 Image source
Pain receptors are activated by three types of stimulus.
(1) Mechanical stimuli e.g being flogged
(2) Thermal stimuli e.g touching a hot plate
(3) Chemical stimuli e.g inflammation
¤ Mechanical and thermal stimuli tend to elicit fast pain.
¤ Chemical stimuli on the other end tend to elicit slow pain. Tissue concentration of some substances such as bradykinin, serotonin, histamine, potassium ions e.t.c. are directly related to the degree of painful sensation.
PATHWAYS OF PAIN TRANSMISSION
There are two main pathways for pain transmission;
(1) NEOSPINOTHALAMIC TRACT
(2) PALEOSPINOTHALAMIC TRACT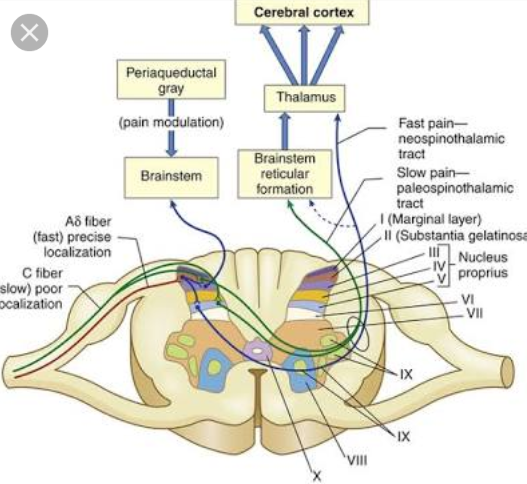 Image source
NEOSPINOTHALAMIC TRACT
Fast pain signals that are elicited by mechanical or thermal stimuli are usually transmitted through Ađ fibers at velocities between 6 and 30 m/sec. This pathway is used during pain localization. It comprises of neurons that receive Ađ fiber input (Fast pain).
PALEOSPINOTHALAMIC TRACT
Slow, chronic type of pain signals are transmitted over type C fibers at velocities ranging from 0.5 to 2.0 m/sec. This tract is formed from neurons that receive type C fiber. The paleospinothalamic tract is phylogenetically the older of the two pathways.
INTERNAL PAIN SUPPRESSION SYSTEM
Everyone reacts to pain differently. This is due to the existence of a mechanism for pain suppression (analgelsia) that's present in the central nervous system. The analgesia system consists of three major components.
¤ The periaqueductal gray of the mesencephalon and rostral pond which receives input from the ascending pain pathways.
¤ The nucleus range magnus (serotonin) and nucleus paragigantocellularis (norepinephrine) in the medulla which receives input from the periaqueductal gray and project to neurons in the dorsal horn of the spinal cord.
¤ Input from the descending serotonergic raphe Magnus axons are received by enkephalin interneurons. This enkephalin interneurons forms direct synaptic contact with incoming pain fibers. This phenomenon is called primary efferent depolarization, and its effect is to interrupt the transmission of pain signals over the incoming primary sensory fibers.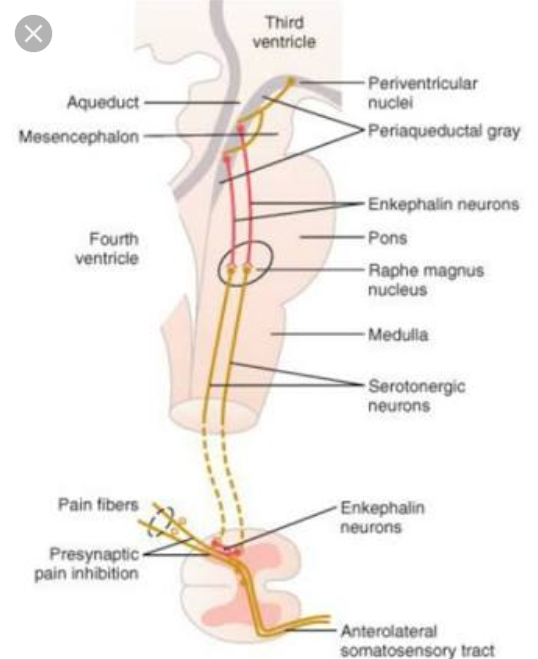 Image source
I'll stop at this junction today. I really do hope you learnt from and enjoyed this post. Thanks for stopping by.