The Benefits of reconnecting with Nature and Alternative Treatments for Depression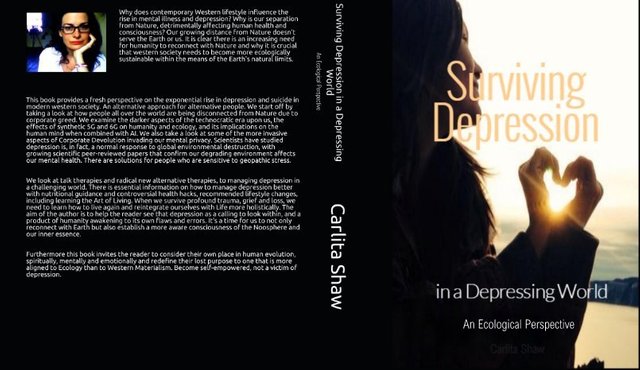 Surviving Depression in a Depressing World, an Ecological Perspective.
''I found this book, despite its length (400 pages), to be an easy, fast, enjoyable read. The book starts out with the author's story of becoming an environmentalist, and her battle with depression throughout her life, especially when her husband committed suicide. She always found nature and animals soothing. Full of information about the causes and cures for depression, it includes many juicy factoids, such as using LSD to reboot the brain, just as you reboot a computer to get it working properly. The unique twist to this book is its link to the environment in causing depression: "…it could be that the global rise in depression is a subconscious reaction to the worldwide destruction of our environment," which makes sense since we are creatures that are healed by nature. Yet we are bombarded with countless toxins on a regular basis. The author emphasizes going gluten free, because even wheat has become so hybrid that it's toxic. We also find how nutritional and various talk therapies can help. The author includes a delightful and inspiring poem she wrote with each chapter. I highly recommend this book if you or any of your loved ones suffer this mental disorder which has grown rampant in our modern societies."
–Susan Schenck, author of The Live Food Factor and Beyond Broccoli, Susan does raw and low carb food classes and health coaching. Another book of hers you might enjoy is Expats in Cuenca, Ecuador: The Magic & The Madness. [email protected]
Carlita's Ecology blog and projects
https://evolvetoecology.org/ecology-books-by-carlita-shaw/
Surviving Depression in a Depressing World, an Ecological Perspective by Carlita Shaw.
https://www.amazon.com/Surviving-Depression-Depressing-Ecological-Perspective/dp/B084QKQLCV/ref=sr_1_1?dchild=1&keywords=surviving+depression+in+a+depressing+world&qid=1593589665&sr=8-1