Set up your own Lockdown Community Cafe- Social Strengthening vs Social Distancing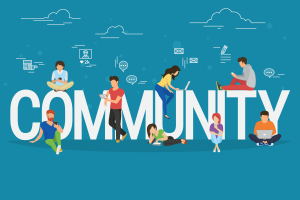 Social Strengthening versus Social Distancing Community Cafe Meetings online-Set up your own Zoom Lockdown community cafe for people in lockdown zones like myself - My 1st online Lockdown community cafe meeting room was open yesterday for an hour, It will be open a few times a week, starting for friends to drop by, especially encouraging people who are alone, they can talk about their challenges, anxieties, strategies, ideas. This is an idea I had to help establish a quick way to build bridges for crisis community networks in changing times.
Download Zoom, an encrypted meeting place similar to Skype, or some other alternatives, that are encrypted for privacy, invite your social network friends and real friends to meet with you at certain times you will be online. To use Zoom and generate a meeting name and password link, you must turn the video symbol when you enter meeting and you can generate a meeting link by clicking ''invite'' on the bottom of the screen, invite by email or social media.
Use the Zoom link to bring your friends into the chat room, copy and paste it to your social network or emails. You don't need to register with Zoom to use it, I recommend not to record any of your meetings, keep minutes the old fashioned way, use the meetings to discuss solutions and strategies to constructively save what liberties you have under Ultra Vires Doctrine, to discuss protecting citizens under Natural law vs martial law disguised as a way to protect people but take their liberties and jobs away instead, you can share health solutions against flu, 5G and illnessses, share survival advice, safehouse networks, emotional support and psychological support, to protect and help each other under possible prolonged fascism rule, enforced vaccines and draconian measures, and when worse at least plan to run for the wilderness places and disappear, back into nature.
Yes I know it sounds crazy but, where do we go from here, if this is the reality unfolding, just start off with the knowledge that we are all under house arrest because of the flu and we have lost our freedom.
The only way we can get eachother out of this is if we work together and start organizing underground community networks, relying on open source mediums and mostly without too many data trails,focus on alternative community networks and meeting hubs that work in an autonomous way in your local community to forge solutions in possible adverse political, economic climates requiring social restructuring, out of surveillance capitalistim prisons.
There is opportunity in being constructive and innovative at times like this, but mostly connecting to strengthening our relationships with others who are isolated and allowing our humanity in a crisis situation, while social distancing is being enforced. We can make up for it in cybermeetings like this for social strengthening instead, in a responsible, creative and cooperative way.
I am having two online meetings today, one in an hour from now, and one at 7.30 pm Spain time https://www.worldtimebuddy.com/
I will post the zoom meeting name and password links below in the comments box when Carlita's Community Lockdown Cafe reopens, if you want to drop by and chat or just set up your own!
We will be discussing various topics organically and it is off record, not recorded, no recording please to protect people's privacy and safety, this is a solutionary first step response to fascism rolling out globally, any further collaborations or ideas welcome, email me at [email protected] .
A space to explore feelings in reaction to having personal liberties taken away-
Shock
Emotional assimilation /adjustment
Orientation process
Denial
How to resist enforced vaccines
Options
Strategies
Collaboration
Exit Solutions, Safehouses, Places to go
See you later
Zoom, download, no need to register to take part, you can just click on the link I will post in the comments box later today
https://zoom.us/download
Ultra Vires Laws
https://www.investopedia.com/terms/u/ultra-vires-acts.asp
Carlita Shaw
The Silent Ecocide, a crisis of consciousness
https://www.amazon.com/Silent-Ecocide-Environmental-Crisis-Consciousness/dp/1512365718
Surviving Depression in a Depressing World, An Ecological Perpective
https://www.amazon.com/Surviving-Depression-Depressing-Ecological-Perspective/dp/B084QKQLCV