FIVE exercises that will help REMOVE the second chin.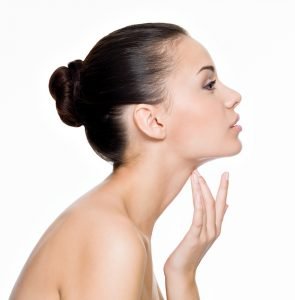 Many women are concerned about such a problem as a double chin. Not everyone knows how to get rid of it can be, but I assure you that it is real. The main thing to do exercises that get rid of double chin for a couple of weeks. Besides these exercises take only 20 minutes of your time.
Exercise №1
Lie on a flat surface face up. Now, straining muscles of the neck and chin, slowly lift your head up, then turn around. This exercise should be done 20 times for three sets. Do not confuse this exercise with Ab Workout - you just have to raise your head and neck rather than the shoulders.
Exercise №2
Gently pat and pinch chin. It tones the muscles and tightens the skin. The amplitude of movements in this exercise should be the same.
Exercise №3
Dampen a towel and roll it "sausage". Then, this wet towel rub his chin, moving the towel from side to side. Also, do the claps on the chin with a towel. This manipulation stimulates circulation.
Exercise №4
This exercise is rubbing and massage of the neck and chin with his hands. Follow these grinding about 5 minutes.
Exercise №5
Perhaps the most easy and pleasant exercise. All that is required - to pronounce the "u" sounds, as well as "and", the maximum straining muscles of the face. Repeat this exercise should be at least 10 times. Sound Duration - 5 seconds.