In the same way as other Tiger species, the White Tiger is a carnivorous animal meaning that it only hunts and eats other animals in order to gain the nutrition that it needs. The White Tiger is an apex predator in its environment, hunting its prey by stalking it stealthily in the darkness of night. The White Tiger primarily hunts large, herbivorous animals including Deer, Wild Boar, Cattle and Goats that feed both in the jungle and on its outskirts. The White Tiger has a number of adaptations to help it to both catch and kill its prey, including being strong and powerful, incredibly fast, and having long and sharp claws and teeth.With growing Human settlements pushing the White Bengal Tiger into smaller and smaller pockets of its historical range, they are also commonly known to hunt and kill livestock, with entrances into villages also becoming increasingly common.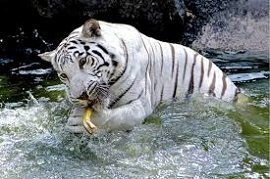 White Tiger Predators and Threats
In its natural environment, the White Tiger has no predators due to the fact that it is such a big and powerful animal itself. They are however severely affected by people and have been for hundreds of years, as they have been both captured and hunted for their beauty, and have lost a significant chunk of their historical range to deforestation for both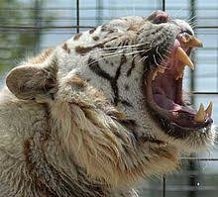 growing Human settlements and agriculture. With the loss in forest, there is also a decline in the White Tiger's prey so populations are becoming increasingly harder to sustain. The fact that the few Bengal Tigers that remain in the wild are becoming more and more isolated means that there is less of a chance that White Tigers will be produced, and this coupled with the severe declines in population numbers could mean that White Tigers have disappeared from the wild forever.