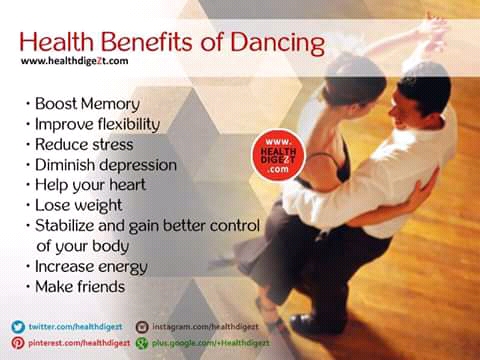 Dancing is one of the most fun and enjoyable activity even though you're a not a professional dancer you can still enjoy it. Dancing is a fun leisure pursuit that allows you to stay fit and express your feelings. Regardless if you are into jazz, hip-hop, ballet or contemporary type of dancing, the benefits to enjoy remain the same. Continue reading to know what they are.
1. Boost Memory
Dancing helps to stimulate the mind and improves part of the brain that affects memory. It also helps prevent neurodegenerative diseases. You can also increase your intelligence with it. What makes dancing helpful in boosting the intelligence is it requires you to make quick decisions. Constantly learning new dance types or steps lets you enhance your brain power
2. Improve Flexibility
Dancing can help loosen the muscles and bones. It also promotes grace and digestion. Increase your flexibility by doing ballet or modern dance.
3. Reduce Stress
Music accompanied with movement is said to decrease stress. Dancing is a great stress-buster and It's no secret that doing something enjoyable is an excellent way to deal with stress. Just like any other pastimes out there, dancing can help you combat stress at the end of a frenzied day at work or home.
4. Diminish Depression
People who have depression have reported lower symptoms of depression during upbeat dances.
5. Help your Heart
Dancing increases heart rate and improves cardiovascular health. Instead of using treadmills, or cycling, do some tango to improve heart health. Dancing is good for the heart because it is regarded as a cardiovascular form of exercise, you can dance your way to having a healthy heart. It is a great way to reduce your risk of hypertension, atherosclerosis and heart disease.
6. Lose weight
Dancing is a great way to exercise; it keeps you going without making you bored. It is said that people who took dancing as a way of weight loss, stuck to their regime than others who opted for other exercises.
7. Stabilize and gain better control of your body
It is a great way to prevent losing balance, dancing promotes better control of the body. Dancing will increase balance for adults and elderly people.
8. Increase Energy
Dancing to boost energy? Yes, dancing can increase energy levels and physical performance in adults and the elderly. You can feel more energized leading a sedentary lifestyle can certainly make you feel tired and listless all day long. Combat lack of energy by putting on your dancing shoes and moving to the beat you love.
9. Make Friends
Dancing can help you branch out to other people you normally won't hang around with. Dancing also improves confidence and self-assurance. Increase your social circle by signing up for a dance class. You can boost your self-confidence with it knowing that you are good at something can certainly fill you with pride and confidence. Performing in front of a crowd is an effective way to combat shyness and lack of self-esteem.
Dancing is one of the easiest and most fun way to keep the body moving. Dancing is seen and done all over the world. It helps promotes good mind and body health. Dancing also increase cultural knowledge and mental health. To enjoy all of these benefits, dance! It doesn't even matter what sort of dance types you like, or whether you are alone in your room or in front of an audience.
More topics:
Warning Signs of Heart Attack
5 Health Benefits of Foot Massage
Positive Effects of Having Pets to your Health
5 Healing Properties of Pineapple
Health Benefits of Wheat Grass