As a noted in a previous post, I had waited several years to receive a set of over-ear, noise-cancelling headphones, which were designed specifically for comfort during sleep. Having experienced a lot of trouble sleeping in the past, and resolved a lot of the issues, one thing I could not resolve was the intrusion of noise from the street.
Sadly, however,, my excitement in getting the things was swiftly tempered by them not being very good. Something I honestly should have expected given the awful shipping logistics demonstrated by Kokoon.
Initially I planned to share this only when I got my refund. What I didn't expect was the refund to take three months.
So, where to start?
First, by apologising for taking photos of the thing on what is clearly an unmade bed. I had to post it back that day, and needed quick and dirty photos for this update. Next?
The packaging.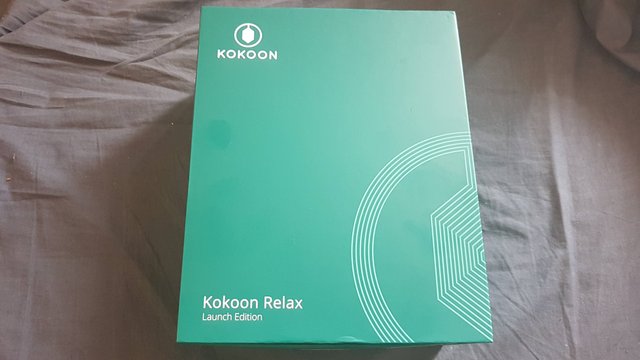 Kokoon obviously spent a bit of money to make the packaging look nice, giving a false sense of security on the viability of the product inside. The box is solid, well-constructed cardboard, with a magnetically-sealed flap to keep it shut.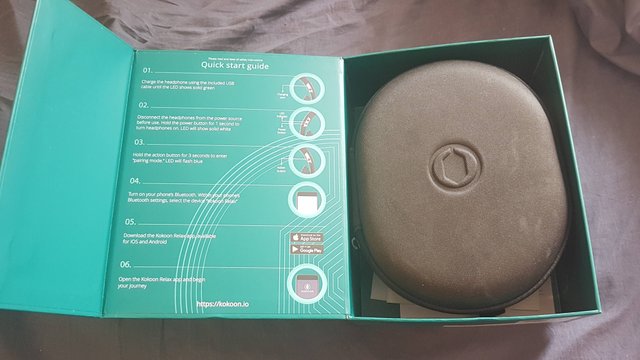 Pop it open, and you've got your quick start instructions on the flap, and your stuff inside. I do like the presentation, for what little it's worth for the overall picture.
The hard case is decent, containing enough room to hold the headphones, with a mesh pouch for the accessories. It'll do its job at protecting them from drops.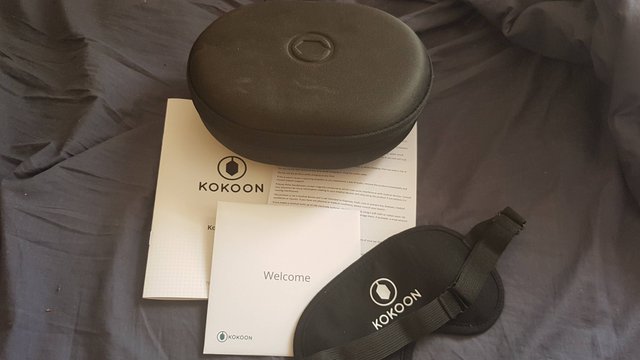 The contents of the box (above). I should have snagged another photo with the other accessories, but I was in a rush to get it all back to the post office before they closed. Some paperwork, instruction manual, warranty information. a welcome card with a coupon code for another set of headphones for a discount, an eye mask. Inside the case were the headphones themselves, a micro USB cable for charging, and a dual 3.5mm cable for using with your device without bluetooth.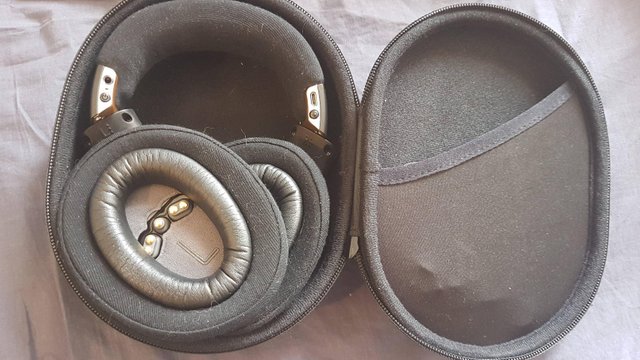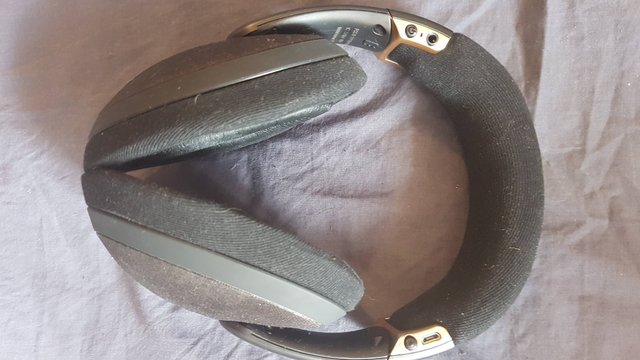 The headphones themselves are of a decent construction. Others have reported that they have felt flimsy, but I encountered no such issues - then again, I only really had them for two weeks. In terms of comfort, to their credit, these were some of the most amazingly comfortable headphones I have ever worn - and I own, at present, five sets of headphones (not including these, or the multiple pairs of Sony and Sennheiser in-ear buds I've had and lost over the years!).
As you can see on the photos above, the cups are fairly long and elongated, and include a pretty sizeable amount of cushioning. While the headphones feel present, and have a heft to them, their engineering and construction make them feel about as close to not noticing they're there as I have ever felt before.
The cups themselves swing both ways, a feature I came to very much enjoy in my Logitech g933 headphones, allowing them to sit flat on your collarbones when they are off your ears, maximising comfort value.
The headphones contain two buttons; the one on the left side powers them on and controls the active noise cancellation (ANC), indicates battery level, and bluetooth. The one on the right controls other functions like music and calls. The LED on the left blinks different colours to indicate charge, bluetooth, and ANC status, however it is such a dull LED that you need near darkness to see it.
Above each button is a port. The left side for your 3.5mm cable, and the right side for the micro USB charger. While having the charger cable where it is is suitable enough, it's an odd design choice for the jack due to it being on the back of the headphones instead of the bottom of the cup - it results in you having a cable jutting out from the back of your headphones instead of hanging down, which looks weird.
In terms of operation, the headphones appeared to work well enough during my brief time with them. Again, others reported issues with bluetooth not working, charging issues, sound issues, and power issues, but I had no problems during my two week tests. The audio quality is serviceable, but not amazing - you could spend less money and get better sound, or spend the same for amazing sound - but it was adequate.
The comfort of the headphones extended to wearing to bed, only at a lesser degree. Kokoon claimed that they were comfortable for side sleepers, and to a degree they are, however they are definitely 'present' and take a soft, deep pillow and a bit of getting used to.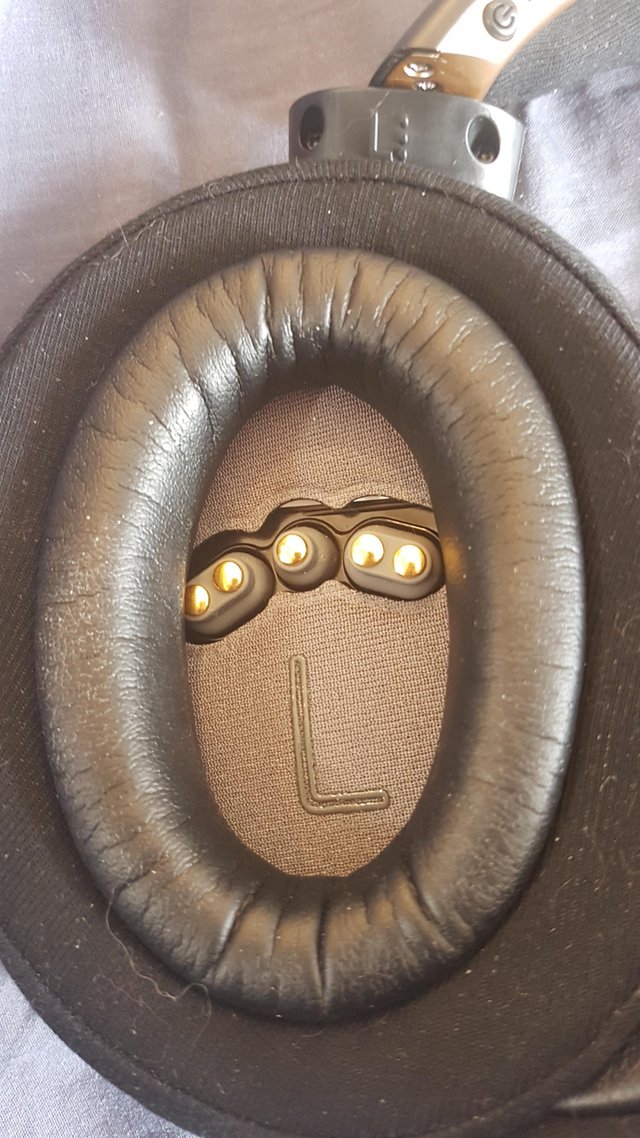 The ANC worked well during trips into the city or on the bus, with all the noise muted to a dull roar, but had little to no - even negative - effects on low-noise locations. This was my first major disappointment with the headphones. The entire point of them was to wear to bed, and let the ANC and PNC (passive noise cancellation) block out the common causes of noise disruption, however my tests only served to either make the noise worse in some instances, or do nothing to block them. Meows from my cat and traffic were just as bad if not somehow louder.
To add to it, the ANC had a constant hiss in the background. Any and all attempts to deal with it only served to keep my brain more active during attempts to sleep; instead of falling asleep within half an hour like I usually do, it took me much longer. The hiss also seemed to keep my in a lighter phase of sleep, and I woke more frequently, then took longer to fall asleep again. White noise may work for some, but it does not work for me.
Included in the app are some various spoken word wind down and sleep technique playlists, as well as a variety of musical and white noise soundscapes. I tried some of these, but I found them distracting to sleep. The app was supposed to include sleep tracking data, and allegedly was supposed to track your sleep cycle and fade music out as you fell asleep, and fade your alarm in only as your sleep cycle reached its lightest phase in the morning, but saw no sign of any of these features.
Ultimately, after two weeks of disappointment, I decided to return the headphones, but the pain and frustration still hadn't ended. I contacted Kokoon to ask for a refund and they refused, citing that I had had them for three weeks, where the maximum was two weeks for returns. See, when Kokoon shipped them, they sent me a ticket (not an email) buried in their website, to advise they had been shipped, but the ticket was sent to me a week after they had already arrived, directly before the lengthy Easter public holiday season. I was only able to collect them about a week and a half after they turned up.
Some choice words later, they agreed to accept a return and sent me paperwork to fill out for a free return. Only the shipping company they used does not operate in Australia. I was forced to pay for shipping myself, and they refused to include it in the refund.
Now boxed and on their way back, I'd still have ongoing frustration with trying to get a refund. A month after it had been marked as delivered, Kokoon informed me that they couldn't find them in the warehouse. A month after that, they told me that they had given me the wrong address to post it to and they were following up with Ireland's postal service. A month after that, they finally refunded me - three months after returning them.
To their credit, after all was said and done, they told me that I would be refunded within "5-10 days" and managed it within that time. The one thing they could manage to get right.
So at the end of the day, do yourself a favour: try and avoid spending money on Kickstarter campaigns, and don't spend your money with Kokoon.