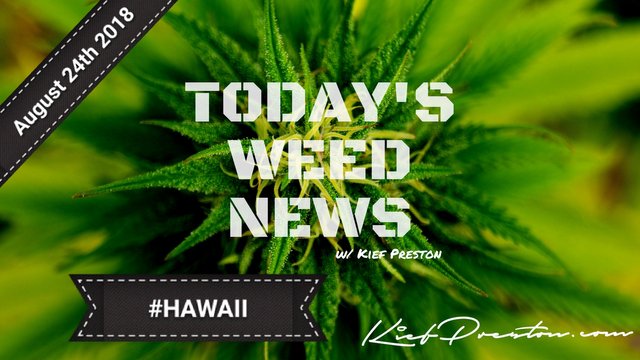 For today's weed news we go to the great state of Hawaii.
With its record-setting tourism numbers and budding medical marijuana scene, Hawaii now wants to allow out-of-state MMJ patients access to their dispensaries!
But there are some hoops to jump through...
By early 2019, the state of Hawaii wants to have a new program in place to let visitors apply for special temporary MMJ registration cards with which they can then visit Hawaii dispensaries.
The thing is that in order to be eligible for the special card, a person will need to be suffering from a condition included on Hawaii's list of qualifying MMJ conditions, and not those of their home state.
On top of that out-of-State patients will be required to pay almost $50 ($49.50) to get their 60-day cards.
Health officials in the state are predicting that if the program is launched on schedule (early next year), over 5000 visitors will be able to take advantage of it within the first 12 months. Some say that there is a chance that that number might actually be closer to 25,000 or 30,000!
That surely would make Hawaii one of the friendliest vacation spots for people using medical cannabis, if you don't count the states where recreational weed is legal that is.
In order to make this a reality, Hawaiian cannabis regulators are already working on the next step; setting up an online application process for the temporary cards.
Even though it might cost a few extra bucks, this is a great idea if you ask me. I wish all MMJ states had similar laws on the books, it only seems right.
After all, we are talking about helping sick people feel better aren't we?
That's what's up Hawaii!
source: bit.ly/2whiO4S
"Take Action Today to Help Legalize Weed Tomorrow" -Kief Preston
START HERE: kiefpreston.com/
Wanna GROW? Free GROW BIBLE – https://bit.ly/2podIAg
NEED A VAPE? VaporNation has Da Buddah Vaporizer and ALL the BeSt Brands + FREE SHIPPING - https://bit.ly/2L6hOFp
If you enjoy my content please leave a comment, ask a question, like it, share it, and subscribe for more! It will help me grow my blog and motivate more people to stand up for cannabis and start enjoying its' many benefits.
Stay UP! -Kief
▶ STEEMIT steemit.com/@kiefpreston.com
▶ Pinterest – pinterest.com/kiefpreston
▶ Youtube Channel – bit.ly/2GPQg64
▶ Kief Preston's Time-Tested Edibles Cookbook Series http://bit.ly/2EXIwAZ
▶ My website KiefPreston.com
▶ You can also support the cause by shopping on Amazon for ANYTHING you need using this link https://amzn.to/2GrxPog
More FIRE TRACKS from LMR & Mr Go Hard https://bit.ly/2plIWbe
▶ Hear me on Smoke Radio here: https://bit.ly/2JTCgJw
》》》FOLLOW and LIKE the Weekly Weed News 2.0 Podcast on Spreaker: bit.ly/2HjLf99 or on Itunes, Stitcher, Soundcloud, iHeartRadio AND nOw on Spotify!