Is Harmony Protocol the Future of Decentralization?
When I saw this Tweet about Harmony Protocol on the Official Twitter Page, I decided to look a little bit into it. The pool prize of $250k of $ONE on offer is a very attractive prospect and you can participate too, all the information you need can be found here. Decentralization is in full swing these days and with each passing day, comes a new way to leverage the immense benefits. As the interest and market grows, there will be more and more people using decentralized applications, and as these numbers increase, there will be a need for efficient and fast transaction. Using cutting edge technology to simplify transactions, I present to you Harmony Protocol



source
What is Harmony?
Harmony is a PoS blockchain that blends flexibility, scalability, and energy efficiency in healthy proportion, the protocol runs operations through the principle of data sharding. Sharding is a classical principle in computer programming where the computational responsibilities of a system are fragmented into simpler bits, thus leading to faster and more accurate transactions.
All the techy stuff sounds confusing, so here's all you need to know in simple terms;
Harmony is an all-inclusive blockchain that facilitates decentralized applications
Harmony is scalable; meaning it can work on different sizes of data volume
Sharding makes transactions faster by breaking bulky data into simpler units
Sharding also comes with a "proof of stake" mechanism.
Superfast transaction across the network
Security is of high priority
The Gossip protocol bit in the One Pager basically depicts a secure peer to peer interaction between computers that spreads information like an epidemic.
PoS is an acronym for proof of stake. Proof-of-Stake is executed by miners who put a number of their coins on a block to check transaction blocks.
Here is a comparison between Harmony and some other PoS netowrks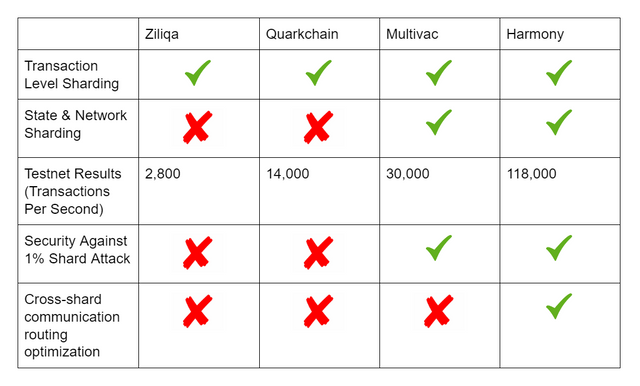 source
What Does it all Mean?
Well, it is simple really, Harmony Protocol is a network, kinda like Ethereum with unique and competitive features where developers can create, express themselves and participate.
The usage of the network produced positive reviews and at the time of writing, there are already 138 nodes up and running with thousands of sign ups in a short space of time, it seems like a good fit for your project, irrespective of the potential database and size of the transaction.
The Incentive
To promote the use of Pangeae, a unique network created to show the capabilities of Harmony's network and of course get feedback from the users. To make it worth your while, Harmony, in conjunction with Binance are hosting a $300k giveaway to users of the node and traders of the local currency of the network called ONE.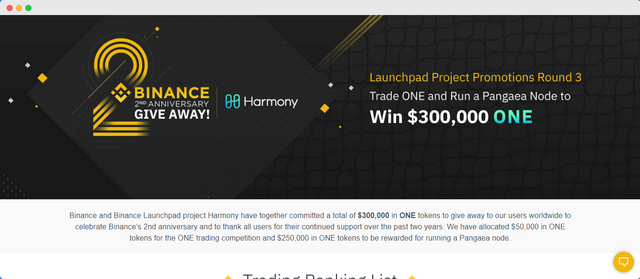 source
The Token
ONE token is the local currency and is ranked 139 in Coinmarketcap with a value of around $0.0112 at the time of writing. It is currently tradable on Binance and other leading exchanges. Though I advise you trade on Binance to be a beneficiary of the $300k Prize pool I mentioned earlier.
Thoughts
There you have it, ladies and gentlemen, you can get more information and contact Harmony through the links below. There have been a bunch of dapps that suffered downtime due to an inability of the network they find themselves in to handle the sheer amount of transactions within the network. The dream to connect Billions of people from around the world is alive, one node at a time, it could become a reality.