Hardfork Announcement for Witnesses, Exchanges and Users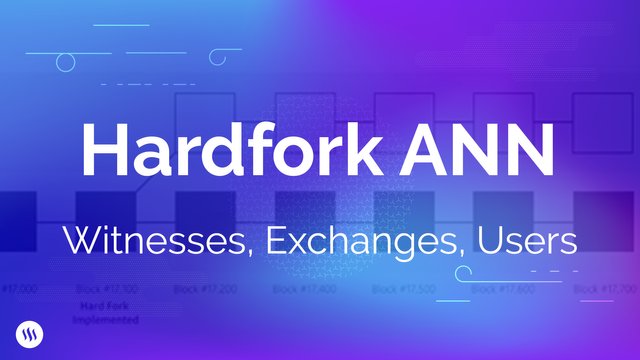 The Steemit blockchain team has officially published our release for Hardfork 20, codenamed "Velocity." This release includes code that specifies that the Hardfork will occur on September 25th. It is a testament to the engagement of Steem stakeholders and, for many witnesses, this is the first hardfork they have participated in! In this post we'd like to cover some hardfork basics, as well as what will be needed of the witnesses and exchanges.
What Is It?
In our post announcing the release of our testnet we explained hardforks on a conceptual level, but in this post we want to discuss what hardforks mean for witnesses and users.
A hardfork is a coordinated update of the consensus rules that govern a blockchain. Steem's hardforks are controlled by the witnesses voting for a hardfork version and time. This vote happens automatically when a block is produced on a steemd version that does not match the witness' previous vote. When a version and date are approved by a super-majority of witnesses, the next block generated after the voted-on-time will activate the hardfork.
Witnesses
Witnesses should review the changes in the hardfork release. If they agree with the changes, they should run the new version of Steem at their earliest convenience. By running the new version of Steem, they are casting their vote for the changes. By choosing not to run the new version of Steem they are casting their vote not to hardfork.
Steemians
Steemians should also review the changes in the hardfork release and vote for witnesses that agree on whether they accept or reject the hardfork. To see what version of steemd a witness is running, go to https://steemd.com/witnesses and vote for them at https://steemit.com/~witnesses. The hardfork vote of the top 20 witnesses determines whether the hardfork‒and the improvements included within it‒becomes active or not. Once a hardfork becomes active it cannot be undone except via another hardfork. This process is an incredibly important part of participating on the Steem Blockchain. In many ways, this process is how we ratify amendments to the Steem "Constitution."
Exchanges
Hardfork 20 is scheduled to go live on: Tuesday, September 25, 2018 15:00:00 UTC. In order to ensure that Steem deposits and withdrawals are maintained without any outage or interruption in service, it will be necessary to run a re-index on a separate instance/server/copy of steemd prior to the Hardfork date and then 'flip the switch' over to the new release just before the previously mentioned date/time of the Hardfork.
For technical support, we are happy to assist with the transition and answer any questions that may arise. You can contact us at [email protected] or on discord.
Steemit Blockchain Team