@steemcasting need a logo, time to do a 1ramp.io contest!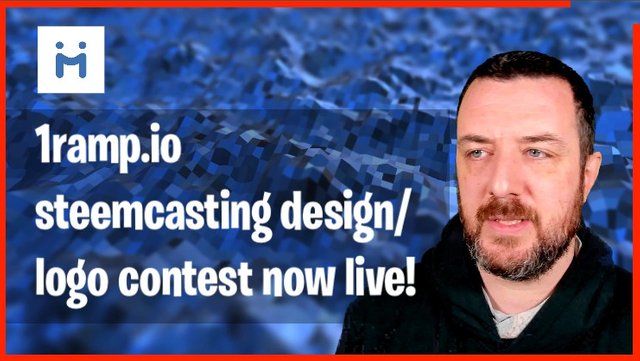 Contest Category:
Design
---
Prizes:
1st: 20 steem
2nd: 10 steem
3rd: 5 steem
---
Judges:
@teamhumble, @dayleeo, @steemcasting
---
Description:
Now, before i get into this i need people to know that this is mainly about running a contest using the 1ramp platform, we have very specific needs for the logo so don't be offend if we don't pick it to use, we will still award the three places however.
It's something that i would normally do myself or ask @dayleeo to do but she's got mad work on and i want to start doing more contests.
The reward will be a combination of steem and VLOG tokens via steem-engine.
So what we are looking for is the following design style, anything outside of this won't be considered I'm afraid so please keep to the 'specs'
The logo will be used on all overlay graphics for the service, on social accounts, and wherever we need to promote the service, once you have submitted it to the contest you give us unconditional rights to use it if you win one of the three places (pretty please, no drama!)
We have included some examples of things we already like below, remember we are going for white and black versions but a colour version would be great too if time.

while sk gaming is a gaming org in e-sports we really love the striking negative space of the S and the K in the logo, that's the kind of dynamic, funky, modern look we are going for, i'll be adding a link here to other logos that we are kinda into for reference -- https://www.notion.so/02332a6f430249f19080ef883309f4d4?v=59dd536e14414d2180ca14a22ababed9
The logo will become the base of future contests if chosen to be iterated on top off for different seasons, holidays, abstracts —- think MTV in the 80's when the logo took on different looks and styles.
The funds for the contest are coming from @teamhumble instead of the funds brought into the @steemcasting account so far, we have used only 10 gbp to set up cloud governance for the team, currently this runs on aragon.org (eth) because we don't have a similar service on steem yet.
If anyone wants to contribute and add to the fund pool please drop me a message.
Reblog this contest (optional)
Entries will be judged based on the creativity, originality, and in accordance with the contest theme.
Plagiarised entries will be disqualified. (Even if the plagiarism is reported/detected after the results declaration)
The prizes will be sent to accounts from which the user participated in the contest.
Contest winners will be declared within 1 week from the end of the contest.
The final call on the winners will be made by @steemcasting
The prizes will be distributed within 3 days from the winner's announcement
Single color mainly, white and black version, vector, scalable, great small and large, 1:1 ratio
We are a stream station, media company promoting the steem blockchain but we want to go simple, negative space logos appeal also esports.
We are aiming to be a twenty four hour station so the logo should be bold as a news channel, exciting like an esport company, should be flexible for 'seasonal' updates
Combining the S and C together in a certain way, fast moving, sharp, illustration rather than logo, timeless.
---
How to Participate?
1Ramp users can directly participate by tapping on the 'Participate' from the app.
Use #c-6q3zr24w1evroovfz1dr hashtag to participate from any other Steem platform.
Contest begins:
06 Mar 2019 - 11:00 AM GMT
Contest ends:
13 Mar 2019 - 11:00 AM GMT
---
Get on 1Ramp to create and discover exciting contests.