Natural and pressed handmade paper
It's been a very long time since I posted any of our hand made paper projects! Really it's not on purpose and not because we lack projects. On the contrary, we've had so many orders and projects especially since we returned from our camping trip! I realized in shock recently that we're sending out orders without taking a photo first! Too much rushing can lead to mistakes.
So now I want to share a photo from a recent order we managed to shoot before sending it to the client.
It is actually a demonstration of two types of handmade paper surface.
On the right is face and back of a natural handmade paper, just poured and dried out on the deckle. You can see it has a very soft texture, almost like a cloth. The back is a bit smoothed from the fact it rests on the deckle but still there is some texture to it.
On the left is face and back of the same paper, but passed through a hot press. It's actually two metal plates that come together and press the paper. The result is super smooth surface and paper that is with less volume and looks thinner but actually is more sturdy. That's because the press compresses the pulp fibers.
The pressed paper is better for stamping on to it, so sometimes we are required to press the paper if we know it'll be printed with a stamp. But the natural surface is very beautiful as well and can handle writing just fine!
Which do you prefer?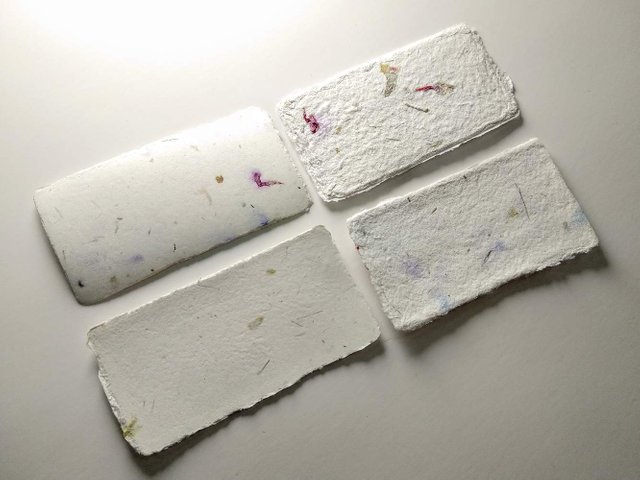 Posted using Partiko Android