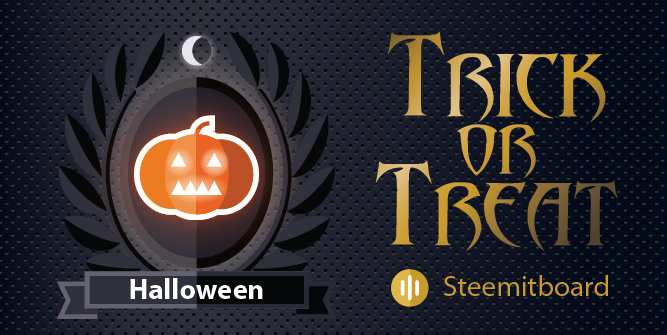 What about adding a new badge to your board of honor?
Halloween is the perfect moment to do this. And no need to ask your children to travel from house-to-house in costumes. No need to throw a malefic spell.
Here are the rules:
Write à post on October 31. You will have to publish it between 00:00 and 23:59 UTC time, not sooner, not later!
Use the tag #halloween as the main (first) tag and #steemitboard as the second tag
Your post need to contains the magic words "Trick or treat"
Have your post receive at least 10 upvotes (there are your first treats)
And … abracadabra …

You will receive this new badge on your personal board.
Oh, I forgot a very important rule: upvote and resteem this post!
No, I'm just kidding … but your support is more than welcome! Spread the word!
Enjoy and have fun!
---
Steemitboard announced a brand new website look and new features. Read the post here
---
Support the SteemitBoard Project and all Steemit users by voting for its witness!


Learn more how and why here
Read SteemitBoard's latest witness report here
Steemitboard is a project created by @arcange