The treat is called "Trick Or Treat". Happy Halloween!!!
Hi Steemit!!
I invite you to visit us on a Halloween.
We will please you with our dishes.
I cooked, the daughters were engaged in an ornament) .. Thanks my baby for the help !!!
Well))) ... "Trick Or Treat"??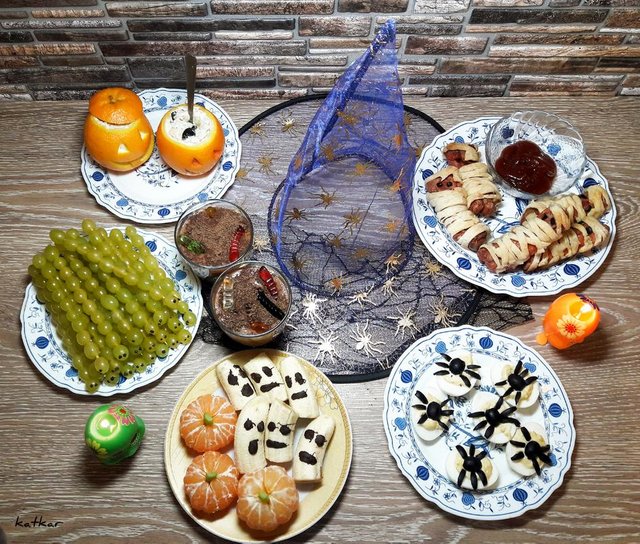 We will tell in order about our dishes.
And the first dish is called:
"Evil Pylons"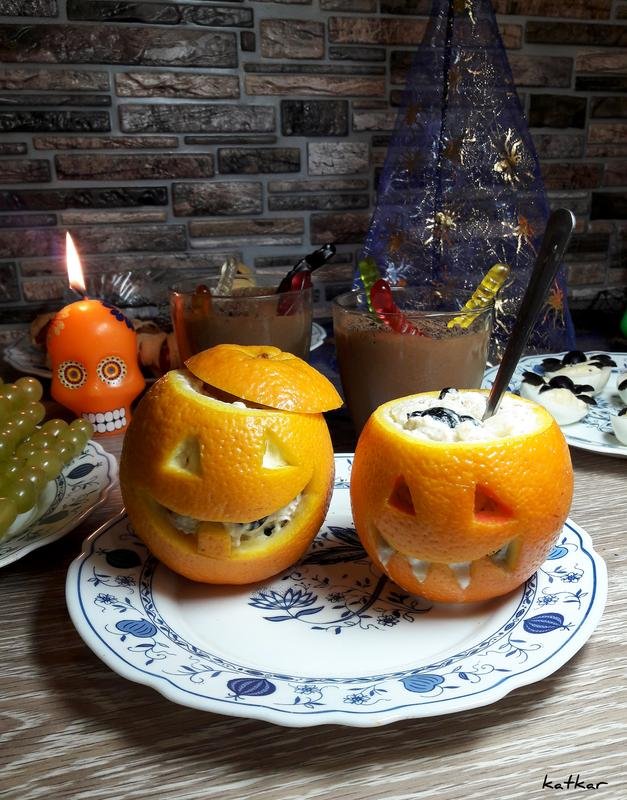 Pumpkin replaced with oranges ... ... do whatever you like ...
You can put a salad in the oranges. Which we did.
We remove the flesh of the orange, (do not throw it away, you can make freshly squeezed juice).
We have such a salad:
Chicken breast
Pineapple canned
Olives
Black olives
Mayonnaise
Salt and seasonings to taste.
You can make any salad and put in a plate of orange. Such a presentation of the dish will appeal to many.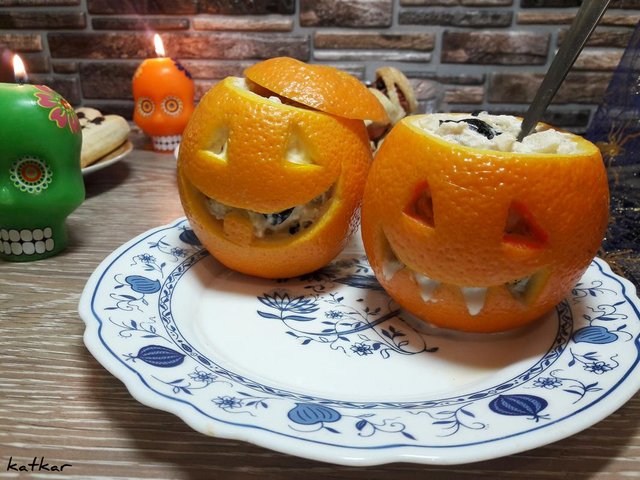 The second dish is called:
"The Invasion of the Ugly Caterpillars"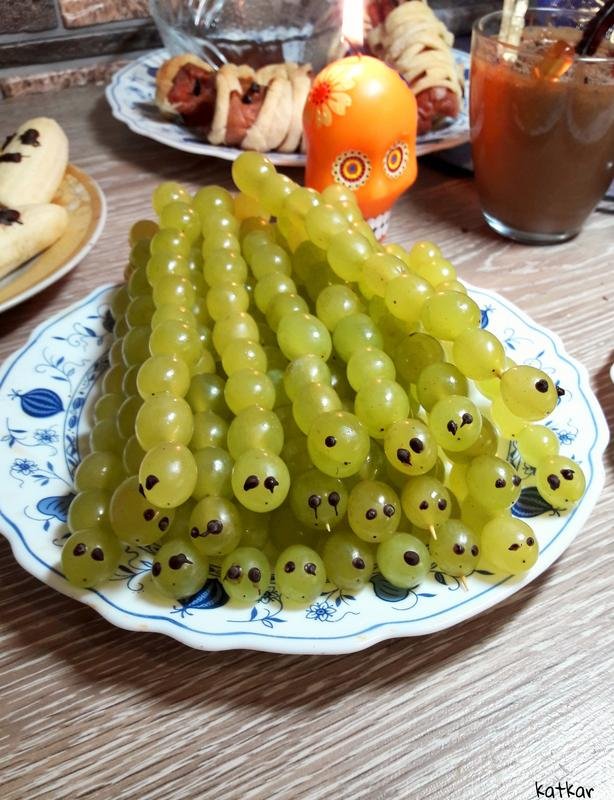 This appetizer is prepared very quickly. Therefore, if visitors unexpectedly came, surprise them.
Take the grapes and string it on wooden sticks for shish kebab. Well, eyes from any available materials. We have chocolate.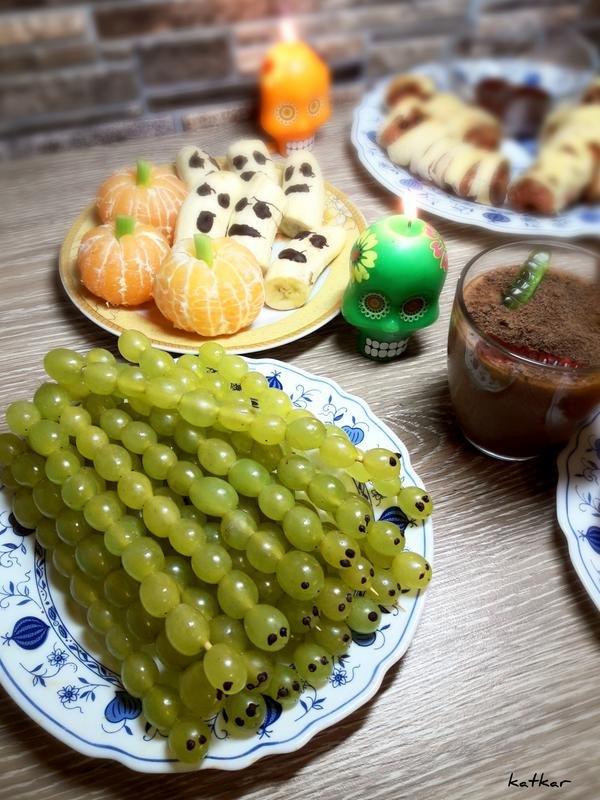 The next dish is:
"Spider Sockets"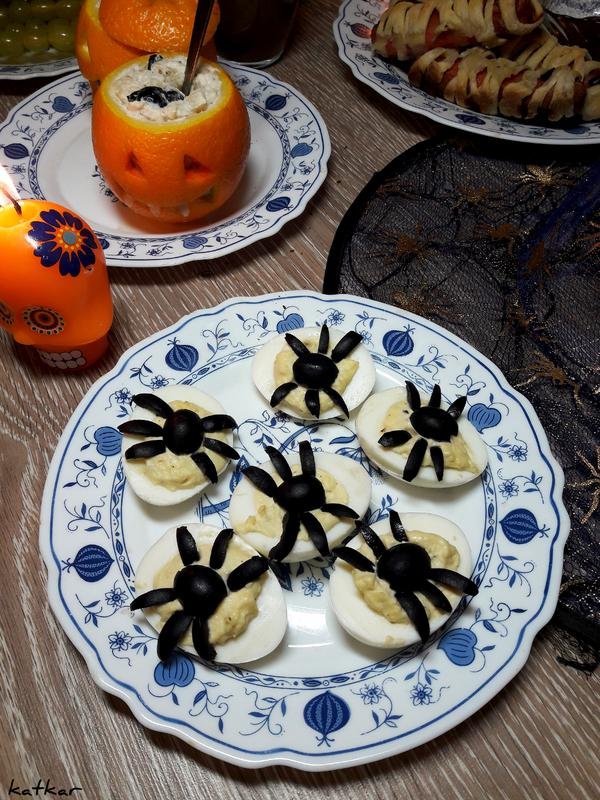 We will need:
Eggs
Mayonnaise
Black olives
Salt and pepper
Boil the eggs. We let them cool. We clean and cut them in half.
Yolks are taken out and mixed with mayonnaise. salt and pepper. And we fill our eggs.
From above decorate the "spider" made from olives.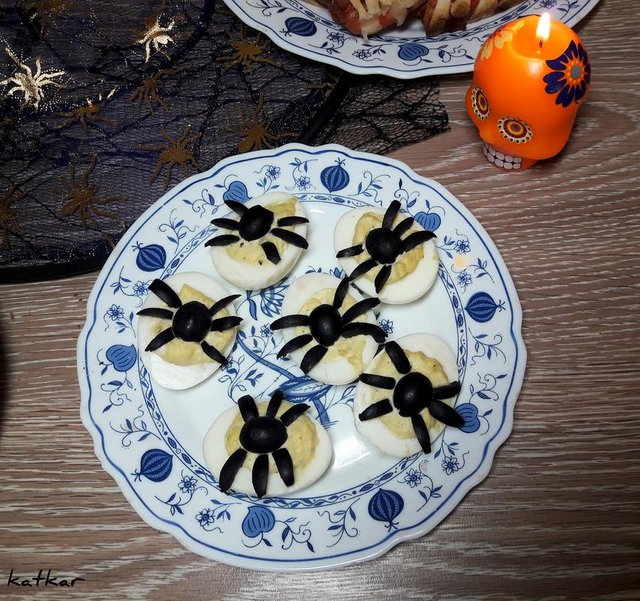 Next we have a dish:
"Mummies Attack"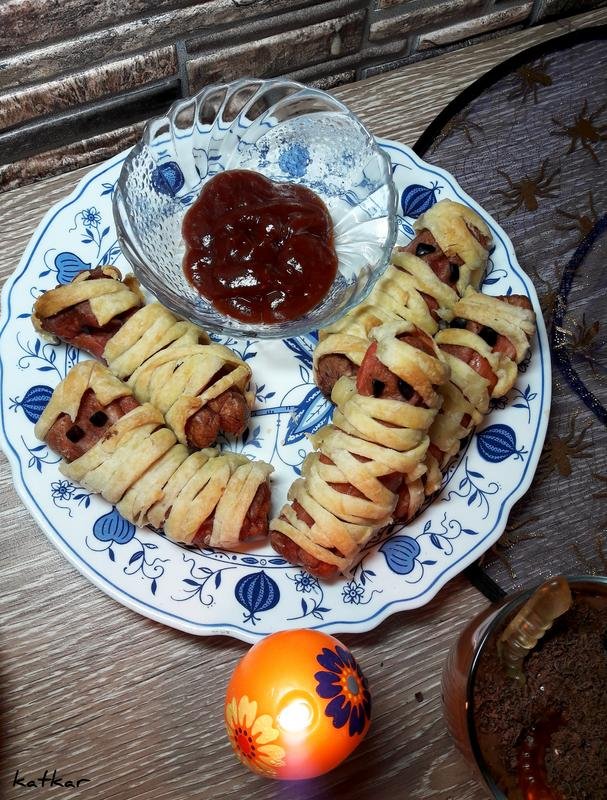 We take sausages and wrap them in puff pastry. Bake in the oven until cooked.
We slightly overexposed them, but our sausages became like real mummies)))
Eyes they make from olives.
Next Course:
"Poking and Giving"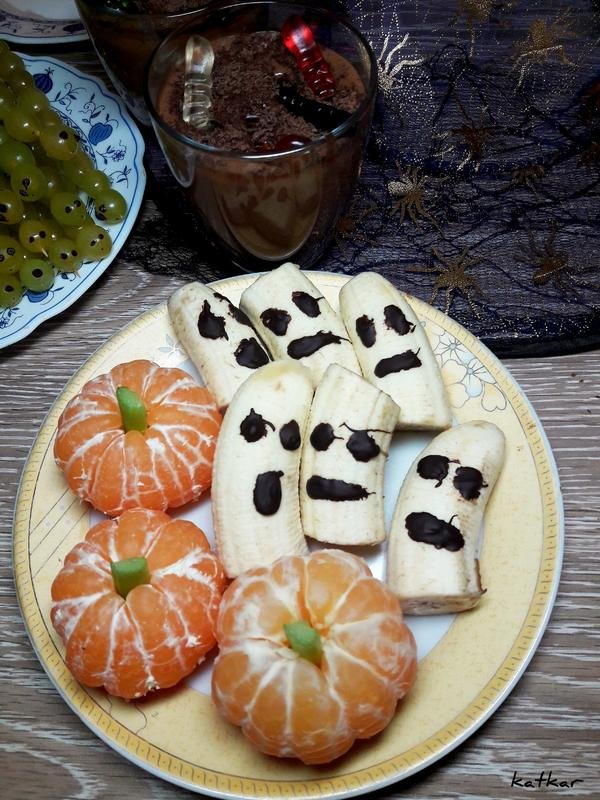 It's very easy to cook this snack.
Tangerines clean and clean white veins. We put a small stalk of celery inside the mandarin. Now, the tangerines are like little pumpkins.
Cut the bananas in half. Let's warm up a little chocolate and draw eyes and mouth on bananas.
Our funny "ghosts" are ready.
Well, of course dessert))
"Chocolate Mousse with Worms"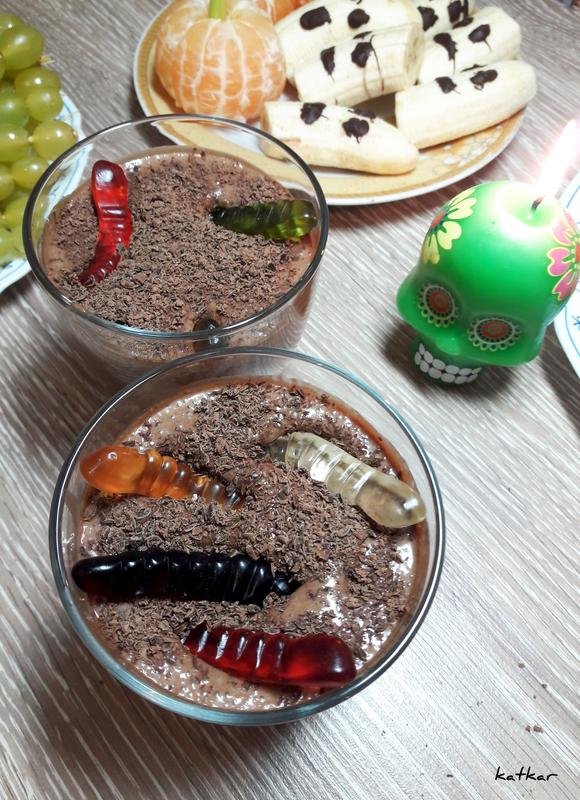 Here a little more complicated than in previous recipes, but a little effort and a delicious treat will be ready)
Eggs 3 chicken or 7-8 quail
Chocolate 200-300 grams
Cream 300 grams (fat content should be at least 33%, otherwise it will not break)
Sugar 100 grams
Jelly Worms
We beat the eggs with sugar. The mass should pale and increase in volume.
Whisk the cream until a firm foam.
Melt the chocolate in a water bath. And we let it cool down a little.
We connect the cream and the egg mass. We introduce chocolate in small portions. All neatly mixed and poured on kremankam. We remove mousse in the refrigerator for at least 3 hours.
We decorate with jelly worms.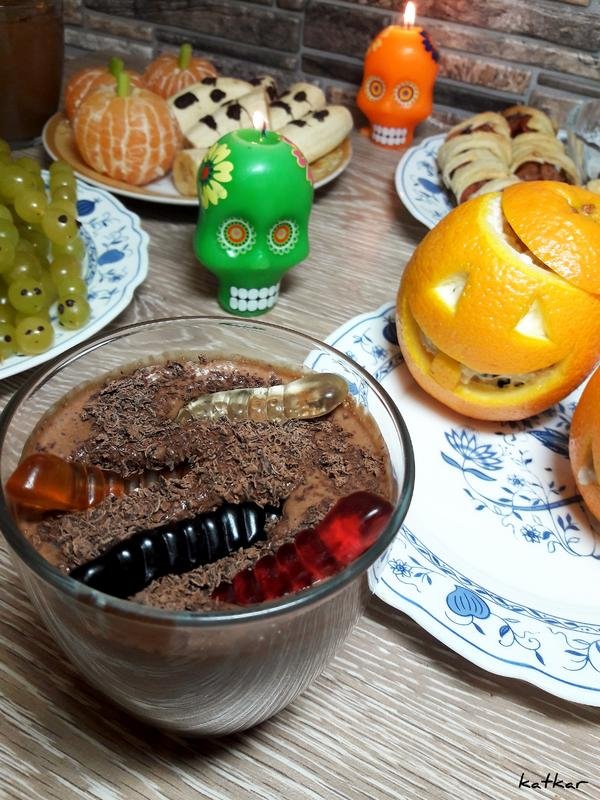 The food is ready !!
All with HELLOWEEN !!!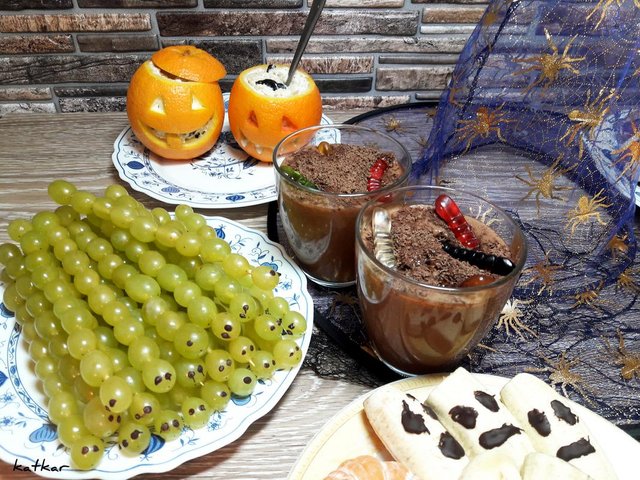 Bon Appetit!!