halim recipe, a delicious bengali food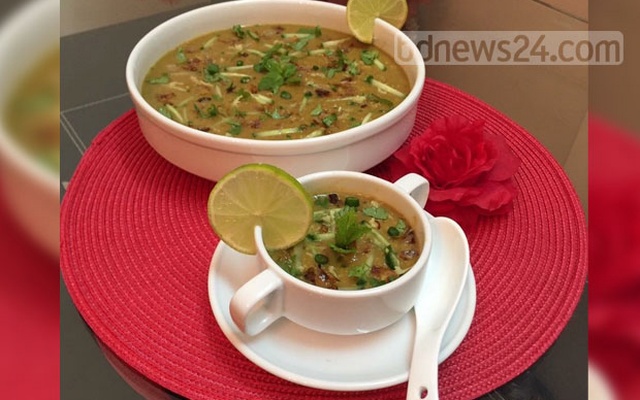 Halam made of houses is different.
Paris recipients of Paris recipes gave recipes Farhana Iftekhar
Meat cooking ingredients: Khasi or beef, one and a half kilograms. 1 cup of onion. Ginger and garlic cut into 2 tablespoons. 1 tablespoon of turmeric powder Roasted half-table-spoon. 1 tablespoon of chopped jaggery 1 tablespoon of chopped coriander Hot spices Cinnamon Bayagata two Biriyani spices 1 table-spoon Salt like taste. Like the amount of oil. Ghee 5,6 tablespoons
Dal Ingredients: Mung dal half cup in the table. Marshalaiya Dal half cup. Lentil pulses 1/4 cup Pea-pea half cup Polao rice half cup Wheat half cup
Halam spice: 1 tablespoon cumin seeds. Half table-spoon coriander 4 cardboard Kalijira-Powder semi-teaspoon. 1 teaspoon of fenugreek 1 teaspoon of spices 1 teaspoon black pepper 3/4 cloves. Semi-teaspoon anise. Semi-nutmeg Dry pepper 5,6. 1 table-spoon of mustard seed
All spices should be powdered.
For serving: Onion Beaver. Ginger kochi Rawmeat Coriander and mint leaves. Lemon
Method: The pulses should be soaked in water for four to five hours and softened with blender.
If the oil is hot in the pot, then after the onion cut, then add ginger and garlic paste and add the amount of salt and some water to the spices.
Taste the meat with a spicy meat once again.
If the meat is kneaded, then add a few pieces of banana to the water and add some more water. Water should be given to such quantity so that the meat and pulses are soaked. So you have to give a little more water.
After some time you will have to burn down so that it does not burn. Medium must be cooked for one to one and a half hours or till the pulses are all cooked.
If the stove becomes more dense then it will become adhesive like hazardous after halim. Do not like food time.
So when the light becomes thick, you will need to put the halima spice powder and ghee on the table before it is removed and put the halim with ghee.
Take hot hot lemon on the onion, onion onion, chopped cinnamon, cloves, coriander and mint leaves, sprinkle leaves, serve hot with lemon.