IBG Interview - 11 Questions With... Love Stallion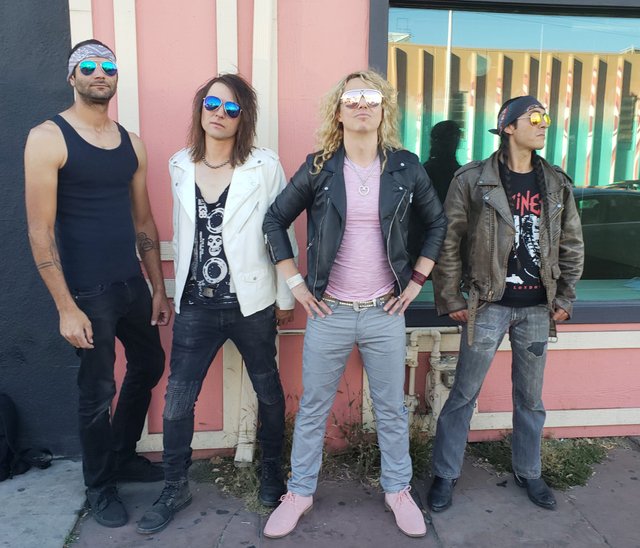 Love Stallion began as an experiment; a spur of the moment co-write of the song "Big Rock Radio" by Aaron Hart & Crayton Huntly (aka Rob McLemore) outside a concert hall in the fall of 2013.  Inspired by the "big rock" sound of the 70s & 80s, rockstars David Lee Roth & Freddie Mercury, and bands like Van Halen, Kiss, and Def Leppard, the duo enlisted the help of industry pros Dr Scott Martin & Kate Emerich, 
"Aaron Hart w/ Crayton Huntly" played their first show May 1st, 2015 at The Walnut Room Denver to a small crowd of friends.
The first video single "Slow Release" was released in March of 2018. It stormed to #1 on the IndiMusicTV charts and reached #4 on the iTunes Canada rock charts!  Love Stallion's 'Unforgettable Ride' was produced by Steve Avedis (Tony Bennett,*NSYNC) at Colorado Sound Studios and was released on June 2nd, 2018.
 
We had the chance to chat with Aaron Hart from Love Stallion to get behind thier rise to rock star status. Enjoy the interview here:
Tell us about the music scene in Denver.
Denver rocks!  There is a great rock & roll scene here, but of course, plenty of bluegrass, folk, and electronic.
Who are you listening to these days?
I cannot get enough of the Adrenalize album by Def Leppard. It is soooo catchy, full of hooks, and has amazing guitars & rhythm. Rolling Stone went as far as calling it "hard pop", which I think resonates with our music.
If you could tour with one artist, opening shows, whom would that be?
Steel Panther, hands down!  Those guys are so talented and hilarious.  Michael Starr is my rock & roll hero, and is one of the best vocalists out there today.  I'd love to go to one of their backstage botox 
parties!
Why is "Unforgettable Ride" an important music release?  Why should new listeners give it a chance?
We are one of the few new bands bringing back the rock & roll style of the 70s & 80s, which has been so inspirational to today's music. We're not just doing a reboot, but giving it our own modern flavor. You'll 
hear our influences from Def Leppard & Kiss, to the Rolling Stones & Deep Purple.
If you could perform in your dream venue, where would that be, and why?
Red Rocks Amphitheater is one of the most beautiful & magical places I've ever been to. It is definitely the premier venue of Colorado, and I would love to play there for our hometown crowd.
Your favorite song on "Unforgettable Ride" is?  Why is that?
It's really hard to pick a favorite, but I have to say "Valentine". While it doesn't fit the formula exactly, this tune is the ballad on the record, and create a cool & thick nostalgic vibe, especially live.
Where do you see yourself in 5 years?
Music is a lifestyle, so we very much hope to still be playing, creating new music, and getting on the road to share it with all our friends and fans across the country.
Any new music video plans for the new album?
Two!  We just got done filming for "Big Rock Radio" in mid-October with John Hunt of Arcadian Pictures from Fort Collins. Him & his team are working on it now, and we're aiming for a release near the end of 
November.  We're also scheduled to shoot the video for "Valentine" in December, with a January release date TBA as well.
Who is your dream collaboration? and why?
Def Leppard! They are one of my all-time favorite bands, and were one of my inspirations for starting Love Stallion. I really connect with their writing and fun feel-good music. I absolutely love their arrangements, 
both vocally and in song structure, so I know I would learn a ton from them.
Where do you discover new music?
The last several years, I have been discovering "old" music, which is new to me. I love to go down the rabbit hole of 70s & 80s rock & roll, find out which artists influenced my favorite bands, and if any members of those bands started new projects over the years.
Any final thoughts, shout outs, lessons or advice for our readers?
Always remember why you are doing this in the first place. Also, work hard, workout, and don't party too much, especially if you're the lead singer.
Keep up with what is coming from Love Stallion HERE.
---
Posted from my blog with SteemPress : https://indiebandguru.com/love-stallion-interview/
---