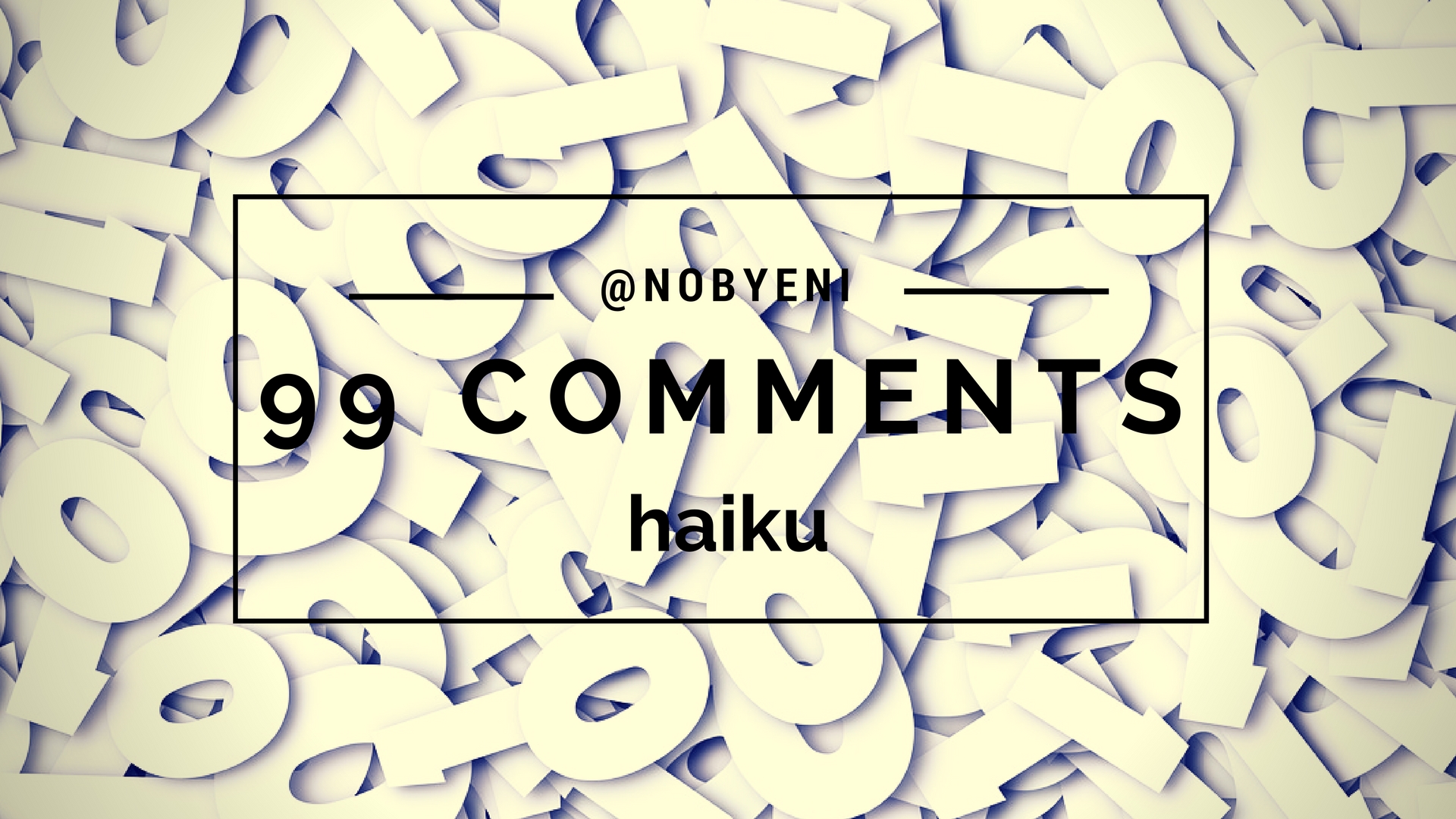 Picture from Pixabay, cover made by @nobyeni on Canva.com
99 comments (on a haiku)
change every letter
and then
some
~ @nobyeni

That Thing Writers Do
One of the things writers do most when they hang out, is talk about writing. About editing. About selling books. About going mainstream versus steeming. And those conversations in themselves are a wonderful inspiration, at times. Tonight some were discussing how to edit or comment on a haiku. That is how this thought/haiku came about.
I am submitting it for @dbooster's haiku contest. I won't win anyway, as there is no nature evoked, no image, no nothing really in this haiku. And mostly, because I've already spotted some incredible haikus that deserve to win. But being part of this community is what it means for me to be 'warm again'. Participating, joining. Something which is new to me. And on this first day of a new year, the first day of spring, what better thing than to participate by offering 99 comments on a three-line poem. That is what dedication and love for writing is all about, and it is the kind of warmth people share for one another at @thewritersblock.
A Thousand Things
On another note. The '99' is not random. In Japanese philosophy/culture, there is a concept of zazen, and this is something hard to explain, and I'm far from the right person to explain it here. But I can relate to it through the idea of 'the thousand things'. The thousand things are the whole world, every together is thousand things. And I am a part of it, I am one of them, and so are you. These thousand things stand for everything, their interconnectedness, their being with other beings.
This is what being warm again means to me, to be connected to those thousand things, and to be aware we are always part of those thousand. In the West, and perhaps in general, we often forget this. We start to count and we don't even know what counts anymore. At @thewritersblock a lot of things count, including imperfection and sleeping, rejection and frustration, joy and love--it's all there. I think we still try to count things, but getting to 99 is pretty good, for a bunch of weirdos on the internet. We all have a long way to go yet, but I feel happy to be able to walk as one among them.
Even if my path remains my own.

Here an overview of more fiction/short stories and poetry by @nobyeni.