大瀑布秋の声を添ふ
big waterfall
joining its constant roar
autumn's voice
(daibakufu / hitosuji aki no / koe o sou)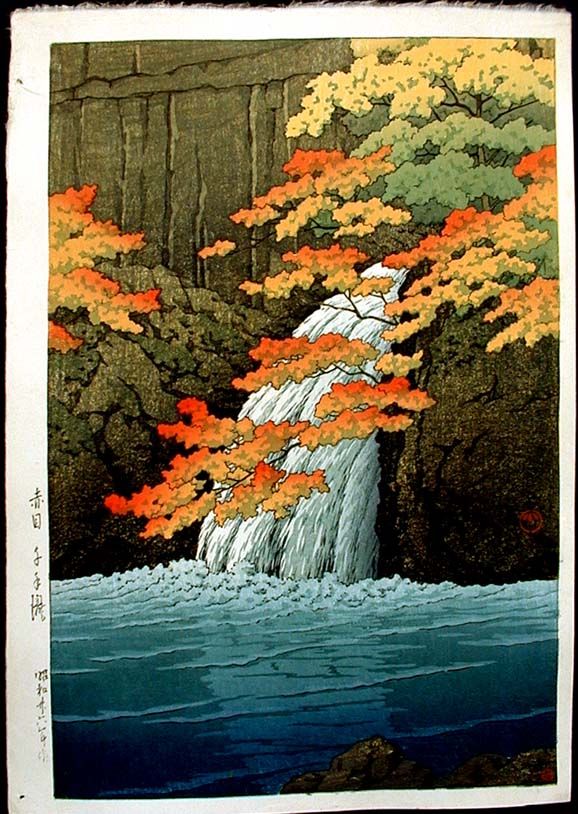 (Print by Kawase Hasui)
Let's see... off the top of my head, I've mentioned the moon (and moon-viewing), scarecrows, the Milky Way, and various leaves as autumn kigo (nature words) that are commonly used in haiku.
Another is autumn wind, literally referred to in Japanese as the voice of autumn (姫の声 aki no koe). You may see it translated in many different ways, but it is referring to the wind and related things, such as the sound of the wind blowing leaves on a deserted trail.
This is one of my favorite woodblock prints, a beautiful scene by Kawase Hasui. It fits this haiku very well, doesn't it?
---
Don't miss the other great haiku in the Haiku of Japan series!
---
Thank you for reading. :)
If you enjoyed this post, please like and resteem. Also be sure to follow me to see more from Japan everyday.
I post one photo everyday, as well as some misc posts such as haiku, videos, more Japanese history, and so on. Let me know if there is anything about Japan you would like to know more about or would like to see.
---
| | |
| --- | --- |
| | David LaSpina is an American photographer lost in Japan, trying to capture the beauty of this country one photo at a time. |