Whaleshares (WLS) is about to rise above the Neckline (green) of the bullish Inverted H&S and if it can manage to do so, it'll have to be decisive; in other words, rise above it and stay above it. Often times, price does rise and temporarily come back under the Neckline.
As young as WLS might be, it has surprisingly established a steady state of cycles (blue half moons). IF this is correct, then the most recent cycle gives it a bias that a higher high is likely which would translate into price rising above the Neckline. For you buyers, be thankful to all those powering down and selling.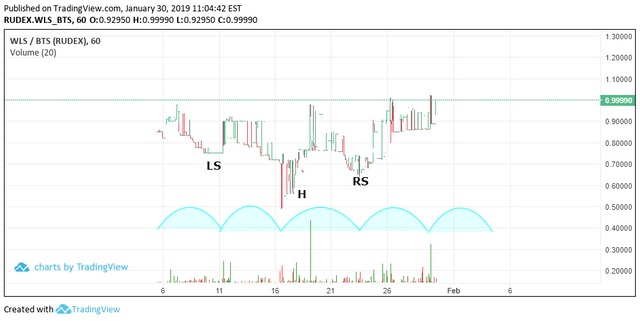 Tradingview Chart Link
Chart patterns and Elliott Waves jive very well together because both are variations on the theme of Fibonacci. Thus, blue wave (3) is in progress and this confirms the expected upside breach of the Neckline as well as well as the Cycle's upside pull. Again, be thankful to all those willing sellers who are powering down and selling as they will soon turn to buyers when FOMO sets in when WLS is 1.5x of BTS. From the recent 0.44 BTS price; the 1.5 would represent a 340% return. Many sub 1 BTS sellers are already regretting and FOMO for them too will kick in.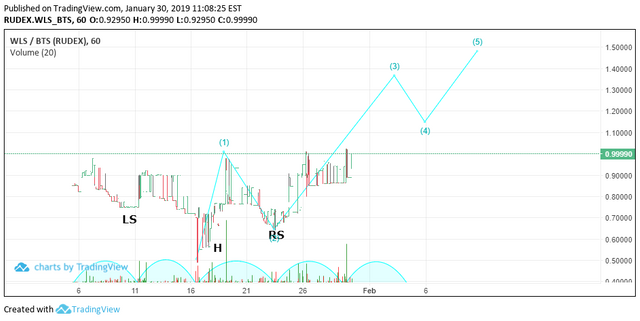 Tradingview Chart Link
In addition, BTS had been caught in a Fat Tail event where margin calls could not be met. This is why on BTS exchange, price of BTS has been ceiling hit at $0.05. This is also called a Black Swan. This can also mean that those holding bitUSD can profit handsomely because the reset could allow much MORE BTS per bitUSD. Now, this will work in the same direction for WLS holders because the peg reset will allow WLS holders to capture MORE BTS per WLS because much more BTS will be required per bitUSD and correlatively, same for WLS.