Just woke up to some interesting news concerning the mysterious dark web. It seems that a hacker associated with the hacker collective, Anonymous, knocked a fifth of the websites on the dark web offline over the weekend, in an unprecedented cyber attack that reveals how anything connected to the internet is at risk.
They targeted an underlying infrastructure of the dark web called Freedom Hosting II, in protest against child pornography, and the hosting service claims to have a zero tolerance policy to child pornography in its TOS!
---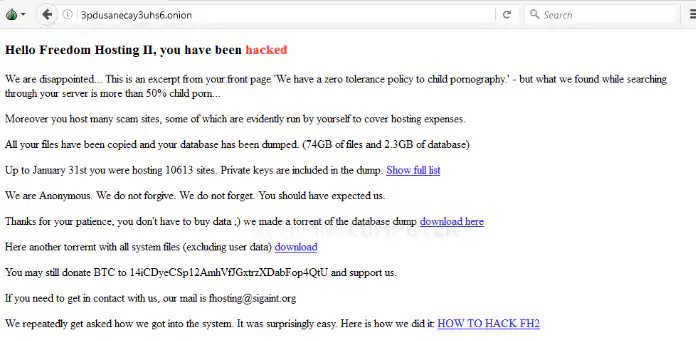 ---
The warning message left by the hacker on almost 10,000 dark web sites.
[Photo Source]
---
The hacker has shut down more than 10,000 websites on the hosting companies servers, which hosts 20 per cent of sites on the dark-net, and decided to take the whole network offline, replacing the sites with a warning message.
As well as taking the websites offline, the hacker also leaked information from the sites, which allegedly included swathes of child pornography images and stolen personal data that was for sale. The information also included thousands of unverified US government email addresses.
The interesting thing with this news is that we always had many types of hackers since the beginning. We had the malicious ones, the hackers who were doing it for fun and the vigilantes, who wanted to keep the internet clean, but this is the first time I have heard of these self appointed vigilantes going after the dark-net, which seemed invincible.
The dark-net has been associated with pretty much everything that is illegal, giving it an air of invincibility and lawless sites were selling everything from drugs, guns, stolen financial information, child pornography and even assassins for hire. But now it looks like even they are not safe any more, and this is one space I shall be watching keenly in the future!
---
Sources for the post
---
http://www.techtimes.com/articles/196101/20170206/anonymous-attack-thousands-of-websites-on-the-dark-web.htm
---
If you like my work, please up-vote and read more at @norbu.
You may also click the down-arrow next to my name (before my reputation score below) to follow me. Or you may just re-steem to share the love! 😊
---