Experts estimated the damage from the WannaCry virus of $ 1 billion
The attack on computers with the help of the virus-encryptor WannaCry cost the victims of malicious software at least $ 1 billion
"Given the massive disruptions in the work of computers in large organizations around the world, the estimated damage from WannaCry in only the first four days from the beginning of the attack will exceed 1 billion," says Stew Seweman, the head of KnowBe4.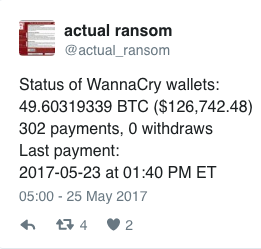 Assessing the damage, the company took into account losses due to data loss, loss of productivity, reputation damage, as well as the costs of investigating the causes of infection.
The WannaCry virus encrypts information on the computer and requires its user to purchase $ 300 by bitcoins. Seven days after infection, the virus destroys the data.
According to the bot actual ransom, who follows the bitcoin-wallets of intruders, hackers received 302 payments from victims of the virus for $ 126,000.