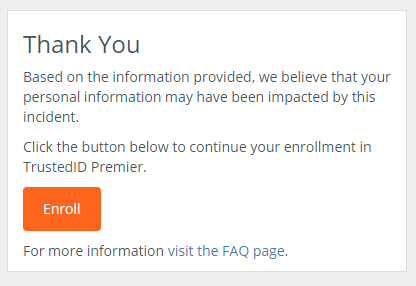 So that just happened... Worst case scenario and what I'll do about it.
What did they get? EVERYTHING!
It's a credit bureau and they have it all on me. Driver's license, credit card numbers, DOB, employers, etc.
Go here to see if you made the VIP list https://trustedidpremier.com/eligibility/eligibility.html
If so, you get free 3 bureau monitoring for a year and this is a biggie WITHOUT waiving your rights to sue the crap out of them for having an account:
USERNAME: admin
PASSWORD: admin
Yeah they did that.
Cyber-crime blogger Brian Krebs said that an online employee tool used in the country could be accessed by typing "admin" as both a login and password.
What else to do:
Monitor your credit cards daily for suspicious charges
Freeze your credit
File your taxes early
I would write more but apparently I have shit to do know. Thanks Equifax, you suck!