Being a firearm enthusiast and being born in Dutch society don't go hand in hand. The Netherlands is one of the most strict countries when it comes to firearm ownership. Owning firearms is considered a privilege and not a right, and it's restricted to law enforcement, hunters and target-shooters.
---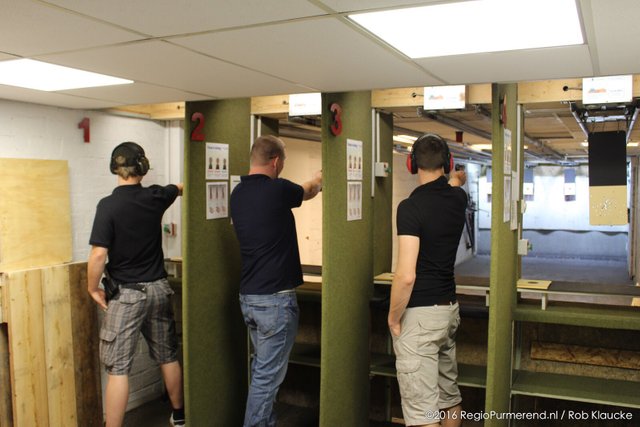 Shooting club in the Netherlands.
---
If you want to own a gun you need to give a valid reason to the police. This must either be hunting or target-shooting. If you say self-defense, you won't be permitted a license. Using a gun to deter non-armed intruders is also a violation of the law and will get you in trouble in court. However, If the intruder is armed with a gun, you are allowed to fire back.
If you want to hunt with a gun you need to obtain a hunting license, which you'll get after passing a hunters safety course. For target-shooting, you need to be a member of a shooting club for at least a year before you can get your own .22 caliber firearm. Higher calibers can only be achieved by being a member of the regulated shooting club for multiple years. But once you're there, most semi-automatics, handguns, and magazines of all sizes are legal, as are most types of ammunition. However, fully automatic firearms are banned, and you can only have a total of 5 guns per person. Once not in use, guns must be stored in a safe. If you want to take your gun to the shooting club, you need to take your paperwork and license with you and the gun must be carried in a good case, and it must be disassembled so you can't use it out of the box. Open carry or concealed carry is absolutely forbidden. If you violate any of these laws, you're license and firearms will likely be confiscated by law enforcement.
---

A .22 Ruger that you are allowed to own after a 1 year shooting club membership.
---
If you want to apply for a gun, you need to have a perfectly clean track record. Any history of felonies, mental illness or addictions will get your submission turned down. Once you do have your license, your name and status will be submitted into the law enforcement agency, so the government keeps track of all who own guns, and annual checks by police to see if you are still allowed to own firearms may apply.
---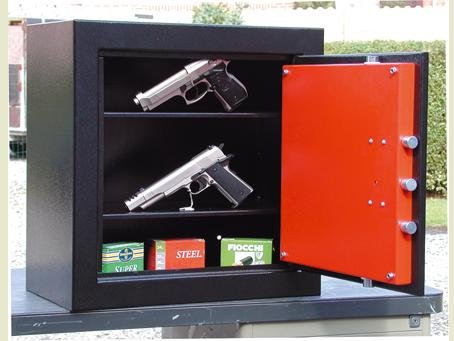 Type of gun safe you will need when the police comes to inspect.
---
Even the laws for owning airsoft guns are very strict. If you want to own an airsoft gun, you need to be 18 years or older and a member of an airsoft association approved by the National Dutch Airsoft Association. You also need to have a clean track record and if you want to transport airsoft 'weapons' they need to be carried in a case.
Owning pepperspray in the Netherlands is illegal and you're not allowed to carry it. Carrying any knife or weapon in public for self-defense is also illegal.
Now what weapons are allowed without a license in the Netherlands? Surprisingly, you can own a bow, crossbow or pellet rifle not resembling a mainstream gun, without any license. But only if you're 18 years or older when it comes to the latter two, and either can only be used on your own property or at a shooting club/dedicated range.
---

Type of pellet rifle that is legal to own without any license, but can only be shot on your own property or at a range.
---
The Netherlands has a total population exceeding 17 million and only about 200 000 legal firearms are registered. That's 1 firearm per 85 people. As a result, the Netherlands ranks on the 107th place when it comes to gun crimes, and you're about 20 times less likely to be involved in a gun crime in the Netherlands than in the USA.
What do you think about the weapon laws in the Netherlands? Do you disagree or agree with them? Let me know!
---
Sources:
nationmaster.com
rtlnieuws
wetten.overheid.nl