Hello, steemians, and welcome to my workshop, eh!
This is part 2 of my series on building this little amplifier that I've decided to call the "Red and Black" amp, at least for now. I'm doing these posts as I progress with the build, so I'm not sure when the next part of the series will get posted.
My first post about building this little guitar amp explained how I set up the chassis for this amp by laying out and drilling all the mounting holes for the various parts that mount to the chassis. At the point where my last post ended, I was ready to mount the transformers and tube sockets, but I still needed to drill 3 holes in the back of the chassis for parts.

After drilling the 3 holes in the back of the chassis, I started the process of mounting the parts. The first thing I did was to mount both transformers and the rectifier tube socket.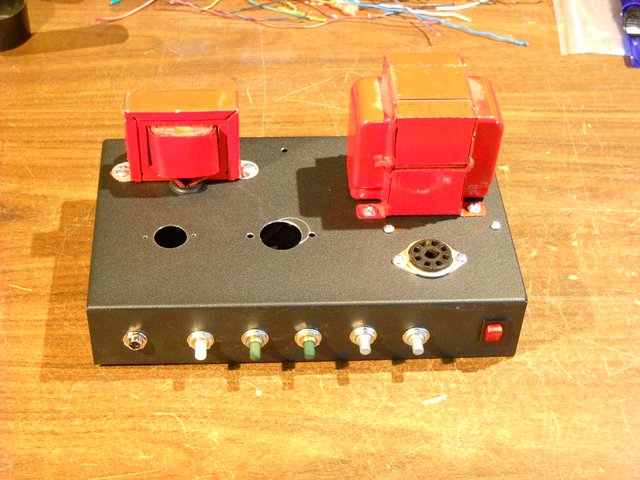 After that, I mounted the fuse holder and the speaker output jack on the back of the chassis. I still need to get the speaker impedance switch to put in the remaining hole.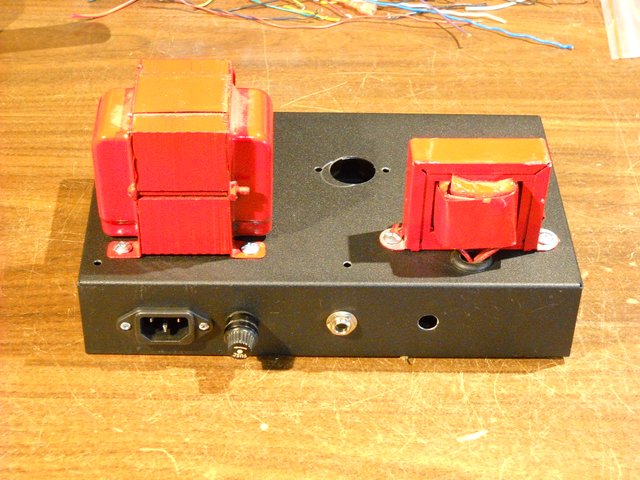 After I had all of those parts mounted, I started building the circuitry on the inside of the chassis. I started by building the power supply circuits. The 2 black tubes with the printing on them are the primary power supply capacitors. I also have the AC plug, the fuse holder, and the power switch wired in, as well as the rectifier tube socket. You can't see the bottom of the socket very well here because there are parts covering up half of it.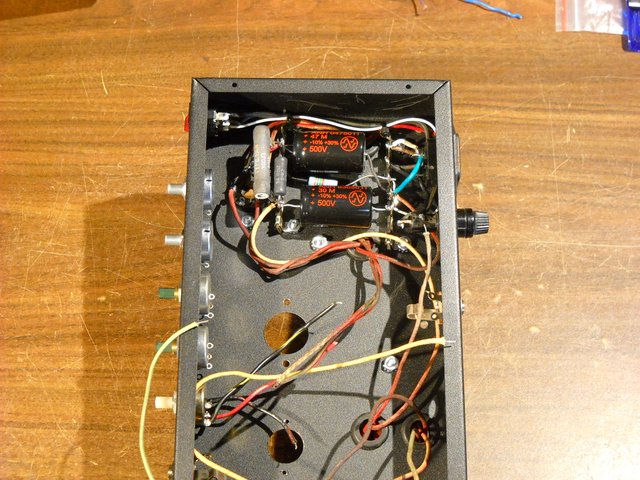 Right now, it looks like a tangle of wires inside the amp, but half of them are for the audio circuits so they're not hooked up to anything yet. My next step with building this amp will be to install the other two tube sockets and then start on the audio circuits. It will probably be the end of next week before that happens.
Stay tuned for the next part of this series!
You can read the first post about this amp here.
https://steemit.com/guitaramp-build/@amberyooper/a-new-guitar-amp-build-part-1
That's all I have for this post, I hope you found it interesting!

Thanks for stopping by my page and checking out my post, eh!
As always, feel free to leave a comment or a question if you would like.
May the Steem Force be with you!