[GUIDE] 7 PASSIVE CRYPTO INCOME STREAMS 🚨 YOU MUST KNOW 🚨 Free Bitcoin Faucets (Part 2)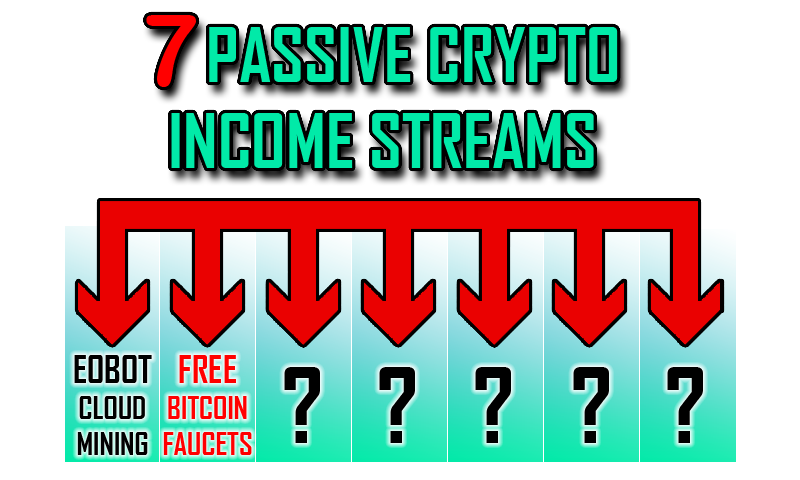 WHAT ARE FREE BITCOIN FAUCETS?
---
Bitcoin faucets are a reward system, in the form of a website or app, that dispenses rewards in the form of a satoshi, which is a hundredth of a millionth BTC, for visitors to claim in exchange for completing a captcha or task as described by the website. There are also faucets that dispense altcoins like Litecoin, Dogecoin, Dash or Bitcoin Cash.











Rewards are dispensed at various predetermined intervals of time, as rewards for completing simple tasks such as captcha completion and as prizes from simple games like the bitcoin fidget spinner. Faucets usually give fractions of a bitcoin, but the amount will typically fluctuate according to the value of bitcoin. Typical payout per transaction is less than 1000 satoshi, although some faucets also have random larger rewards. To reduce mining fees, faucets normally save up these small individual payments in their own ledgers, which then add up to make a larger payment that is sent to a user's bitcoin address.

HOW CAN I START EARNING WITH FAUCETS?
---
As per the description above, Free Bitcoin Faucets offer you rewards for just visiting the page and hitting the collect button. The Captcha is there to prevent abuse by bots, so that's the only thing you actually need to do to claim your reward. Even tho the amounts are small, they add up, and keep in mind that most faucets allow you to claim every 5 or 15 minutes, so if you have the time to just cycle through them, for example in the morning when you're drinking a cup of coffee and reading the news, then you're in for some decent gains over time, with little to no effort.

Example of gains in the last 7 days in CoinPot Microwallet
Now you only need to start using the faucets. You can do like I do, and after a week of gains, you just pull everything together and convert (as the CoinPot Microwallet allows you to convert between coins with no fee) to BTC and send it wherever you want, maybe to a BTC wallet or exchange platform. The withdrawal usually takes a couple of hours, however the disclaimer says it can take up to 48 hours and there is also no withdrawal fee. So in other words, everything is free and the only thing you need to do is to actually claim the rewards that are waiting for you. The rewards usually add up over time, but the curve goes down, so you should claim all the faucets at least once every day, however if you have the time, let's say a desk job where you're a the PC all day, you can claim every 5 or 15 minutes for best results.

HOW DO I START USING THE FAUCETS THEN?
---
First step is to open an account for CoinPot Microwallet as this will be your main dashboard and hub for faucet rewards.
You can easily do so by hitting the

button.
Now once you have your CoinPot Microwallet set up, you only need to start claiming the faucets that are supported. Here is a list of the supported faucets that you can claim, along with the timer and estimated rewards for each.
Also, there's a couple more GREAT and TRUSTED faucets that I also use on a daily basis, that even tho are not compatible with the CoinPot Microwallet, you should not miss out on!

WHAT EARNING STRATEGIES CAN I USE?
---
As I mention previously, you only need to claim the faucet rewards. Now, I highly encourage you to do that as frequently as possible, as the rewards usually give out the most around the 5 - 15 minutes mark. From there, the rewards still add up until you claim them, so there's no problem if you can only claim the faucets every day for example. But if you're looking for more consistent gains, the more you claim the faucet rewards, the more you earn.
What I personally do is I claim the faucets every every morning, then every 5 - 15 minutes during the day when I can of course. At the end of the week, on a Sunday for example, I open up my CoinPot Microwallet, and convert all of my gained coins to BTC - usually ends up being around 50,000 SATOSHI or more then send them to my BTC wallet on Free Bitcoin Faucet for the passive compounded interest that they pay. That is now my main BTC wallet where all of the faucet claims are put together, every week.
Receive compounded daily interest on any balance that you hold in your FreeBitco.in account, without doing anything.
All you need to do is mantain a balance of at least 30,000 satoshi (0.0003 BTC) in your Freebitco.in account and we shall pay you compounded interest on your full balance everyday. There is no lock-in period to earn interest (you start earning interest right from the first day!) and your balance can be withdrawn any time you wish. Treat your FreeBitco.in account like an instant-access savings account to hold your excess bitcoins and earn passive interest on your account balance everyday.
Alternatively, you can send your earning every week to your Eobot Cloud Mining account, and convert (buy) hashing power (GHS 4.0) to help your account grow. This is a great strategy to grow your hashing power every week, for free, and have a steady passive income stream.
For more information on what Eobot Cloud Mining is, please check PART 1 of this 7 PASSIVE CRYPTO INCOME STREAMS GUIDE below:
---

I will be sharing other earning strategies that can be used with the passive gains in PART 3 of 7 of this PASSIVE CRYPTO INCOME STREAMS GUIDE, so stay tuned...!