The tables for expected CPU magnitude where quite popular. It's been a busy couple of days of improving both the quality of the script and the methodology. Mining the host data files for information about GPU performance is a bit trickier than in the case of CPUs. Machines with multiple GPUs need to be excluded because we can't be sure if all the GPUs are running on the same project.
The script now reports a relative error to go with each magnitude value. I doubt that the exact amount of error is of interest to many people but I am now using a cutoff of +/- 35% for removing the data form the table entirely. The larger projects (Seti, Einstein, GPU Grid) have very accurate results (less than +/-10%) for Nvidia GPUs.
MooWrapper is excluded because I couldn't find their /stats/hosts file.
Results: Nvidia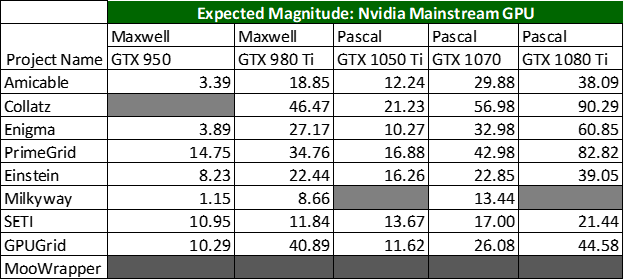 I considered including Kepler GPUs in this chart since they were the last generation of Nvidia GPU where FP64 compute wasn't considered an enterprise/datacenter feature. Unfortunately, it became apparent that it was still better to run PrimeGrid on these cards. Additionally there were no models for which there was enough data to fill in the less popular projects.
Some things to keep in mind if you are using Nvidia GPUs:
Run the PPS-sieve subproject on PrimeGrid to maximize your Rac. It makes a huge difference
PrimeGrid and Collatz are consistently the best choice to maximize rewards with a few exceptions
If you're OS is Linux you can't run CUDA jobs on Enigma
Results: AMD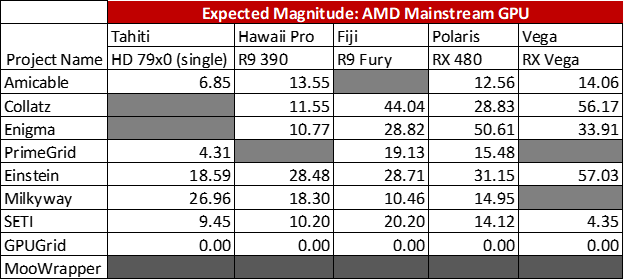 Separating out different versions of AMD GPUs is incredibly difficult from the name stored in the card's BIOS. In the end I had to combine all the Tahiti 7900 series GPUs into a single category. However this excludes the HD 7990, which is a dual GPU card (2x HD 7970). The values given are probably close to that of a 7970. There was a similar issue that resulted in the combination of R9 Fury/R9 Nano/R9 Fury X into a single entry as well as the RX Vega 56/64 into a single entry.
Some things to keep in mind if you are using AMD GPUs:
GPUGrid is an Nvidia only project
Run Milkyway if you have a GPU that can do FP64 (Tahiti)
What's Next?
Some of the hardware running BOINC projects can be pretty ridiculous. (Seriously, can I borrow that Tesla V100?)
Next up I am going to start trying to put together tables for a mixture of HEDT and server CPUs. Then I will try to make some tables for workstation and server GPUs if possible. This data may or may not be pulled from the host files and will probably be reported in terms of maximum RAC to allow for easier conversion to Mag in the future.
Do you have an extreme edition CPU, Threadripper, Xeon, Opteron, Epyc that no one else is running?
Do you have Titan, Quadro, Tesla, FirePro, Instinct GPU?
Send me a message with your steady state RAC (or credits/day) for as many projects as you can to help fill in the high end tables.
Thanks to jayrik88 on Reddit: The data you provided helped me figure out how to handle the 7900 series issue, also the configuration of your machine helped me find a bug in the script.