Expected magnitude for CPU projects
Yesterday, @cautilus posted a guide for project selection and earnings estimation. The guide is excellent and walks though how to use the host data from the various whitelisted projects to compare the profitability of running different projects. In the comments on reddit it was mentioned that one of the things the Gridcoin project is missing is an automatic way to determine what project is the most profitable to run. Obviously this is a tall order given that users constantly change between projects and the fact that some hardware is better at certain tasks.
I think that one way we could address this is to automatically generate a table every superblock which estimates the Mag for some common CPU and GPU architectures on the whitelist projects. If we make the table available (maybe on Gridcoinstats) it could solve a lot of the questions on the reddit page.
Methodology
Instead of just making the suggestion, I figured I should get the ball rolling and wrote up a script to search the /stats/host.gz files for the whitelist projects. The script searches each hosts file for the top 5 computers with the given processor type and takes the average of their Rac. This average Rac is then divided by the team Rac and multiplied by an estimate of the total magnitude allocated to a project.
Obviously this method makes some assumptions and can give erroneous results if there are too few consistent participants of a project with the desired processor type. It is also susceptible to people who stockpile tasks and submit them all at once. If anyone has some suggestions for improvements to avoid these issues please let me know. Also does anyone know the true average for the total Rac allocated to a project? I took some averages from Gridcoinstats and got values ranging from 4000-4400.
Results
All of that said, it's time for some CPU performance data!
ODLK1 is a new project so there is low competition for now.
Sourcefinder is frequently out of work units
World Community Grid does not make its host file available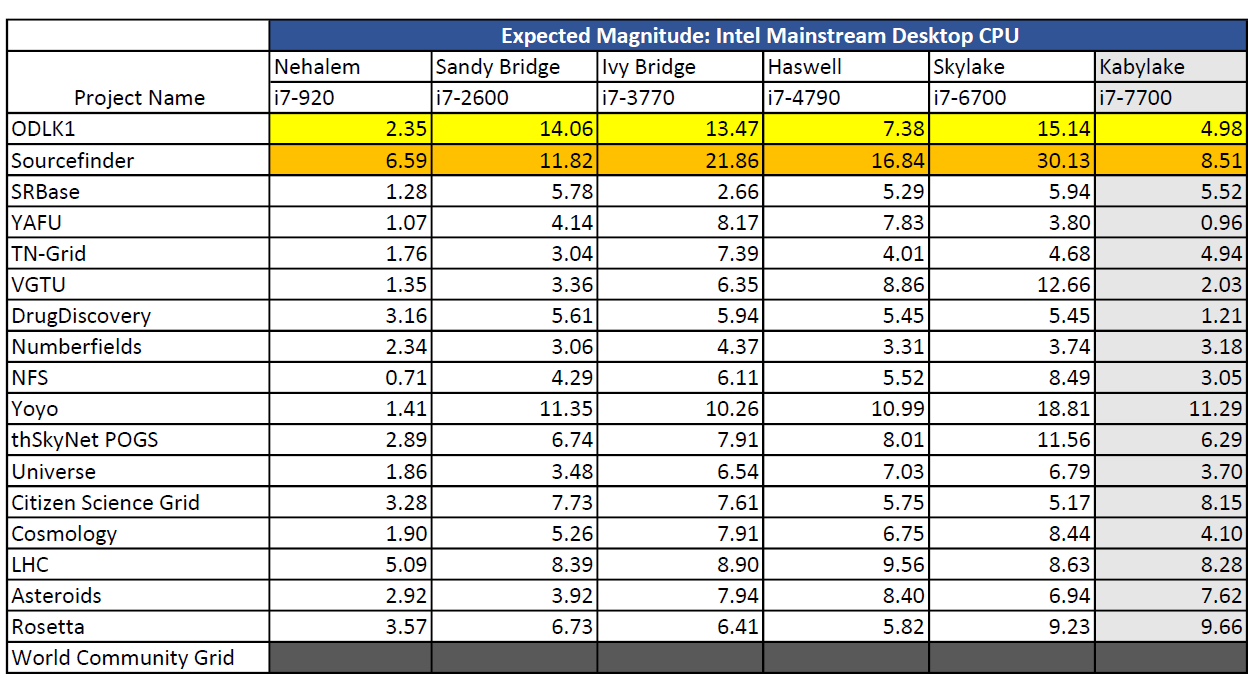 One thing to note with the above chart is that there are not that many people using i7-7700 processors on most of the smaller projects. If there are less than five users the Rac reported by the script drops off considerably.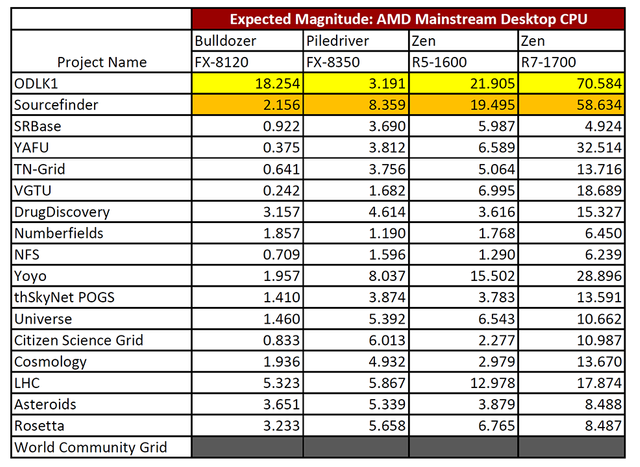 Hopefully these tables are interesting and can be useful to some of the new users. I wrote up the script relatively quickly so I'm not going to make it publicly available until I fix some of the more glaring issues with it. I'll also work one of these up for the GPU projects. If anything looks significantly off based on your own hardware let me know so that I can make improvements.