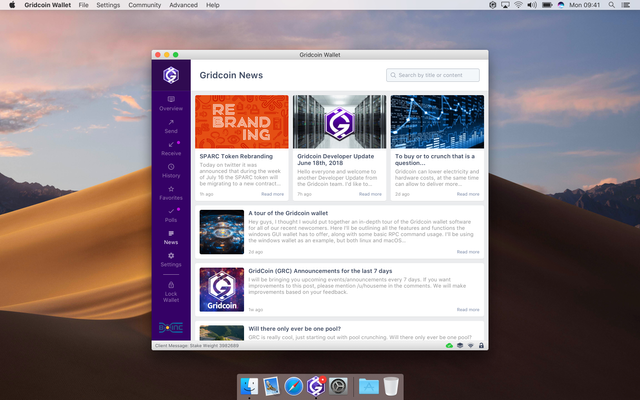 ---
---
Status
The poll on the new GUI design is moving along with 172 votes so far and a breakdown as follows:
| Option | Votes | Share % |
| --- | --- | --- |
| Yes | 147 | 95.02 |
| No | 17 | 3.73 |
| Abstain | 5 | 0.68 |
| Reject Proposal | 3 | 0.57 |
---
Best Answer:
Yes
Voting Shares:
13,641,305
Total Shares:
477 305 037
Share Weight:
2.86%
Validation Status:
NOT VALIDATED
---
---
Updates
Since the poll began there have been a few discussions on what to incorporate into the design. You can follow these discussions and all developments and features of the proposed design by keeping up to date with the github thread linked below. Here is an brief update on what has been added:
Enhanced Overview tab with help tooltips (Miner & Investor modes)
History tab
News section
Change passphrase view
These features of the new design are built on top of other new features such as:
Giving polls visibility on the main tab
Sorting and improving polling functionality
Providing a sync progress visual
And more.
---
---
Voting
To approve the new design along with the release of funds from the foundation, the poll must receive 15% total vote-weight by August 1st.
Whether you approve or disapprove, get out there and vote! If you have any ideas, suggestions, or concerns about the design, post them directly to the the Design and Discussion Thread.