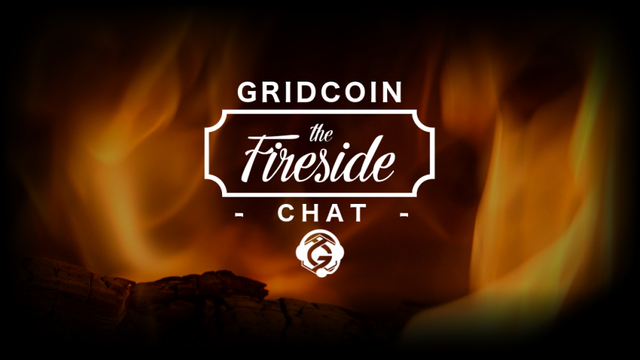 The Link
The Fireside Chat 25 - Beyond Computation Contributions
Summary
This week we discuss how providing services can help add value to the Gridcoin ecosystem and help us grow.
Time
Topic
2:00-19:00
News
Blue Paper
DHEP Poll
SETI
19:00-44:20
What can we do in addition to computation?
- Science and Blockchain News Services
- Distributed Computing as a Service
- Education Services
- On Chain Data Storage as a Service
- On Chain Accredidation as a Service
- Computation Benchmarks as a Service
- Donation Management as a Service
44:20-End
Funding these services and general questions
---
---
Next Episode
Join us for the next episode on Thursday, September 20th, at 8:00pm EST, midnight UTC, on the Gridcoin discord.
Topic: A Gridcoin Treasury System: What is it? Why might we want it? How might it function?
See you soon!
---
Like what we do at the fireside? We happily accept GRC donations.
GRC: SKEwHBTJ7REcT5AwewpJi6uH9S5TjtJmcR
---
---
What is Gridcoin?
Gridcoin is an open-source blockchain that mints and distributes cryptocurrency in relation to the processing power a network participant directs toward data-driven analysis and scientific discovery. Currently, the Gridcoin blockchain is secured through a proof-of-stake protocol and monitors processing contributions to the distributed computing infrastructure, BOINC. BOINC, the Berkeley Open Infrastructure for Network Computing, hosts major institutional computing projects such as IBM's World Community Grid, SETI, and data from the Large Hadron Collider, alongside projects developed by students, enthusiasts, mathematicians, researchers, and citizen scientists.
Want to Learn More?
Website: https://gridcoin.us
Twitter: https://twitter.com/GridcoinNetwork
Discord: https://discord.me/page/gridcoin
Steemit: https://steemit.com/created/gridcoin
White Paper: https://gridcoin.us/assets/img/whitepaper.pdf
-- Github --
Codebase: https://github.com/gridcoin/Gridcoin-Research
Community: https://github.com/gridcoin-community