Gridcoin - State of the Network - 4 Feburary 2019



GRIDCOIN - STATE of the NETWORK




Report #31 - February 4th, 2019


Hello and welcome to the 31st Gridcoin State of the Network report!
This week we would like to take some time to explain a few changes to these reports moving forward.
First, we'd like to welcome @Crypto-Swiss to the team helping organize and develop these reports. If you haven't already, check out their monthly reports, the first of which is linked right…
here! Gridcoin Monthly Report January, 2019
The Four Week Cycle
In order to expand on the type of content included in these reports we have decided to switch to a four week cycle with two different formats. Each report, still posted every two weeks, will continue to include the stats section as usual.
The first report of each month, however, will be reserved for long-form posts by anyone wishing to submit a piece. A piece could be an opinion on a development, an explanation of a proposal, an idea for the community, a description or news from a BOINC project, or anything you feel like writing so long as it is related to science, the blockchain, or Gridcoin. The writer of a piece that is featured in a report will earn themselves 1,000 GRC. More on this process below. Any news items in the first report of the month will be presented in a bullet list format with links to any additional reading available.
The second report of each month will focus on large news items and community happenings. It will convey details and discussion points along with opinions that have been expressed regarding the items. Any smaller items will be bulleted with links to further reading.
How to Participate and Contribute
As always, we are open to suggestions and thoughts from anyone in the community. Please communicate anything of this nature to @parejan, @crypto-swiss, or @jringo through PM or by tagging one of us in a community channel on slack or discord.
While we try our best to compile news from throughout the community, it is nearly impossible to catch everything. If you would like to ensure that a news item is featured in a report, be it a bullet point or long form description, contact one of the three contributors mentioned above and we will be sure to get it into the appropriate report. If you would like to contribute to the news focused report, feel free to write a paragraph or two on the item. You are also welcome to pass us some reading and we will write a brief summary for the report.
Anyone who wants to have their long-form piece featured in the first post of the month must submit their piece to @jringo, @parejan, or @crypto-swiss by the Friday before the first post of the month (still on Mondays!). There will be a 1,000 GRC reward if your piece is featured. If yours is the only submission for the month your piece is likely to be featured so long as it is clearly written and appropriate content for these reports. If there is more than one submission for a month, the three of us (jringo, parejan, and crypto-swiss) will make a determination on which piece to feature in that months report.
That about does it for major changes. If something has been on your mind with regards to Gridcoin, or if you are working on an interesting science project, or if you want to share a bit on the research you are doing in the lab, or if you really love a specific BOINC project and want us to love it too, get writing! The next long-form SotN is Monday, March 4th.
Oh, and if you would like to help with design and presentation for these reports, definitely reach out to one of us and let's figure something out.
Now without further delay we present your bi-monthly dose of stats.
Happy crunching!
@Jringo
@Parejan
@Crypto-swiss


STATISTICS UPDATE
The stats update is divided into 3 sections: Blockchain Statistics, BOINC Statistics, and Project Statistics.
Every other week we bring you the most up to date statistics regarding the operation of the Gridcoin blockchain and Gridcoin BOINC projects. The information is gathered from Thursday to Wednesday on fortnightly basis and compiled from the getblockstats RPC command in the Gridcoin wallet, BOINCStats, GRCPool, Gridcoin Stats and from individual project websites.


BLOCKCHAIN STATISTICS

Blockchain statistics from 20/January to 2/February
The table below contains the blockchain statistics and covers blocks 1,492,880 to 1,505,581.

Blockchain charts
The charts below contain the longer term blockchain trends.

BOINC STATISTICS

Team and pool statistics from 20/January to 2/February
The table below contains BOINC team and pool statistics of the last 2 weeks.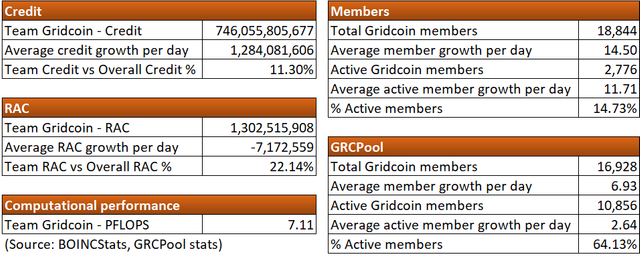 Team and pool charts
The team and pool charts contain the longer term team and pool trends.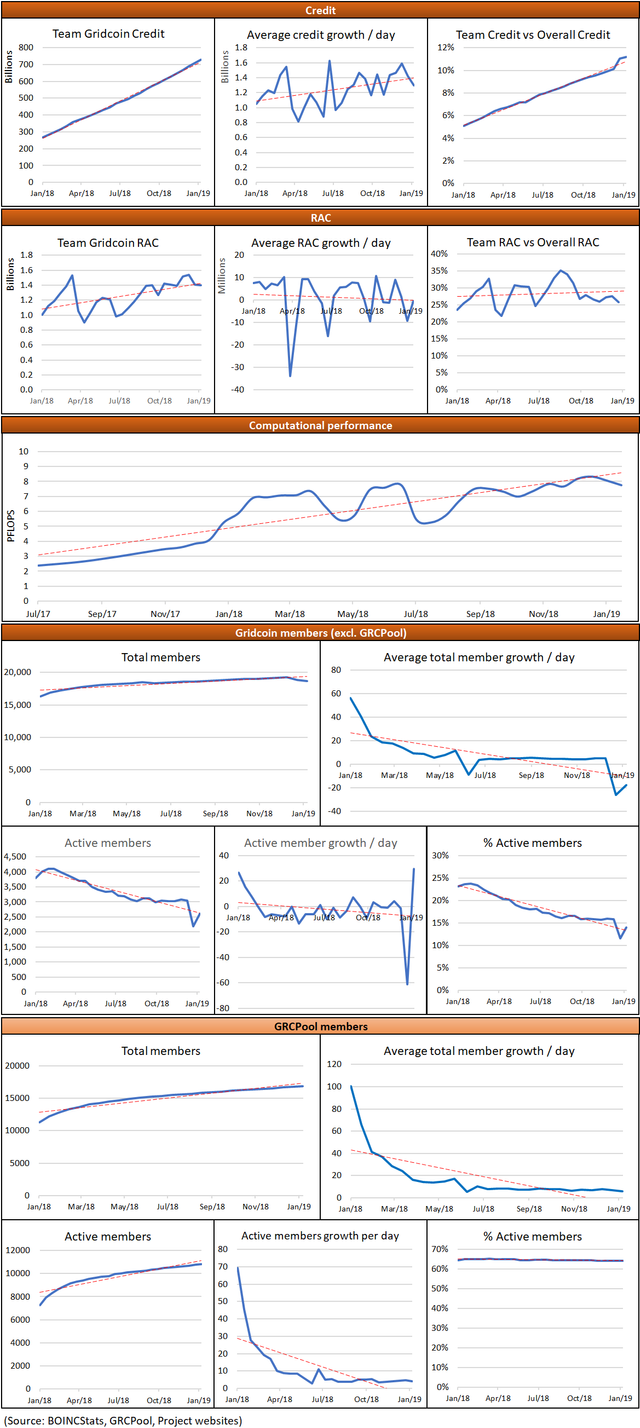 PROJECT STATISTICS

Project tables from 20/January to 2/February
The table below contains the project statistics of the last 2 weeks.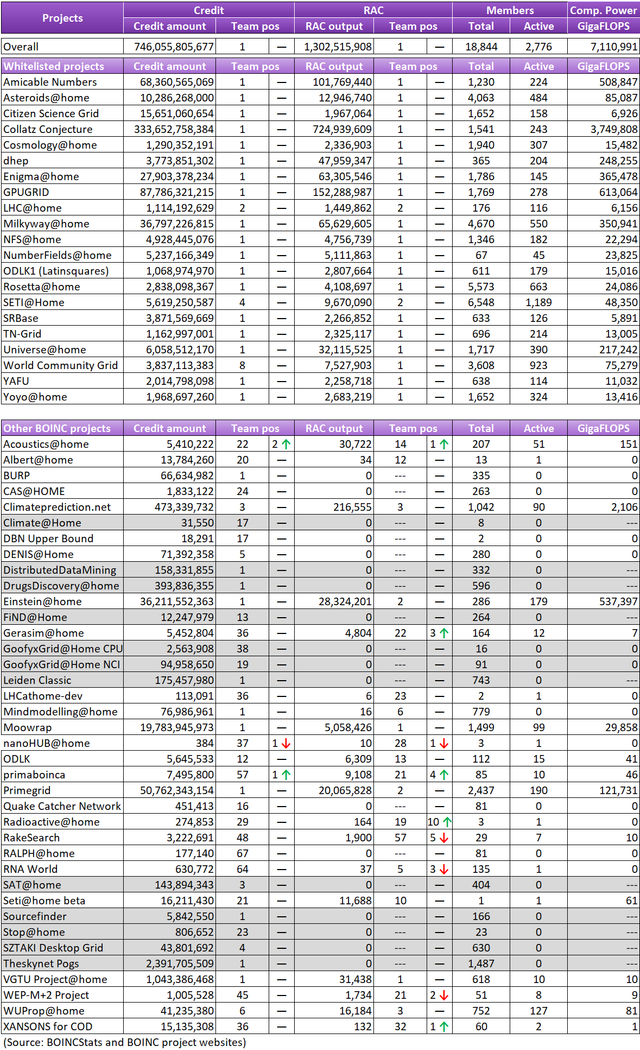 Project charts from 20/January to 2/February
The charts below contain the project contribution breakdown of the last 2 weeks.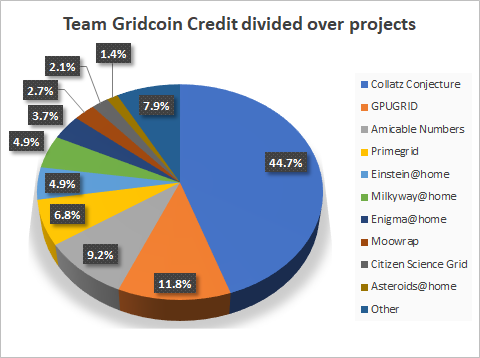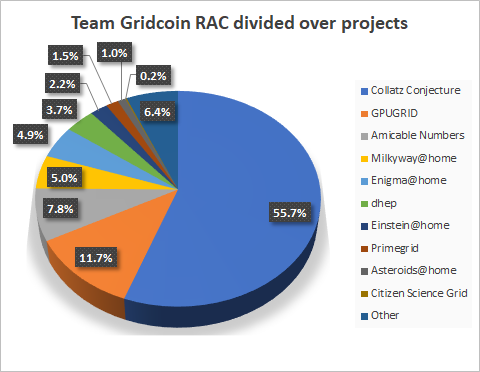 (Source: BOINCStats)


This concludes the 31st Gridcoin State of the Network Report. We'll see you in two weeks. Happy crunching!