Gridcoin - State of the Network - 15 April 2019



GRIDCOIN - STATE of the NETWORK




Report #36 - April 15th, 2019


Welcome to another Gridcoin SotN! We're a little late with this report as we use gridcoinstats to get some data and a major Gridcoin update this past week took gridcoinstats down for a bit. Everything's back up and running now (thank you startail!), so enjoy!
Development
---
Gridcoin 4.0.2 - Camilla - Released!
---
With it comes up to a 25% improvement in sync times for most users (thank you @ravonn!) and...
Side-staking! Side-staking is a feature from Pinkcoin and the PINK community. On the surface it lets participants automatically split their rewards into a number of addresses. Below the surface side-staking is a functional and proven tool that is begging for some attention.
Side-staking has been a staple of discussion in the Gridcoin community for almost a year. Some ideas on how to use this new feature include:
Treasury structures
Outreach
Marketing and fundraising initiatives for both Gridcoin and BOINC
Linked below are several recordings of community discussions on side-staking that have taken place over the months. If you know of more please reach out and we'll link them in the next report!
Side-staking is not yet accessible in the wallet. Users can enable side-staking from their config file. @jamescowens, point developer on side-staking, has put together documentation the community is looking to add to the wiki. @Barton26, testnet coordinator, has summarized how to use side-staking in the release post linked below.
Stake-splitting is a mechanism that automatically splits UTXOs into desired amounts of GRC. This can be used to optimize staking and to organize a wallet. Documentation for stake-splitting is linked below.
The Denise milestone development and testing continues. Denise's main improvement is a new BOINC data scraper. The scraper brings Gridcoin one step closer to whitelisting projects that require certification for data collection and could be the improvement necessary to remove the Gridcoin team requirement. Keep your ears open for more discussions on Denise as things start getting buttoned up.
Links
Gridcoin Leisure Update 4.0.2
PR 1265 - Side-staking
PR 1244 - Stake-splitting
[Published May 18, 2018] The Fireside Chat 08 - CBR + MRC + SideStaking
[Published Jul 21, 2018] The Fireside Chat 17 - Side Staking and Stake Splitting
[Published April 7, 2019] The Gridcoin Fireside 01 - Distributed Ledger Technology and Gridcoin 4.0.2
News
Side-staking broke Gridcoinstats!
But not badly. The operator of Gridcoinstats, @sc-steemit (startail), explains it best:
The wallet recently started to allow side staking for block rewards, which gridcoinstats doesn't correctly handle. The site is down for maintenance until this is fixed. I will do my best to make sure this is done as quick as possible.
And a follow up a few days later:
The issue with side-staking has been partially fixed. A side-stake will no longer link addresses together invalidly. There is however a visual glitch for side-stake transactions on the receiving address that will be addressed in the coming days.
So it seems everything is up and running again. Thank you startail!


STATISTICS UPDATE
The stats update is divided into 3 sections: Blockchain Statistics, BOINC Statistics, and Project Statistics.
Every other week we bring you the most up to date statistics regarding the operation of the Gridcoin blockchain and Gridcoin BOINC projects. The information is gathered from Thursday to Wednesday on fortnightly basis and compiled from the getblockstats RPC command in the Gridcoin wallet, BOINCStats, GRCPool, Gridcoin Stats and from individual project websites.


BLOCKCHAIN STATISTICS

Blockchain statistics from 30/March to 13/April
The table below contains the blockchain statistics and covers blocks 1,559,138 to 1,572,382.

Blockchain charts
The charts below contain the longer term blockchain trends.

BOINC STATISTICS

Team and pool statistics from 30/March to 13/April
The table below contains BOINC team and pool statistics of the last 2 weeks.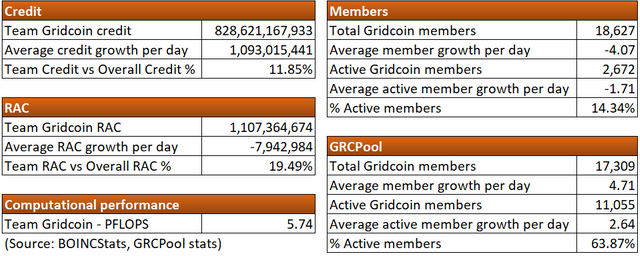 Team and pool charts
The team and pool charts contain the longer term team and pool trends.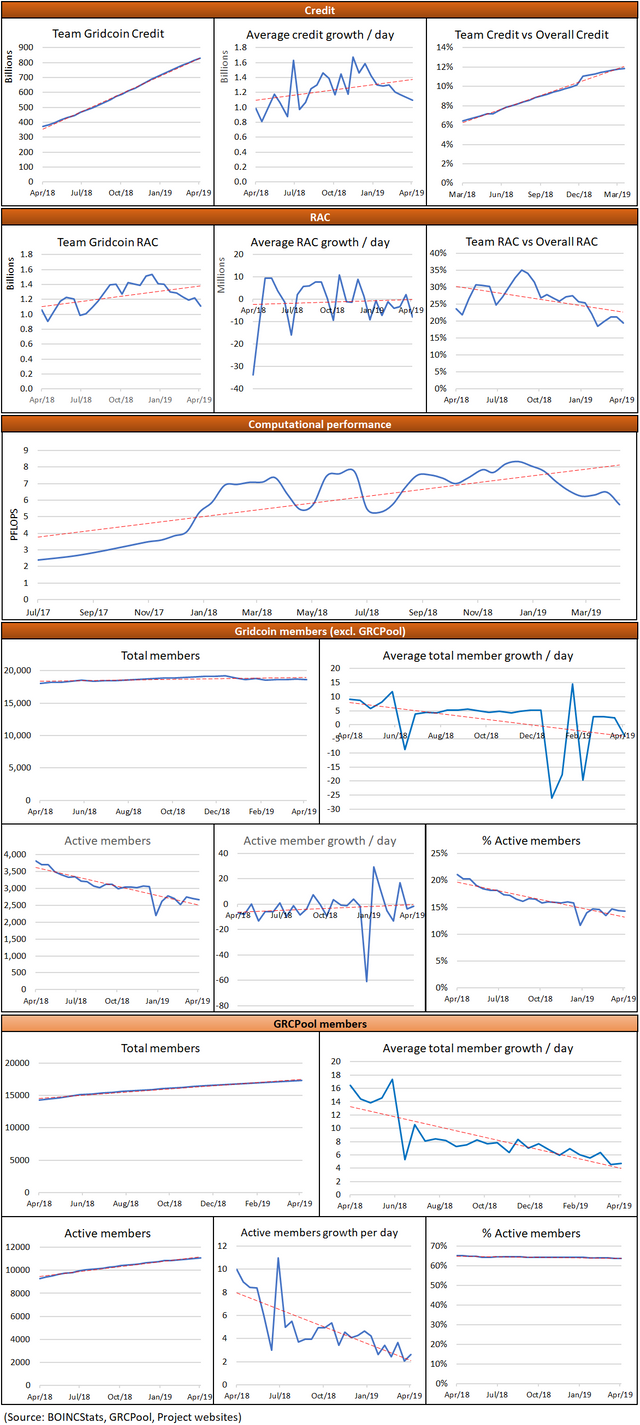 PROJECT STATISTICS

Project tables from 30/March to 13/April
The table below contains the project statistics of the last 2 weeks.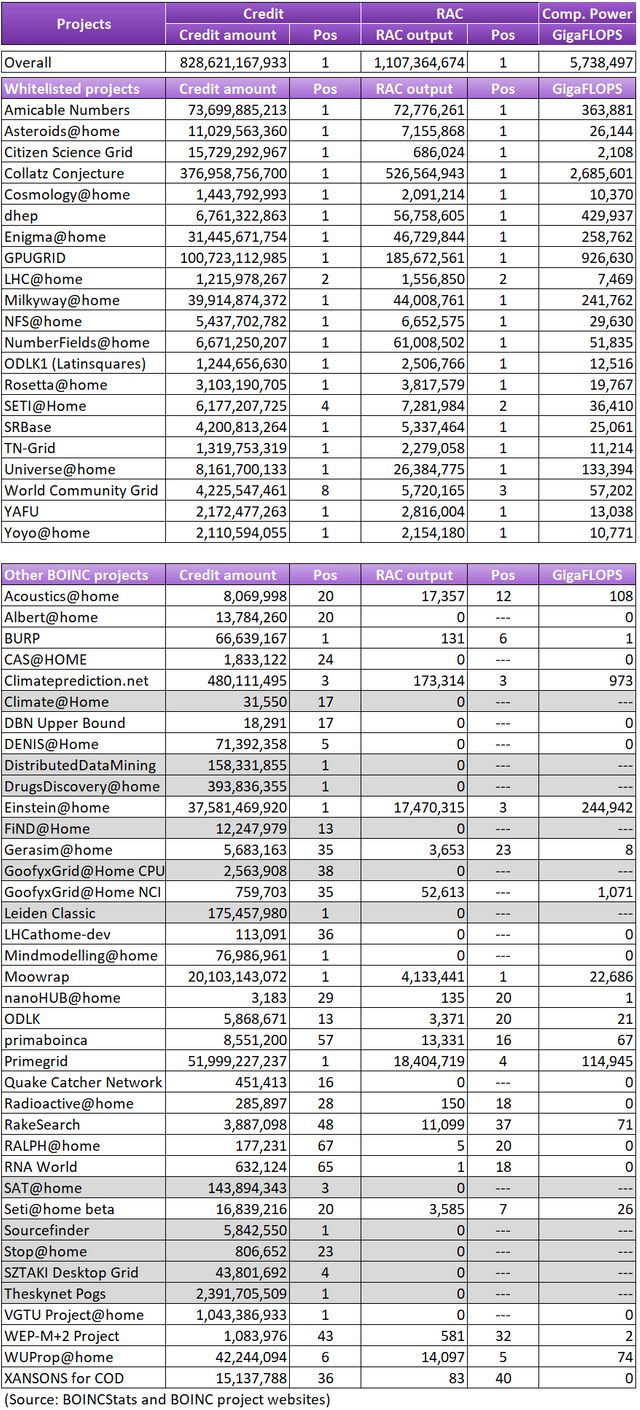 Project charts from 30/March to 13/April
The charts below contain the project contribution breakdown.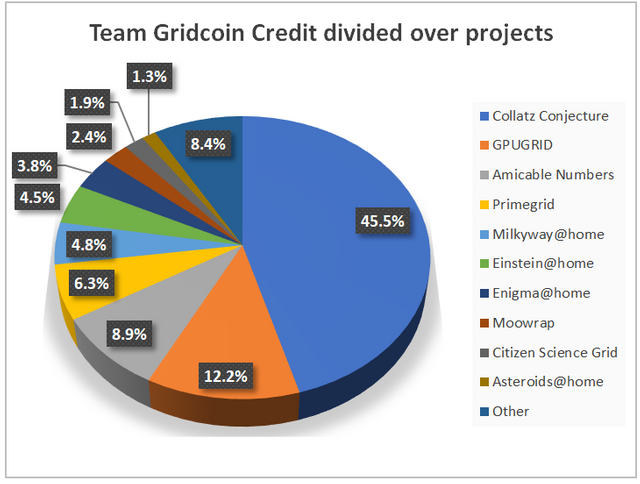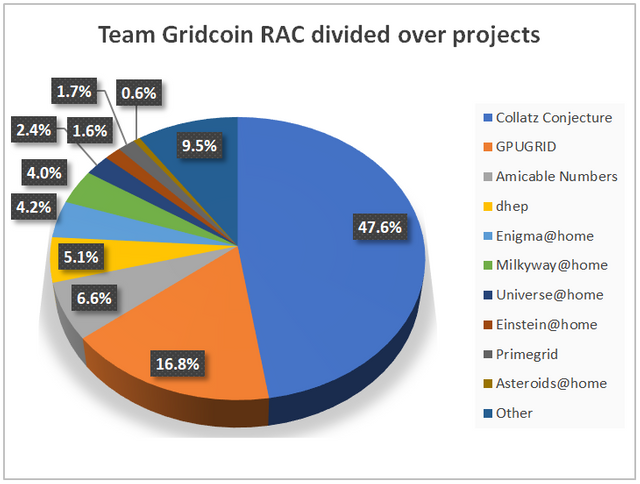 (Source: BOINCStats)
This concludes the 36th Gridcoin State of the Network Report. We'll see you in two weeks. Happy crunching!
Donate to these reports with GRC: S2wn8dq1S39fJyh5Voo7xKwLzFaKyJhRkb