Single Board Computer Project Selection
Good Morning!
I don't have much to say today, but I do have a few little nuggets of data to share concerning SBC project selection. Enjoy!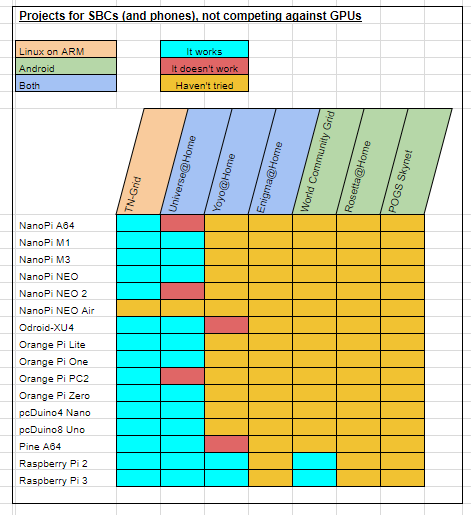 Note: Enigma has yet to return to the whitelist. But, I believe we're just waiting until the voting mechanism is fixed in the next client release.
Note2: I got the NanoPi A64, OrangePi PC2, and NanoPi Neo2 to finally work! They were returning computation errors on [email protected], but they're doing just fine on TN-Grid.
Note3: I've ordered the rest of the necessary parts for the NanoPi Neo Air (serial port to TTL converter and serial to USB adapter), so I'll have data for this board very soon. Also, two more Odroids are currently making the journey from Korea to my SBC farm! :D
If you happen to have some of the data I'm missing (yellow cells), please let me know!
Have a good day!