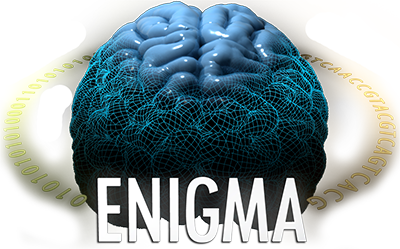 [email protected] has recently been added to the Gridcoin whitelist and having raised the suggestion to add it I thought it would be a good idea to explain what it is working on. But first some background on the Enigma Machine for which I am going to refer to some experts on youtube:

Video Courtesy of Mediadromeuk
Video courtesy of World Science Festival
In the words of the project homepage
"[email protected] is a wrapper between BOINC and Stefan Krah's M4 Project. 'The M4 Project is an effort to break 3 original Enigma messages with the help of distributed computing. The signals were intercepted in the North Atlantic in 1942 and are believed to be unbroken.' "
http://www.enigmaathome.net/
Seems simple enough! But wait, the eagle eyed among you may have spotted that the three messages mentioned in that description have now already been broken.
Wait, What, They've already be cracked?
The first message was broken on February 20th, 2006 by [email protected]
Ciphertext
nczwvusxpnyminhzxmqxsfwxwlkjahshnmcoccakuqpmkcsmhkseinjusblkiosxckubhmllx
csjusrrdvkohulxwccbgvliyxeoahxrhkkfvdrewezlxobafgyujqukgrtvukameurbveksuh
hvoyhabcjwmaklfklmyfvnrizrvvrtkofdanjmolbgffleoprgtflvrhowopbekvwmuqfmpwp
armfhagkxiibg
Plaintext
Date: 2006-02-20 11:02:26
Score: 6259047
UKW: B
W/0: B241
Stecker: ATBLDFGJHMNWOPQYRZVX
Rings: AAAV
Message key: VJNA
vonvonjlooksjhffttteinseinsdreizwoyyqnnsneuninhaltxxbeiangriffunterwasser
gedruecktywabosxletztergegnerstandnulachtdreinuluhrmarquantonjotaneunacht
seyhsdreiyzwozwonulgradyachtsmystossenachxeknsviermbfaelltynnnnnnoooviery
sichteinsnull
Interpretation:
Von Looks
Funktelegramm 1132/19 Inhalt:
Bei Angriff unter Wasser gedrueckt, Wasserbomben. Letzter Gegnerstandort
08:30 Uhr, Marqu AJ 9863, 220 Grad, 8 Seemeilen, stosse nach. 14 Millibar
faellt, NNO 4, Sicht 10.
Translation
From Looks:
Radio signal 1132/19 contents:
Forced to submerge during attack, depth charges. Last enemy location
08:30h, Marqu AJ 9863, 220 degrees, 8 nautical miles, (I am) following
(the enemy). (Barometer) 1014 Millibar (tendency) falling, NNO 4, visibility 10.
The Second Message was broken on March 7th, 2006 by [email protected]
Ciphertext (stripped of indicator groups):
tmkfnwzxffiiyxutihwmdhxifzeqvkdvmqswbqndyozftiwmjhxhyrpaczugrremvpanwxgtkthn
rlvhkzpgmnmvsecvckhoinplhhpvpxkmbhokccpdpevxvvhozzqbiyieouseznhjkwhydagtxdjd
jkjpkcsdsuztqcxjdvlpamgqkkshphvksvpcbuwzfizpfuup
Plaintext
Date: 2006-03-07 10:03:23
Score: 5211199
UKW: B
W/0: B241
Stecker: ATCLDHEPFGIOJNKQMURX
Rings: AANV
Message key: MCSF
vvvjschreederjaufgeleitkursfuenffuenfgradnichtsgefundenymarscaierebefohlenes
quadratxstanrortmarquantonjotadreineunneunfuenfxsssooovieryseedremyeinsnulyy
einsnulbedecktyzwoachtmbsteigtynbbelsichteinssmt
Interpretation
Schroeder
Ausgang FT. 0246/21/203:
Auf Geleitkurs 55 nichts gefunden, marschie-
re befohlenes Qu. Standort Marqu. AJ 3995.
SO 4, See 3, 10/10 bedeckt, 28 mb steigend,
Nebel, Sicht 1 sm.
Translation
Schroeder
Outgoing Radio Signal 0246/21/203:
Found nothing on convoy's course 55, [I am] moving to
the ordered [naval] square. Position naval square AJ 3995.
[wind] south-east [force] 4, sea [state] 3, 10/10 cloudy, [barometer] [10]28 mb [tendency] rising,
fog, visibility 1 nautical mile.
The third remaining message has been broken by Dan Girard. See: http://www.enigma.hoerenberg.com.
So, again, what is [email protected] working on now?
Well, now you know the background then you shouldn't be surprised to hear that there is another unbroken message that needs breaking. The message in question is: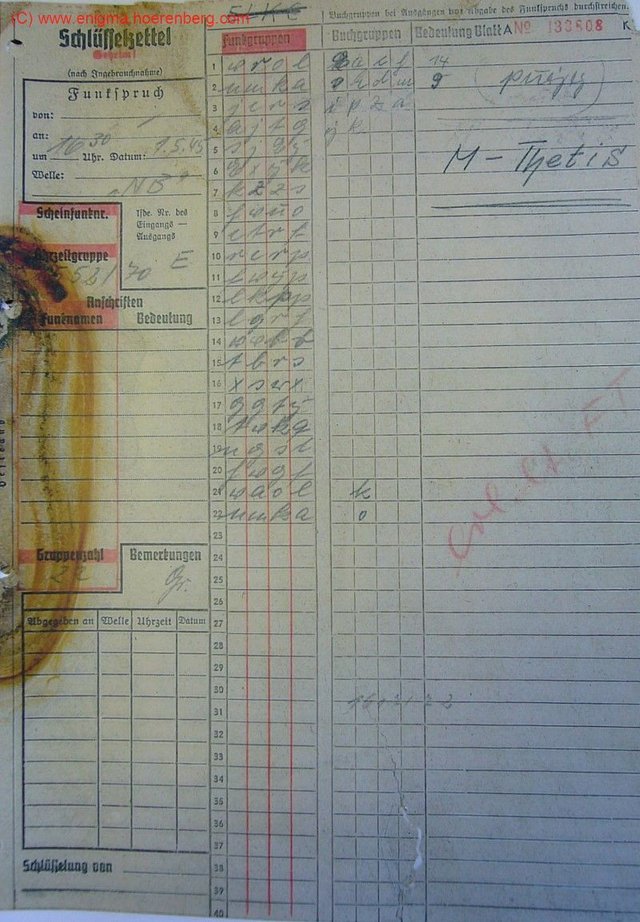 https://enigma.hoerenberg.com/index.php?cat=Unbroken
Unfortunately for this message the enigma "key" is not known although there are some clues as can be seen in the image and as are described in the above link. For this reason we need to try three different enigma "keys".
This means that we could be working on this one for a while.
---
Thanks for taking the time to read my ramblings. If you have found this post useful please consider upvoting, resteeming and/or following me.