Disclosure - The author is not affiliated with, nor profits from any links associated with this article
Isn't this pretty? Let me tell you, even through the plastic, it's weight feels good in the hand.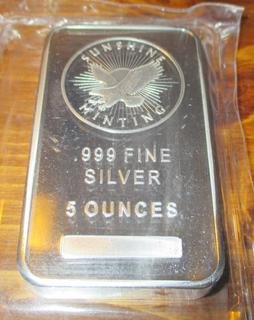 The above is a 5 Troy oz silver (AG) bullion bar from my personal stash. Now, let's not get the wrong idea here, I am not "Daddy Warbucks", or "Ritchie Rich", not even close, but I have been able to acquire silver bullion that is a legitimate commodities investment. I can only speak for the United States, but this particular bullion bar is eligible to be used in a precious metals backed IRA (Individual Retirement Account).
To date, I can only verify from my own experience, the process that I went through to invest this way using cryptocurrency.
Recently, when Gridcoin (GRC) hit close to ten cents per, I divested a little bit of my holdings (hodlings) in order to have a bit of liquidity to play around with. If you're going to spend all this time, effort, learning, crunching, etc., then take a little of that and enjoy the freedom that comes with it.
Did I lose money doing this, Yes! Did I care, no. It was an interesting experience and fun to do. (Hey, if you like the article enough, I might actually break even one day, hah)
Step One - Own a cryptocurrency, duh.

Step Two - Convert it, if it is convertible, to the amount of Bitcoin (BTC) you are willing to part with.

Step Three - Open an account at two places:
Check out the catalog at JM Bullion, especially the silver sales that usually change weekly and usually gain you silver at $0.75 or so over spot. (Spot = the current price of the commodity on the open market) They also have a much better presentation of the products, unlike my original photo of my personal bar (top), but it's there as an indicator I actually am vested in this, for what that is worth.
Why BitPay? Simply because that is who the dealer uses for payment processing.
Note - If you are intending to place the silver in a precious metals backed IRA, it's easy to setup one through them. If you prefer to play "Scrooge McDuck" one day and swim around in a bathtub full of silver bars, then have them ship it straight to you. In any case, I highly recommend bullion bars that are specifically indicated to come with an assay card, a means of counterfeit detection, and are approved for use in a precious metals IRA as not all silver meets those requirements.
Step Four - Wait impatiently by the mailbox for your "precious" to arrive. JM Bullion does a very good job of shipping. The things you don't think about, discrete plain packaging, no return address that would indicate what is inside, etc. Packing is completed, so I am told and hope to never have to verify, under HD cameras, multiple angles, and with two persons on the floor to cross certify each other.
I was very satisfied with my experience purchasing from them, and this was a very light overview of consumer level purchasing precious metals commodities. There is quite a bit more to it, and if I can't answer questions in the comments easily, I'll answer them in another article.
Thanks for looking!
{All photographs, trademarks and indicia are copyright and trademark of their respective owners unless otherwise indicated}