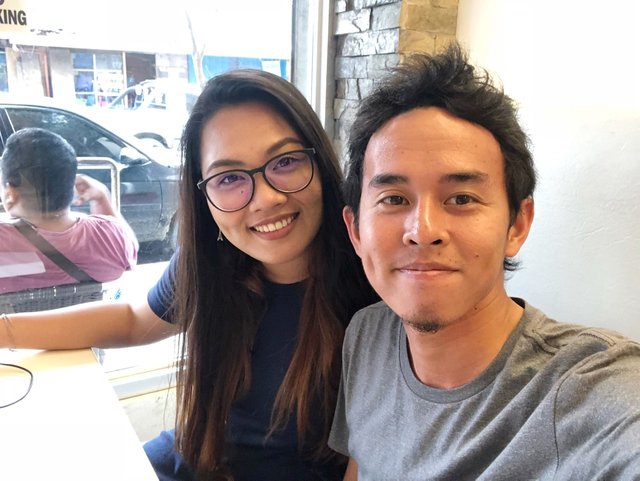 My boyfriend is back in town and today we spent it together. 😊 We are kind of in an LDR relationship because of his work. But fortunately, we can see each other every after 4 weeks. Like me, he is a Metallurgical Engineer and works in a mining company in South Luzon. His work schedule is 4 weeks straight duty and then 2 weeks off. So every month, he gets to go home and we get to see and spend time with each other.
We met up for lunch at Mcdonald's as I was also doing my meetup for my online shop business. I was done eating by then and so he went ahead to buy his food. After my meetup with my customers, we went to Robinsons Iligan to stroll, see stuff, and shop a little bit.
The mall was lively, after all, it was a Saturday. So it was a given that citizens would flock the malls. We went into the shops on the first floor and went to see the shoes available in the Department Store. Then we went to the 2nd floor.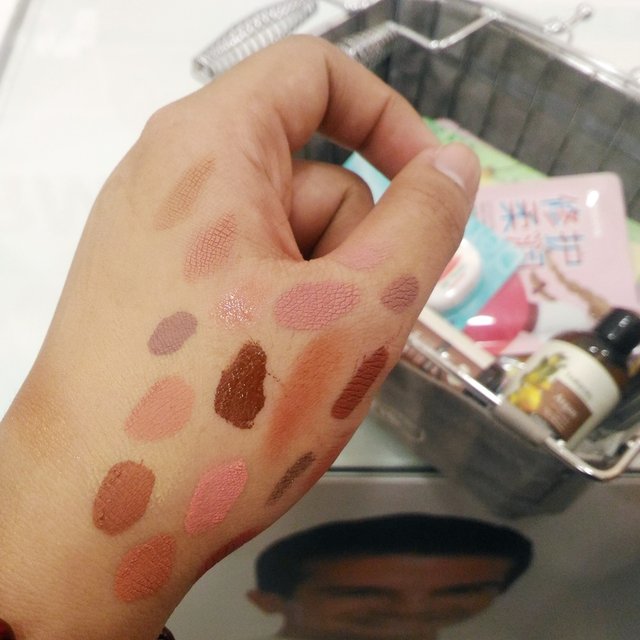 We dropped by at Watsons and being the beauty junkie that I am, I couldn't help myself get some stuff. By the time I was finished gathering the things that I want to get, my hand was full of swatches. Swatches from liquid foundation to lipsticks to liquid lipsticks to eyeshadow to blush covered my hand. Haha.
Later on, when we got tired of strolling inside the mall, we decided to get something to eat. The stores inside Robinsons Iligan didn't appeal to us so we left the mall to go to one of our favorite cafes - Aruma Coffee Lounge.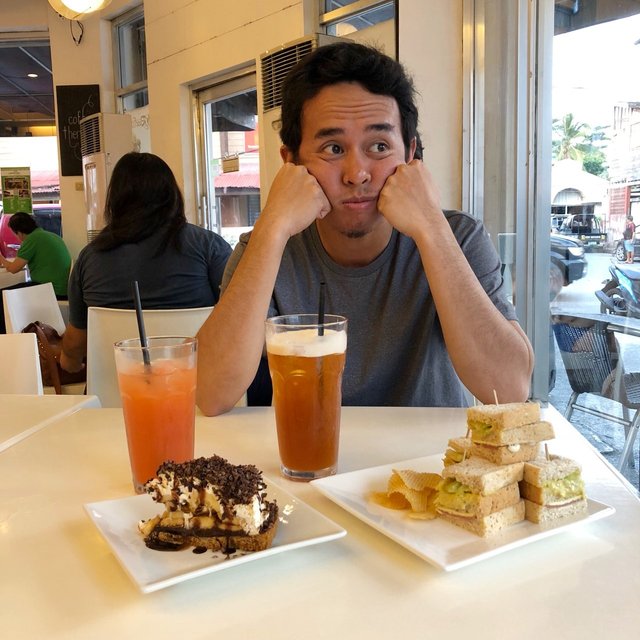 This is Jethro while waiting for our orders to be complete, haha. He looks sad because I didn't let him eat yet 'cause I wanted to take a photo first of all the food. 😂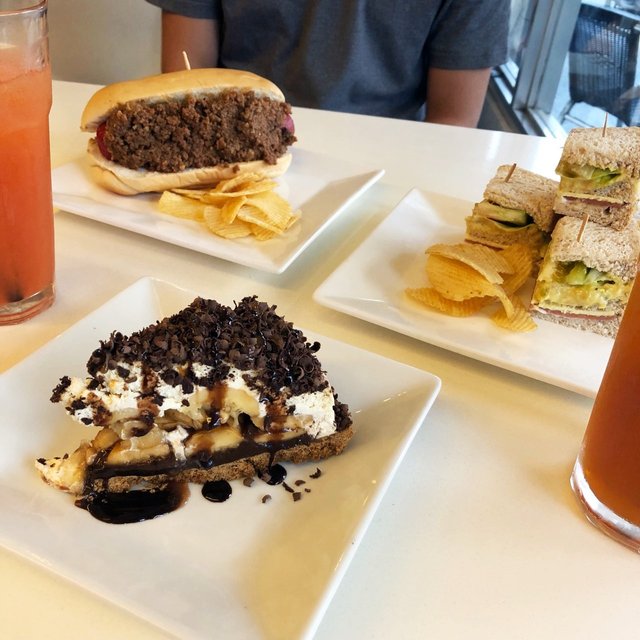 We ordered a Clubhouse, a Chilli Hotdog, a Banoffee Pie, Iced Tea for me and 4 seasons for him.
As expected, and as usual, the food was a delight. This cafe wouldn't be one of our faves if they didn't serve quality food!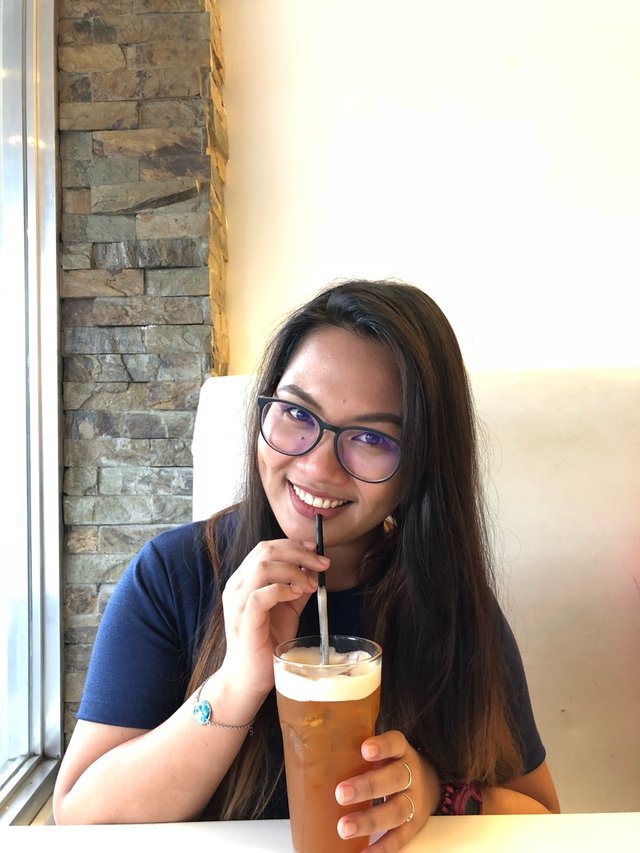 We bonded over the good food we have. We talked about random stuff, we had some laughs, we joked a little, and caught up with what's happening with one another.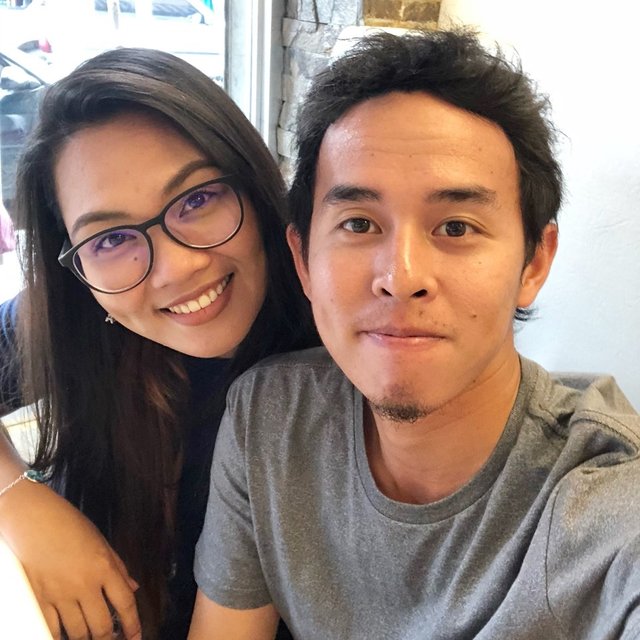 Of course, we also took some selfies! 😁
After spending over an hour at the cafe, we went to see the fishes in the canal near Gaisano Mall. We fed them and looked at all the fishes. Too bad I wasn't able to take photos. I was fully enjoying the moment, haha.
We dropped by at Gaisano Mall to pick up a few things and then we went home. I bade Jethro goodbye as he walked me to my apartment and I wished him a safe journey home.
And that's how I spent my Saturday with my favorite human. 😊❤️
Before I end this blog, here's what I got from Watsons earlier to those who want to know, hehehe.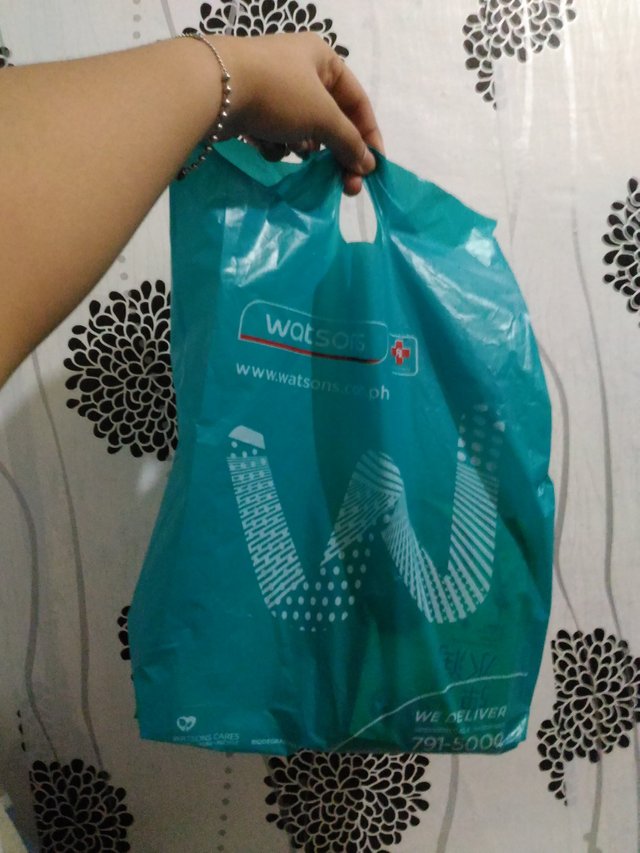 It's not much though.
After all the picking and swatching, I got myself a liquid lipstick from Careline (P195 - I wanted a new lip color), an eyeshadow blending brush from Features & Shades (P150 - I don't have a blending brush so when I saw this, I immediately grabbed it, lol), a pink powder blush from Maybelline (P149 - I don't have a decent blush, haha), a concealer also from Maybelline (P199 - this is a repurchase because my old one is almost finished, I love this concealer!), and some sheet masks (P50 each - I wanted to try these). I got a Garnier facial wash sampler from purchasing them all, too!
So yep, that's my haul.
I really enjoyed today. I wish for more days like this, hehe. I'm going to end this post now. If you have reached this end, you are awesome!
Thank you for dropping by and reading my diary-kind-of blog, hehehe. How did you Saturday go? Let's talk in the comments section below!
Until next time, steemians!
🌻 @renalexis 🌻