Yes I used the words from the song. Lol . After so many months of worry, saving and planning; and adding frustrations and #tears, tomorrow I can finally go and renew my passport. I had renewed my passport 1999 good for 10 years and it expired 2009. I was not able to renew right away since I live on the Island of Panay far from Luzon where Manila is located and where the US Embassy is located. I do have relatives there but traveling is expensive. They have a consulate in Cebu which is closer to me but still expensive to travel and I don't have relative there near the city.
My daughter finally left for the US last 2015 and luckily her passport was not yet expired. She renewed when she got to the US. I had been thinking of going to visit her some day but I am still unsure because I am still taking care of my mother with Alzheimer. If ever I do go maybe just to visit for a couple of months.
When she announced she was pregnant, she wanted me to be with her. I also wanted to badly but my passport had expired and my brothers were already spending for the repair of the house which was on going a that time so I was ashamed to ask help.
I told her not to worry, she has her husband and some uncles and aunts with her, Since #steemit was doing good I told her I will save for my expenses and payments. Little did I expect the value of SBD to go down but I still kept on going. But with the help of @paradise-found and @henry-gant I had enough.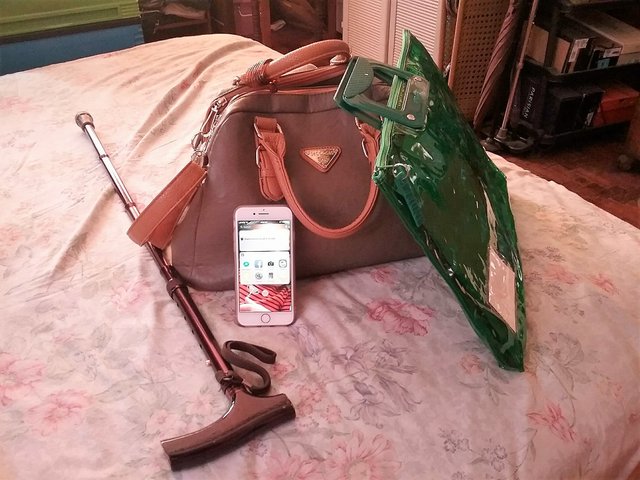 My bag, cellphone and plastic envelope bag which holds my forms, pictures and requirements to renew my passport. I have been planning to go to Cebu with my companion to renew via the American Consulate. I was holding off because I have not traveled in a long time and we will be going by boat. I had it planned leaving evening trip arriving in Cebu early morning then go straight to the Consulate. After that maybe go around a little till the late night trip back and arriving early morning again. So 3-4 days of travel.
But I finally saw great news. The US Embassy has an outreach program in the Visayas. March 15 they are in Bacolod and tomorrow March 16 they will be here in Iloilo. Closer and easier for me even if I have to leave my house 6 am to be able to reach the hotel where they will be at by 8 am.
I saw their announcement just before my birthday. The best gift ever!.
Wish me luck tomorrow! Thank you again to those who upvoted my post to help me like @surpassinggoogle, @hr1, @arcange and company and @paradise-found and @henry-gant for the donation!
PICTURE IS MINE

Our mentor @surpassinggoogle has been very supportive of our group #SteemitDiversifyand other groups too. Please support him as a witness by voting him at https://steemit.com/~witnesses and type in "steemgigs" at the first search box.
If you want to give him witness voting decisions on your behalf, visit https://steemit.com/~witnesses again and type in "surpassinggoogle" in the second box as a proxy.
Others that we should support are: @henry-gant, @kenny-crane, @beanz, @teamsteem, @good-karma, @busy.org, @esteemapp, @hr1, @arcange @bayanihan, @acidyo, @anomadsoul, @steemitph, @jerrybanfield, @darthnava, @paradise-found, @geetharao, @stephenkendal and @richq11; they also have supported us; also the many others who have visited My posts. Pls. support them too. Thank you very much.
I am grateful for them and for everyone who has helped me and my friends. (Quote made by @purpledaisy57 permission given to use for members of SD family)
Please like @teardrops on Facebook and Twitter:
https://www.facebook.com/teardropstokens/
https://twitter.com/teardropstokens
Please like the Facebook page: https://www.facebook.com/steemgigs/
& Twitter: https://twitter.com/steemgigs
PLEASE SUPPORT: https://steemgigs.org