360 STEEM ~ Graphics Design Contest: Caspian, sponsored by @mediaworks !!
Caspian is sponsoring a graphics design contest here on Steemit! This is my submission:
The world of crypto is continuously growing. There are a wealth of new exchanges and cryptocurrencies. Traditional investors, asset managers and traders have to navigate resources and tools individually in order to participate in the crypto-space. This creates a barrier to entry for individuals and institutions who could otherwise partake in this growing economy.

Caspian
is a full set of financial tools that integrates with major exchanges in order to offer users a single place to interact with the entire crypto-space.
Caspian is an entire set of financial tools that makes it possible to work with major exchanges from one place.
Caspian
caters to a wide range of users. Unknowingly, many crypto-holders are traders and their own personal fund managers.
Here is an anecdotal example:
Meet Jessie. She has been involved with crypto for over 3 years, and knows her way around the markets. She is a fund manager for a large bank, and their institution has long been looking to get involved in cryptocurrencies. She has pitched her CEO about trading in crypto, but the CEO declined, saying that it would be an administrative and bookkeeping headache.
Fast forward a few years, Jessie stumbles upon Caspian!
The interface combines all the largest exchanges, has the financial tools that traders and fund managers are already familiar with, and even tracks trade data and history for accurate bookkeeping and tax preparation!
Excited, she shows her CEO Caspian.
Two weeks later, her bank rolls out cryptocurrency investments, increasing their clients exposure to a variety of investments, as well as attracting new clients who are interested in fund managers who specialize in cryptocurrencies!
To demonstrate what Caspian is, I have made a pamphlet as an entry for my graphic design to this contest because it shows in a more efficient and direct way what Caspian is.
Graphic Design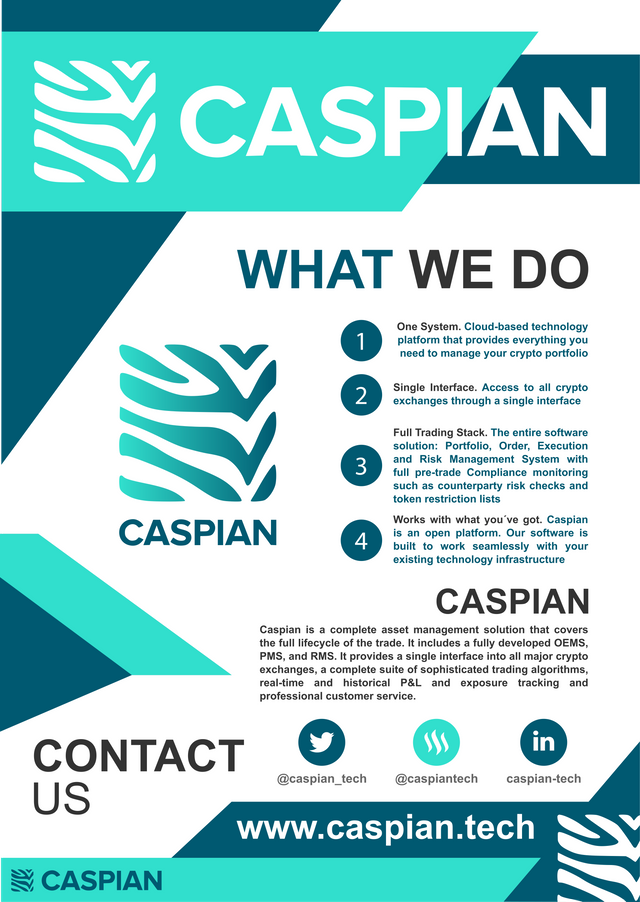 More Information & Resources About Caspian:
Caspian Website
Caspian WhitePaper
Caspian Steemit
Caspian YouTube
Caspian Telegram
Caspian Videos
Caspian Blog
Caspian Events
Caspian News
Caspian Linkedin
Caspian Management
To participate in this graphic design contest click here.
This is my Caspian Instagram Bonus.
caspianinstagram
caspiangraphic2018