Here is my recipe for (gluten free, vegan) granola with an Indian slant. This makes a great gift, I have yet to find someone who didn't love it.
Step 1
In a very large bowl mix these ingredients:
5 cups old fashion oats
1 cup dried coconut
1 cup coconut oil
1 cup honey
1 cup coconut flour
1/2 cup each pecans, cashews, sesame seeds, almonds, walnuts, flax seeds, sunflower seeds
2 TBS each vanilla, almond oil, orange oil
2 TBS each cinnamon, cardamom, powdered ginger
salt to your taste (in fact; I would recommend tasting some at this point to see if it needs more of anything)
Step 2 (baking)
Mix and spread evenly onto 2 sheet pans with raised edges. I use silpat but parchment works, as would oiling the pans.
Bake at 325 degrees F or 160 C for 15 minutes, take out of the oven, thoroughly stir and bake another 10 minutes.
Let cool slightly, pour into a large bowl and repeat baking process till everything is baked. This usually take 2 rounds for me.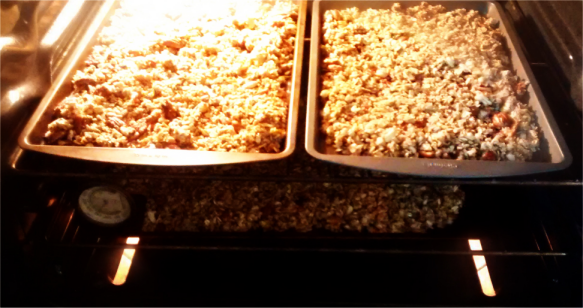 Step 3 (final additions)
1 cup raw shelled hemp seeds
1.5 cups golden raisins (dried mango or banana work well too)
These ingredients are very forgiving; you could use almost any kind of chopped nuts (pistachios, pumpkin seeds, etc), dried fruits (cherries, apple, etc), sweetener (maple syrup, agave, etc) and liquid flavoring is optional. I've even made this with turmeric and saffron.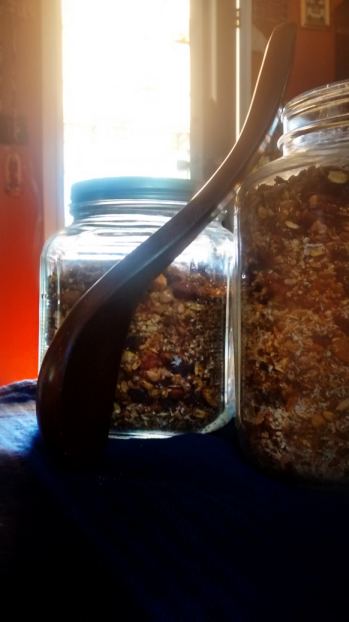 Please let me know if you make this, I'd love to hear what combinations you come up with.
(Excuse the photos, I was in a wiggly mood)