Graffiti Art in Berlin Part # 4 - Stylish and Abstract
Hi Steemians. 👋🏻
Diesmal möchte ich Euch gerne, wie im letzten Post versprochen, die Specials an der Baustellenwand präsentieren.
Die folgenden Graffities sind sehr aufwendig gestaltet und jedes für sich ein einzelnes Kunstwerk geworden.
This time I would like to present you, as promised in the last post, the specials on the construction site wall. The following graffiti are very elaborate and each has become a unique piece of art.
Auf den ersten beiden Bildern seht Ihr nebend dem Graffiti einen Kristallwolf. Duch den Hintergrund bekommt das Ganze Bild seine Tiefe und wirkt dadurch noch Imposanter.
In the first two pictures you can see a crystal wolf next to the graffiti. Throughout the background, the whole picture gets its depth, making it even more impressive.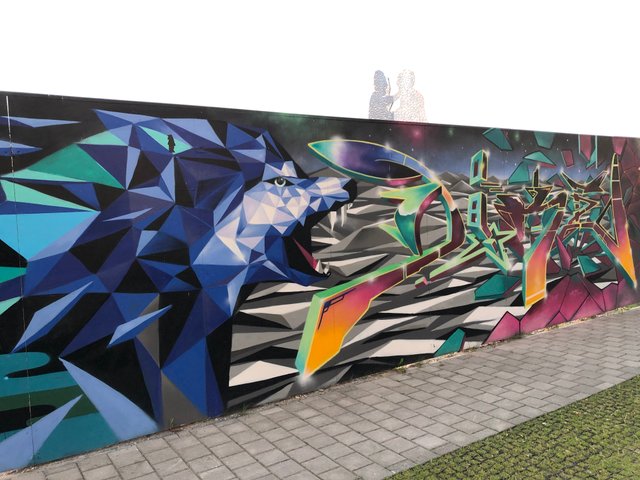 Hier seht ihr nochmal das ganze Bild von der rechten Seite aus gesehen. Sehr gut wurde hier auch die zersplitterte Wand am rechten Rand hervorgehoben.
Here you can see the whole picture from the right side again. The fragmented wall on the right edge was also highlighted very well here.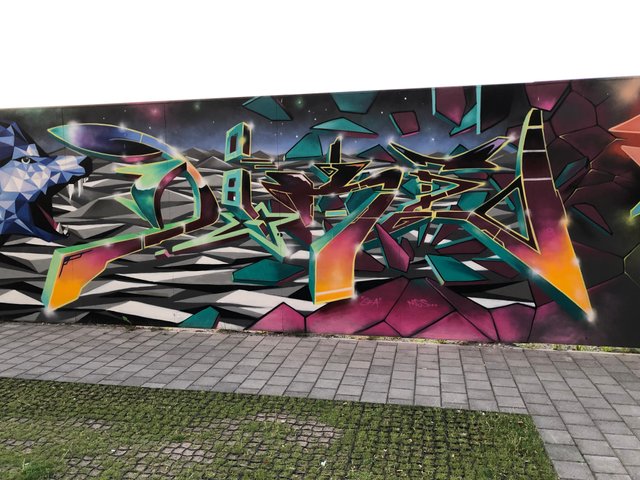 ---
Direkt daneben ist ein sehr farbenprächtiges und abstraktes Bild.
Right next to it is a very colorful and abstract picture.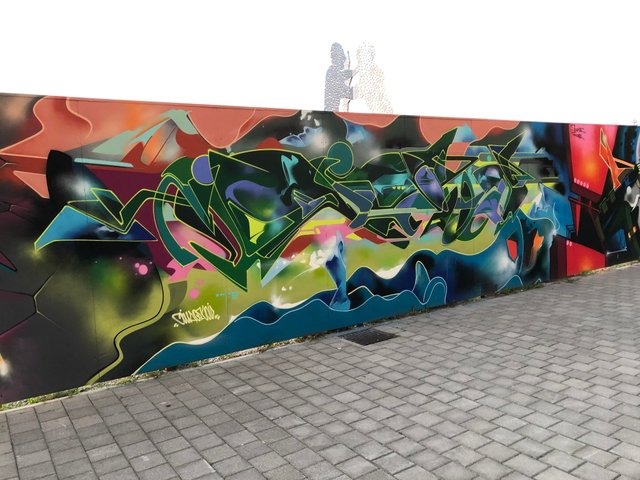 ---
Dieser Charakter gehört zum nächten stylischen Werk. Vorallem die Schattierungen sind hier sehr gut gelungen.
This character belongs to the next stylish work. Above all, the shades are very well done here.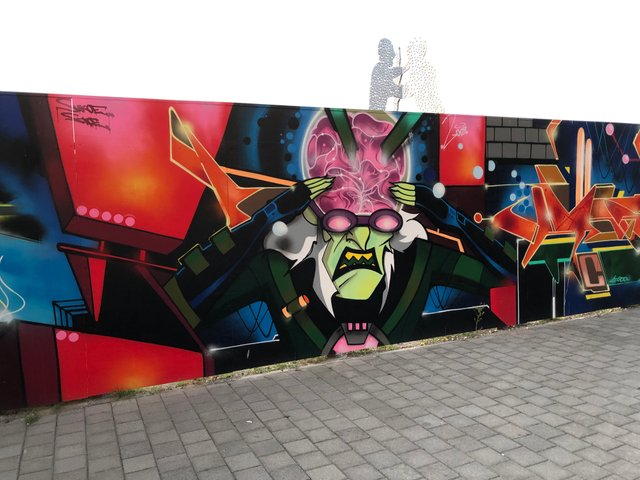 Hier ist das Graffiti zum Charakter, welches auch wieder sehr Abstrakt und einer stylischen Farbwahl.
Here is the graffiti to the character, which again very abstract and a stylish color choice.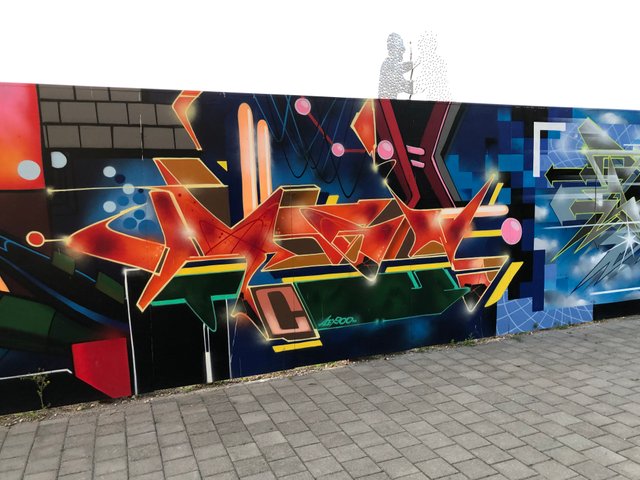 Und hier das Gesamte Bild.
And here the whole picture.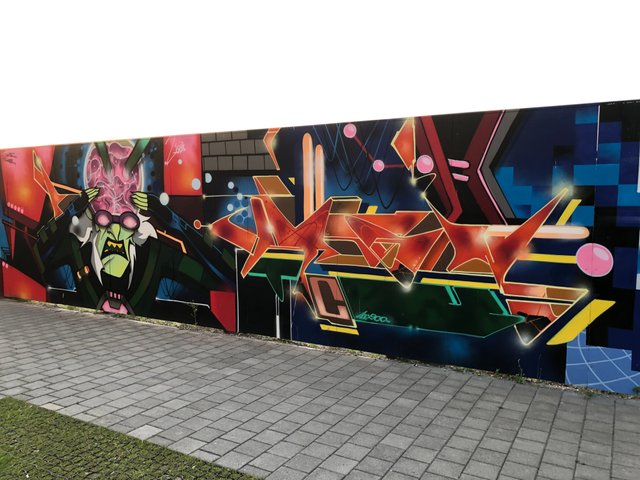 ---
Bei diesem Graffiti, hat der Künstler mit Blau- und Grautönen, ein super stylisches Bild gestaltet. Besonders gut kommen die gelben Outlines zur Geltung. Um dem Bild eine tiefe zu verleihen, wurden hier Figuren im Kristallstyle, wie der Wolf im ersten Bild, welche auf Silberkugeln stehen eingebunden.
In this graffiti, the artist has created a super stylish picture with blue and gray tones. The yellow outlines are particularly good. In order to lend the picture a deep, here were figures in the crystal style, like the Wolf in the first picture, which are bound to silver balls.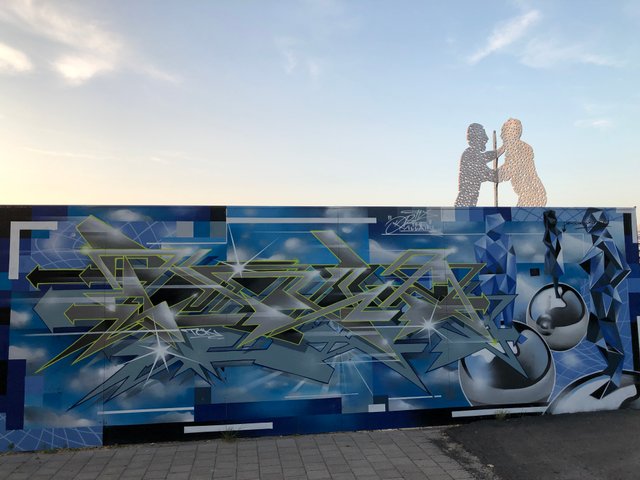 ---
Die folgenden Bilder ergeben zusammen ein ganzes Graffiti über ca. 20 Meter Länge. Bei diesem großen Graffiti baut sich das Bild nach und nach auf und hat mehrere Elemente. Aber schaut es Euch selbst an.
The following pictures together result in a whole graffiti over about 20 meters in length. In this great graffiti, the image gradually builds up and has several elements. But look at it yourself.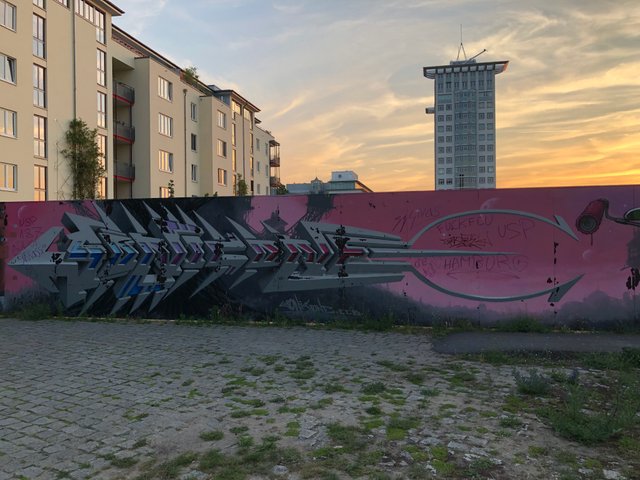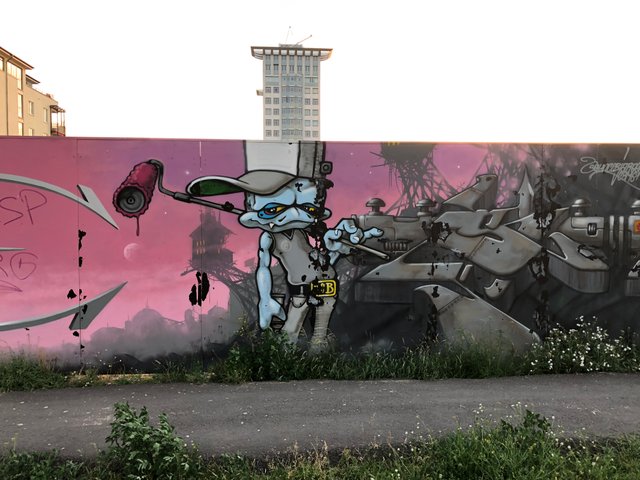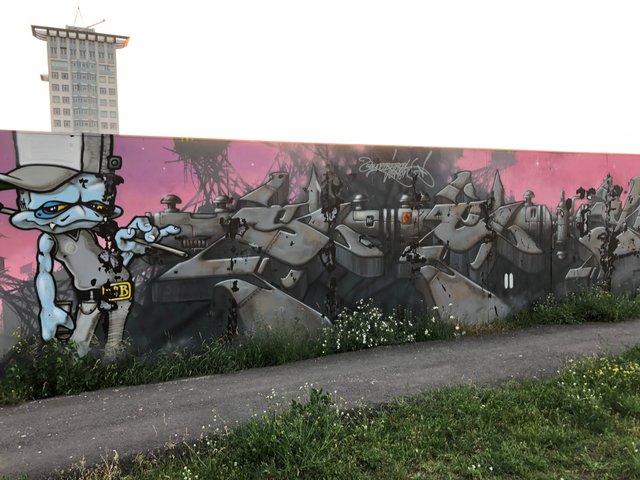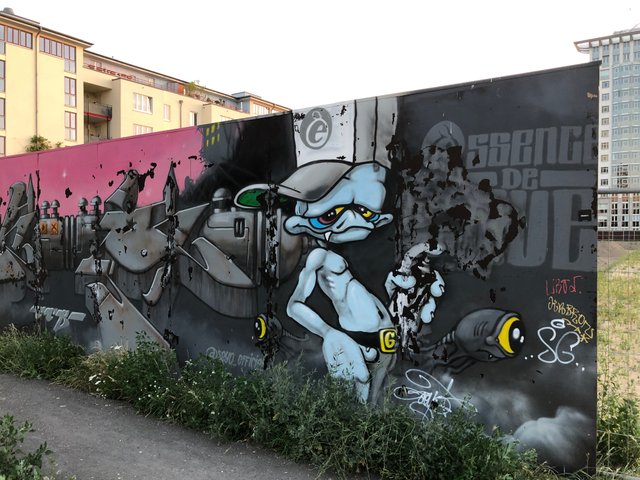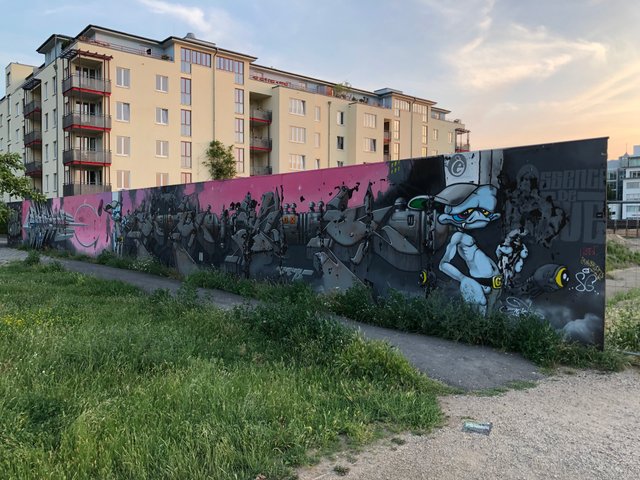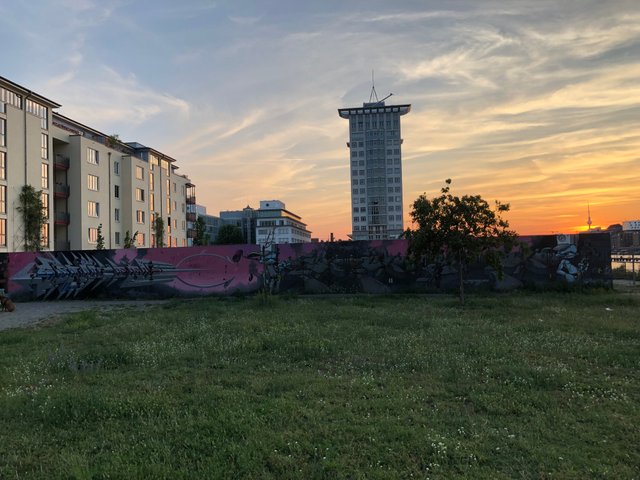 ---
Ich hoffe Euch haben die Bilder gefallen.
Also lasst ruhig ein Follow da, damit ihr keine weiteren verpasst.
Hier könnt Ihr euch die Bilder der letzten Beiträge an dieser Baustellen Wand anschauen:
Graffiti in Berlin Part #1
Graffiti in Berlin Part #2
Graffiti in Berlin Part #3
I hope you enjoyed the pictures.
So keep a follow there, so you will not miss any more.
Here you can look at the pictures of the last posts on this wall:
Graffiti in Berlin Part #1
Graffiti in Berlin Part #2
Graffiti in Berlin Part #3
Bis bald
Euer @broxi
See you soon
your @broxi