We are excited to announce the listing of STEEM/KRW and SBD/KRW trading pairs on GOPAX! GOPAX is a fast and reliable technology-centric cryptocurrency exchange. For the Korean version of this post, please go here.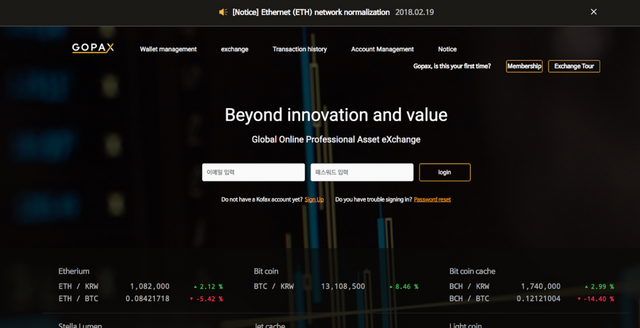 About GOPAX
GOPAX (Global Online Professional Assets Exchange) was launched in November 2017 by Streami, Inc. - the first blockchain firm in Korea to be backed by a major bank (Shinhan Bank).
Since its launch, GOPAX has grown exponentially and is now one of the top 4 Korean exchanges and ranks in the top 20 worldwide.
The GOPAX team are staunch advocates of Steem, so be sure to check out their account @gopax-insight. Also, visit their official account @gopaxkr where they have announced a "Promote steemit.com Campaign with GOPAX" contest.

The contest starts today (2/21/2018) and will end on 2/27/2018. Users of steemit.com can participate by uploading creative one-liners aimed at explaining the website.
The winning one-liner will be used for a screen door advertisement in 12 subway stations in downtown Seoul. The winner will be awarded 50 Steem Dollars!
Results will be published on the GOPAX official steemit.com page @gopaxkr on Wednesday, February 28, 2018.

For more information, please visit: gopax.co.kr.
About Steem
Steem is a blockchain-based rewards platform that helps entrepreneurs monetize their website and grow their communities. By providing a scalable blockchain protocol for storing publicly accessible and immutable content, along with a fast and fee-less digital token (called STEEM) the Steem blockchain empowers people to earn the token by using their brain (what is called "Proof-of-Brain"). More information can be found in the Steem Bluepaper.
In 2018, the Smart Media Tokens (SMTs) protocol will be presented to the community which may choose to add it to Steem. SMTs will allow entrepreneurs and community builders to launch their own customized Proof-of-Brain tokens with real-time fee-less transfers on the Steem blockchain. Along with built-in smart contracts that enable entirely new fundraising opportunities, SMTs will allow anyone to monetize their platform and bootstrap the value of their coin by leveraging all the lessons learned from STEEM and steemit.com. More details can be found in the SMT Whitepaper.
For more information, please visit: steem.io.